BN Our Wedding Story is here again! We have always been fascinated by couples who complete all their wedding ceremonies on the same day. It is not an easy feat and it takes a lot of energy and organization so we are so excited to show off Seni Adebajo-Olowa & Adeyinka Ojo's big day!
The couple tied the knot in 2012 and did it in lovely style. Seni made sure her love of gold was clear with her accessories and the gold embroidered accents of her wedding dress. Her beau Adeyinka was very stylish in his grey suit paired with a black bow tie and suspenders.
For all brides out there, the bride, Seni says, "My one tip for brides to be is that you really don't need to be stressed before the d-day!…start planning early, pray hard and prepare to have a blast on your once-in-a-lifetime day!"
When asked about what advice they would give other couples on the path towards their big day, the newlyweds told BN Weddings, "Filter through whatever advice people give you! there's no one like you out there, make your own memories, mistakes and special moments!"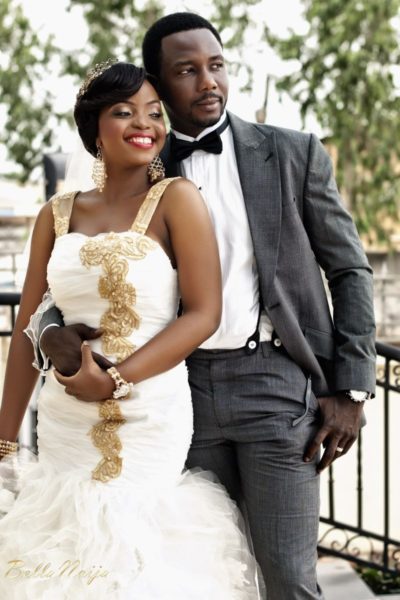 How Seni & Adeyinka Met
My firm is retained as an external solicitor to his bank, so on one of my numerous visits to the bank in October 2009, I noticed him.
I thought to myself – "hot looking" and "nice shirt" but he didn't notice me AT ALL!
The officer attending to me told me to come back the next day after keeping me waiting so I kind of left a tad bit upset and didn't give him another thought.
The next time I went there, I had totally forgotten he existed. I picked the documents I came for and had just made a beeline for my car when I heard "hi, excuse me"….the voice was deep and hot enough to stop me in my tracks! I turned and it was the same guy! He said "Hi, my name is Yinka and please I would like to have your number". My first thought was "my number ke?you didn't even ask for my name!"….and his confidence irritated the hell outta me.
….So I opened my mouth to berate him and the stupidest thing came out "ehn…I hope you're not married o!"….I laughed out of shame because I couldn't believe what I just said….He looked at me quizzically and said "Can't I have your number for business purposes since you're a lawyer and all".
To save face, I hurriedly gave him my business card and ran to my car. It was later that he confessed that he noticed me on the same day I noticed him and begged the officer I came to see to please call him the next time I come to the bank (rolling eyes!)…….and that's how it all began.
The Proposal
We were on holiday in Manchester in June 2011 and it was a particularly tiring day. We had taken the wrong bus, gotten lost, went shopping in some annoyingly far mall and finally managed to get back to the hotel in one piece, only for Yinka to ask if we go for dinner in a thai restaurant that was like 25 minutes away.
…of course I refused! 🙂 All I wanted was a bath and my bed. I totally ignored all entreaties to eat out.
After my much longed after bath, I snuggled under the covers and was just about to fall asleep when he started saying "Seni, I know I'm not perfect and I exasperate you sometimes but I love you and want you to be the mother of my kids, will you be wife?" then he brought out this perfect looking ring…..I gasped because I had absolutely no clue at all….the first thing I said was "aren't you supposed be kneeling down?" (Silly of me, right?) and he replied, "I'm kneeling…on the bed!"….we both laughed and he said "Is that a yes?" and I replied….."Can I say no?" and he replied "I don't know jo! I've never done this before!"
Just then it hit and the tears came and I screamed…..Yes Yes Yes o!
~ Photography by Seyi Charles George 
~ Photography by Seyi Charles George – www.scgeorge.com
Wedding Details
Traditional Engagement & White Wedding Date: March 31st 2012
Venues
Traditional Engagement: Time Square Events Center, Ikeja, Lagos
White Wedding:
Church Service – Daystar Christian Center, Oregun, Lagos
Reception – Times Square Events Center, Ikeja
Wedding Colours
Traditional Engagement and White Wedding – Cream, Gold and a Touch of Orange
Wedding Theme
The bride says "None…we just wanted it all to look nice and effortlessly chic!"
Vendors
Wedding Dress: Dazzle Bridals
Groom's Suit: Amba Bespoke Clothing
Best Man's Suit: Amba Bespoke Clothing
Bride's Makeup: Dainty Affairs
Wedding Planner: Kehinde Odukoya – Color Me Beautiful Events
Wedding Cake: Solape Tawose for Krunchies Bakery
Food: Pepper Konsult
Decorations: Fifi Events