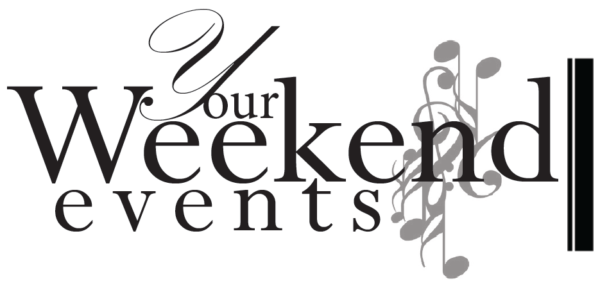 Hello BellaNaijarians, Happy Thursday!
It's time for Events This Weekend, the slot where Africa's pace setter for all things entertainment, fashion, lifestyle, music and more – BellaNaija.com, keeps you constantly updated on all the most buzzed about events and places of interest taking place this very weekend.
Have fun, stay safe and keep dreaming BIG.
See you all next week, Ciao!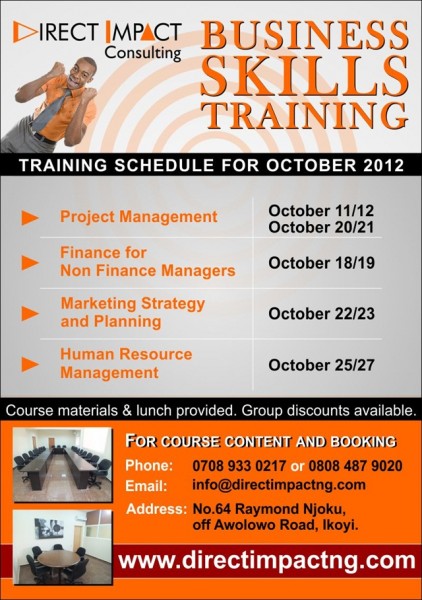 Direct Impact Consulting – Business Skills Training
This October, Direct Impact Consulting, a leading provider of training and consulting services within the education and social development landscape, will hold its training programs which include Project Management, Human Resource Management, Finance for Non Finance and Marketing Strategy and Planning tailored to suit the business peculiarities of SME's, in Lagos. So if you are looking to advance your career, kick start a new one or grow your business, these training programs are designed to suit your growth needs. The Project Management fee is N 45,000 and includes course materials, tea-break ans lunch
Project Management Course Dates: Thursday 11th October 2012 | Friday 12th October 2012
Venue: Direct Impact Consulting, 64 Raymond Njoku, off Awolowo Road, Ikoyi, Lagos
Contact: For more info and general enquiries, call 07089330217 | 08084879020 | e-mail [email protected] | Log on to their website 
_________________________________________________________________________________
Hennessy Artistry presents MI & Naeto C Live in Lagos
Hip hop icons, M.I and Naeto C are making their final Hennessy Artistry club appearance this Friday at Octopus Reloaded, Yaba, Lagos. Rayce and Ms Jaie will join the iconic rappers to deliver another historic Hennessy Artistry party.
Date: Friday 12th October 2012
Venue: Octopus Reloaded, Yaba, Lagos
_________________________________________________________________________________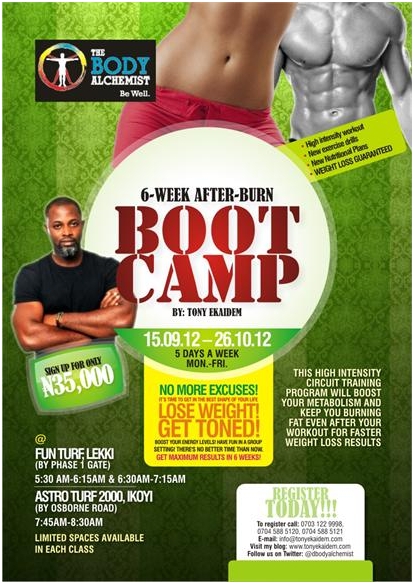 The Body Alchemist's 6 Week After Burn Boot camp
Summer is over and it's time for you to get right back into shape and the After Burn is definitely the right medicine. The boot camp which is organized by Tony Ekaidem, a master instructor of World Taekwondo/Self Defence consultant, is a highly intensive circuit training program set to boost your rate of metabolism and keep you burning fat all day long. Classes kicked off last week Saturday, but you can still join. Classes will be held from Mondays to Fridays. For payment details, be sure to get in touch with them.
Date: Friday 12th October 2012 – Friday 26th October 2012
Venue 1: Fun Turf, By Lekki Phase 1 Gate, Lekki, Lagos
Time: 1st Session  5:30 AM  – 6:15 AM | 2nd Session 6:30 AM – 7:15 AM
Venue 2: Astroturf 2000, Ikoyi, Lagos
Time: 7:45 AM – 8:30 AM
Contact: For more info and general enquiries, call 07031229998 | 07045885120 | 07045885121 | e-mail [email protected] | follow on Twitter | Log on to their Website – www.TonyEkaidem.com
_________________________________________________________________________________
TEDxVictoria Island
The inaugural edition of TEDxVictoria Island, a local, independently organized event in Victoria Island, Lagos that strives to re-create the unique experience found at TED, where the world's leading thinkers and doers congregate to share what they are most passionate about.  The fundamental goal of TED and TEDxVictoriaIsland is to spread ideas and advance the discourse on innovation and creativity. We aim to provide a platform where the smartest thinkers, greatest visionaries and most fascinating teachers will not only inspire others, but also be filled with a similar sense of wonder and urgency to shape the future. Admission is free for all.
Date: Friday 12th October 2012
Time: 10 AM – 10 PM
Venue:Federal Palace Hotel, External Ballroom
_________________________________________________________________________________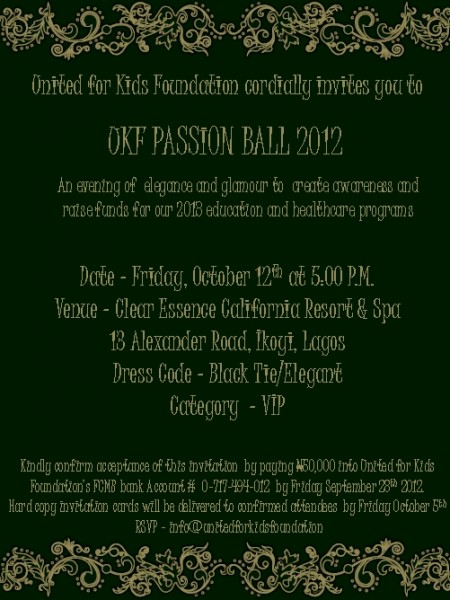 UKF Passion Ball 2012
This Friday, United for Kids Foundation (UKF), a charitable organization established for charitable and educational activities aimed principally at less privileged children in Nigeria, will hold its first fundraising ball – UKF Passion Ball 2012, at the Clear Essence California Resort & Spa, Ikoyi, Lagos. The black tie event is an evening of elegance and glamour to create awareness and raise funds for 2013 education and healthcare programs. All proceeds from the event will go to providing and supporting many children that UKF supports everyday.
Date: Friday 12th October 2012
Time: 5 PM
Venue: Clear Essence California Resort & Spa, 13 Alexander Road, Ikoyi, Lagos
Ticket Prices: General Admission N 25,000 | VIP Admission  N 50,000 | Executive Admission N 75,000
Contact: For more info and general enquiries on ticket information, e-mail [email protected] | follow them on Twitter | Like their Facebook Page | Log on to their website

_________________________________________________________________________________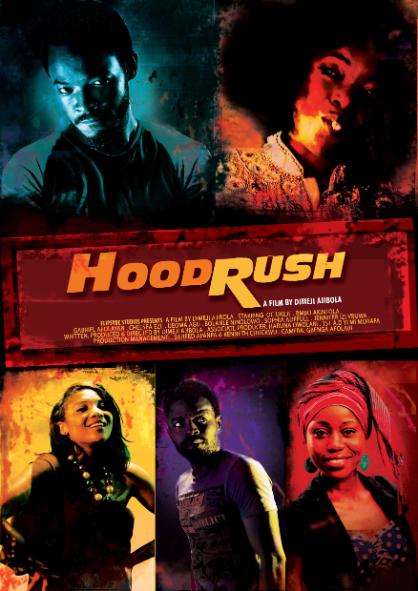 The Lagos Premiere of HoodRush
This Friday, the Lagos Premiere of Dimeji Ajibola's musical thriller, HoodRush starring Bimbo Akintola, OC Ukeje, Chelsea Eze and Gabriel Afolayan is billed to take place in style. The dress code is black tie.
Date: Friday 12th October 2012
Time: 5 PM
Venue: Silverbird Galleria, 133 Ahmadu Bello Way, Victoria Island, Lagos
_________________________________________________________________________________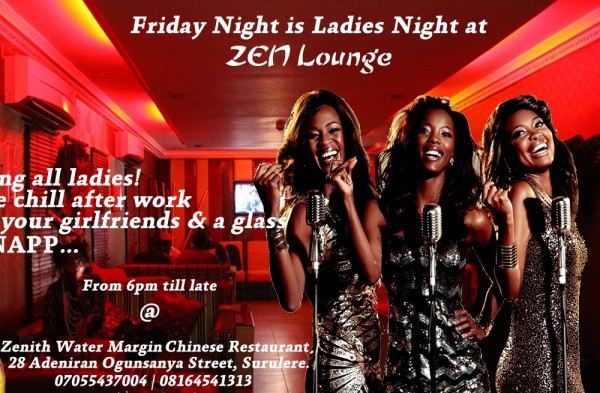 Ladies Night Out at Zen Lounge
Tomorrow, Friday 12th October 2012, will be another fabulous edition of Ladies Night out at Zen Lounge, Surulere. The event is the perfect place for all ladies to relax and unwind with their colleagues after work, celebrate birthdays and bridal showers.Admission is free for all.
Date: Friday 12th October 2012
Time: 6 PM
Venue: Zenith Water Margin Chinese Restaurant, 28 Adeniran Ogunsanya Street, Surulere, Lagos
_________________________________________________________________________________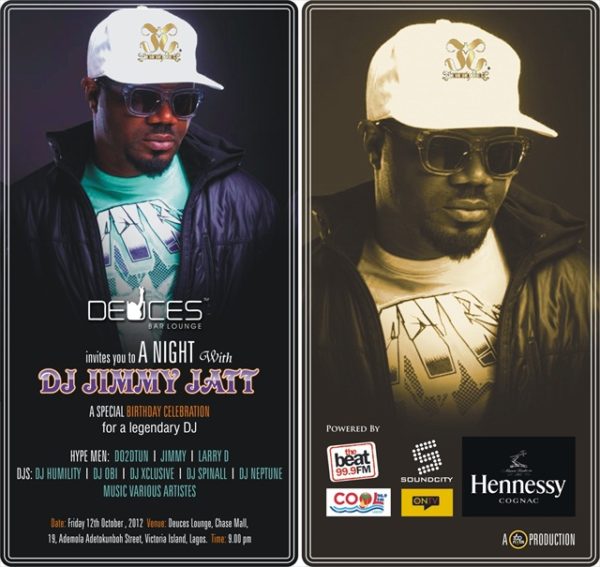 A Night with DJ Jimmy Jatt
Deuces Bar lounge invites you to a night with DJ Jimmy Jatt. It's a special birthday celebration for a legendary DJ. There will be musical performances by various artistes. The DJ's on deck for the night are DJ Humility, DJ Neptune, DJ Xclusive, DJ Spinall, and DJ Obi. Admission is free for all.
Date: Friday 12th October 2012
Time: 9 PM
Venue: Deuces Bar & Lounge, Chase Mall, 19 Ademola Adetokunbo, Street, Victoria Island, Lagos
_________________________________________________________________________________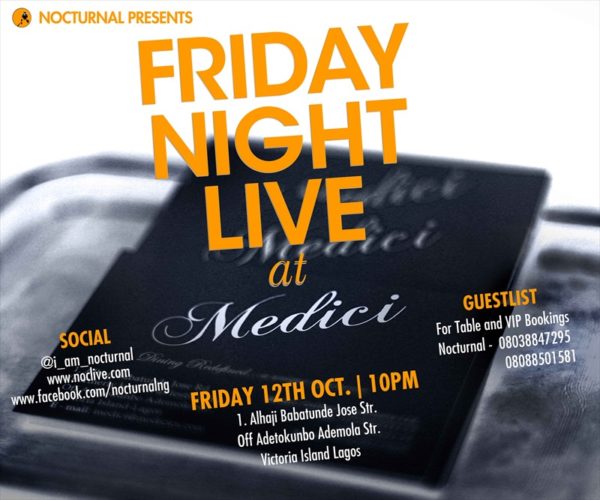 Nocturnal Entertainment presents Friday Night Live at Medici
Nocturnal Entertainment will be throwing an exclusive VIP party at the Medici. The event tagged Friday Night Live will be a splendid and fabulous one for all as attendees will get discounted Champagne and Liquor with complimentary shooters. Admission is FREE but you must follow them on Twitter @I_Am_Nocturnal to get invites. Dress code for Men (Business Casual or Traditional) | Ladies (Glam Up nicely).
Date: Friday 12th October 2012
Time: 10 PM
Venue: Medici, No 1 Festival Road (Former Alhaji Babatunde Jose) Off Ademola Adetokunbo, Victoria Island, Lagos
Contact: For more info and general enquiries, call 08038847295 | 08088501581| 08162808545 | 07098003133 | 07098003134 | 07029013806 | e-mail [email protected]com
_________________________________________________________________________________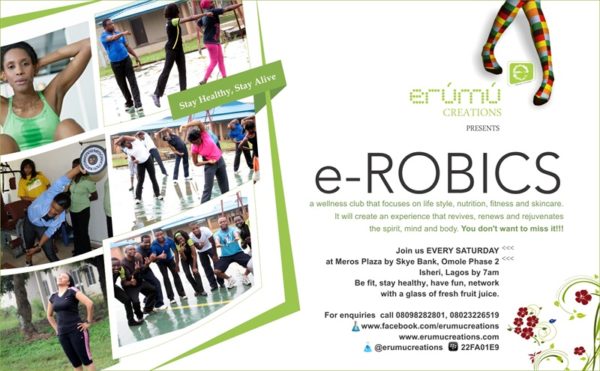 e-ROBICS
e-ROBICS, a wellness club that focuses on life style, nutrition, fitness and skin care. It will create an experience that renews and rejuvenates the spirit, mind and body. Admission is free for all.
Date: Saturday 13th October 2012
Time: 7 AM
Venue: Meros Plaza by Skye Bank, Omole Phase 2, Isheri, Lagos
_________________________________________________________________________________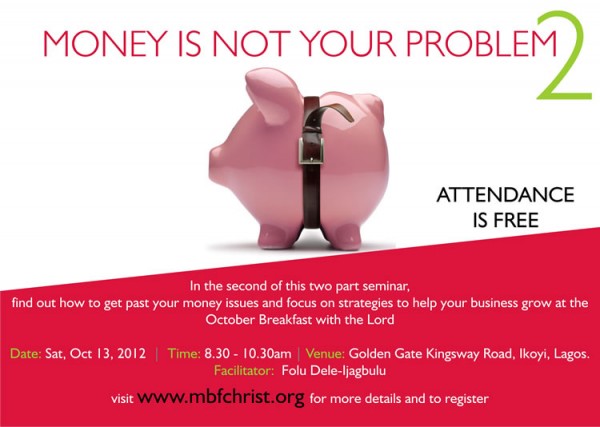 Managing Business for Christ presents Money is Not Your Problem 2
Managing Business For Christ is back this month with the October edition of Breakfast with the Lord.  This is the second part of the seminar tagged "Money Is Not Your Problem" which commenced last month. Facilitating this concluding edition is Folu Dele-Ijagbulu. Business counselors will be on ground to have one-on-one sessions with participants at the end of the seminar. There will also be the opportunity to exhibit your products or services free at the event. Admission is free for all, For registration and more information visit: the website
Date: Saturday October 13, 2012
Time: 8:30 AM – 10:30 AM
Venue: Golden Gate, Glover Road, Ikoyi
_________________________________________________________________________________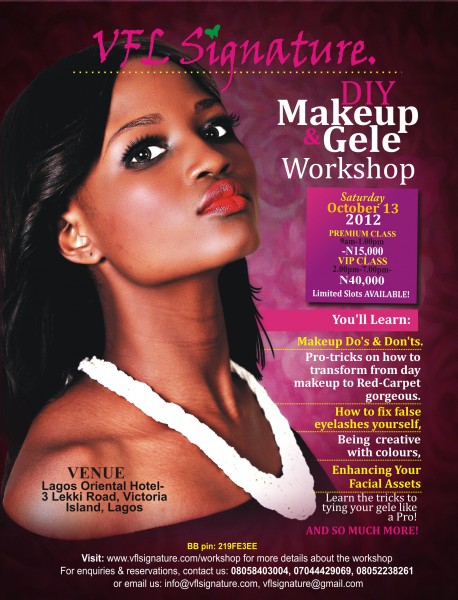 VFL Signature – DIY Make-Up & Gele Workshop
Learn the right and perfect way about getting your make-up done and tying your Gele at the one day VFL make-up and gele tying workshop course. This one-day workshop will help demystify the makeup process, giving you the step by step techniques to getting that flawlessly done makeup. You will also learn the tricks to tying Gele like a pro! Mnet Studio 53 Extra co-host, Eku Edewor will be there to tell you how to look your absolute best and tease out your inner celebrity. There will also be a special photoshoot session with a celebrity photographer and the fee comprising of premium package of N 15,000 AND VIP package of N 40,000, also includes finger foods/lunch. Register online on their website
Date: Saturday 13th October 2012
Time: Premium Class 9 AM – 1 PM | VIP Class 2 PM – 7 PM
Venue: Oriental Hotel, Victoria Island, Lagos
Contact: For more info and general enquiries, call 08058403004 | 07044429069 | 08052238261| BBPin 219FE3EE | e-mail [email protected] | [email protected]
_________________________________________________________________________________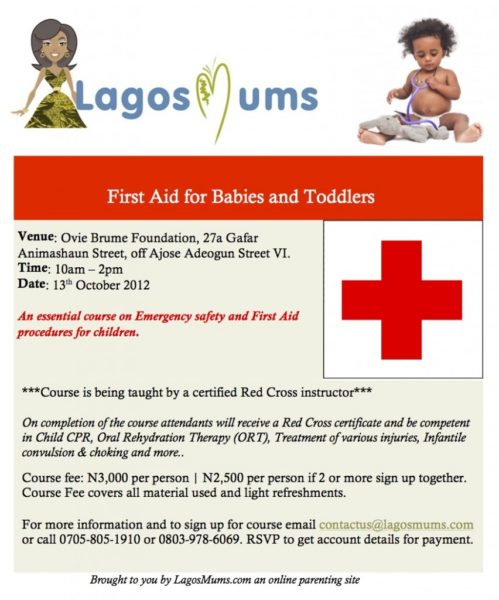 Lagos Mums presents First Aid for Babies and Toodlers
The second edition of Lagos Mums' First Aid Class is scheduled to hold on this Saturday 13th of October 2012 at the Ovie Brume Foundation, Victoria Island, Lagos. Lagos Mums is bringing a follow up in the series of classes offering "First Aid for Babies and Toddlers – An Essential Course On Emergency Safety Procedures In and Around The Home. Attendees will fully understand Child CPR (Cardio Pulmonary Resuscitation), Infantile convulsion and choking, Care of an unconscious child, Fractures, Burns and bleeding, Convulsion and more. Be sure to get in touch with them for payment details.
Date: Saturday 13th October 2012
Time: 10 AM – 2 PM
Venue:  Ovie Brume Foundation, 27A Gafar Animashaun Street, Off Ajose Adeogun, Victoria Island, Lagos
Contact: For more information and general enquiries, call 07058051910 | 08039786069 | e-mail [email protected]
_________________________________________________________________________________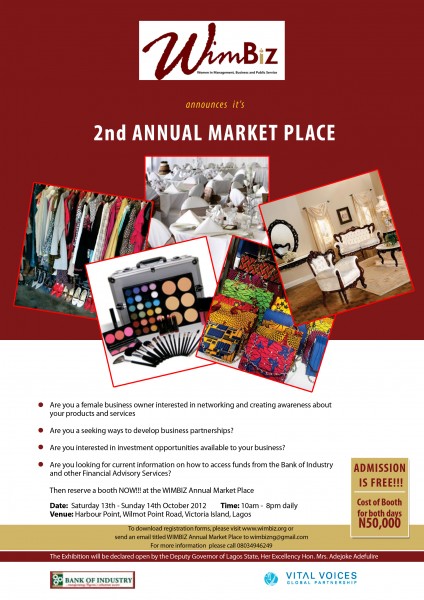 WimBiz presents 2nd Annual Market Place
The second WimBiz Market Place is here and it's a chance for women in business and management to learn fashion and lifestyle trends for 2013. The Market Place is an opportunity to network with other business women. This year, the Bank of Industry{BOI} is supporting the WimBiz Market place and you can learn how to access funds for your business at the BOI booth.
Date: Saturday 13th October – Sunday 14th October 2012
Time: 10 AM – 8 PM
Venue: The Harbour Point, Wilmot Point Road off Ahmadu Bello, Victoria Island, Lagos.
_________________________________________________________________________________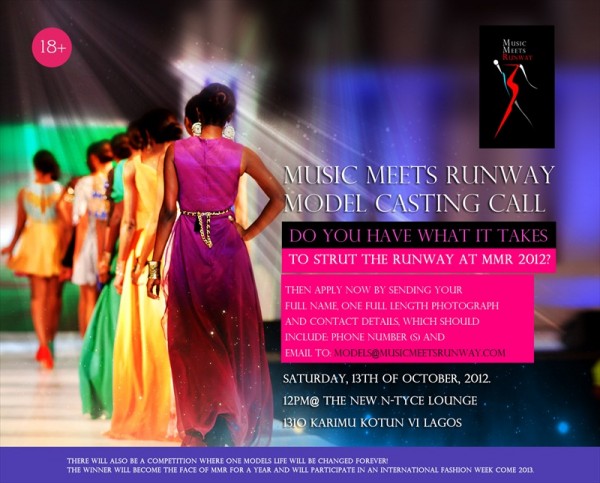 Music Meets Runway 2012 Model Casting
Le Reve Events Producers Of Hit Show, Music Meets Runway is proud to announce MMR 2012 Model Casting. Do you think you have what it takes to strut the runway at MMR 2012, MMR is seeking young females/males who aspire to begin or have begun a career in modeling. For female models come wearing black tights and a white or black vest top and a pair of heels, for male models come wearing a pair of jeans and white or black t-shirt. Also, make sure to come with one full length photograph of yourself.
Date: Saturday 13th October 2012
Time: 12 Noon
Venue: The New N-Tyce Lounge, 1310 Karimu Kotun, Victoria Island, Lagos
Contact: For more info and general enquiries, e-mail [email protected]om | Log on to their website
_________________________________________________________________________________
iRead Social Commentary
With the support of Coca-Cola's 1 Billion Reasons to believe in Africa campaign, iRead will be hosting some young individuals whose writing have given ample voice to a new generation seeking to change their society for good. 4 writers from across Nigeria, all with strong elements of social commentary in their works published this year will be reading from their works. Admission is free for all.
Date: Saturday 13th October 2012
Time: 3 PM – 6 PM
Venue: Cora House, 1st Floor, 95 Bode Thomas Street, Surulere, Lagos
__________________________________________________________________________________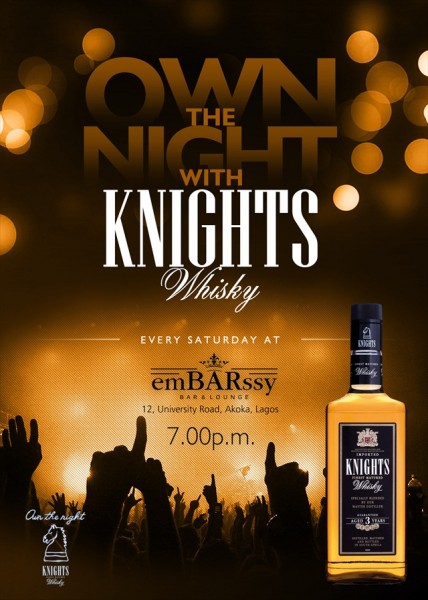 Own the Night with Knights Whisky
Get ready for a fun Saturday night out as another edition of Own the Night with Knights Whisky, a soiree organised by Basketmouth's club, emBARssy Bar & Lounge will take place with a bang. The event will be hosted by Buchi and will see in attendance DJ Neptune and MI.Admission is free for all
Date: Saturday 13th October 2012
Time: 7 PM
Venue: emBARssy Bar & Lounge, 12 University Road, Akoka, Lagos
_________________________________________________________________________________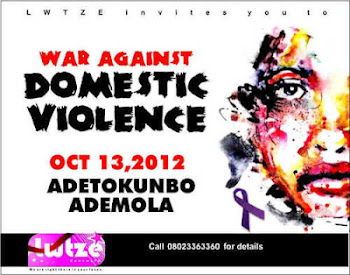 WAR Against Domestic Violence
In its bid to stop the on going domestic violence in Nigeria, LWTZE (Lady with the zoom effect), an initiative of Soundcity TV's lead ambassador and VJ, Olayinka 'Yeancah' Adamu presents WAR Against Domestic Violence. Celebrities who have endorsed and would be supporting the walk are Kween, Kenny Ogungbe, Kennis all star, Labi, Durella, Ali Baba, Tunde Ednut, Dpizle, Rayce, Harrysong, Chididnma, IllBliss, GT Tha guitarman, Peter Okoye, Modenine, MI, 2face, Timaya, Ice prince, 9ice and Steel. Admission is free for all.
Date: Saturday 13th October 2012
Time: 10 PM
Venue: Deuces, Adetokunbo Ademola, Victoria Island, Lagos
_________________________________________________________________________________
Battle of the Year Nigeria 2012
House of Royalty presents the 4th edition of Battle of the Year 2012. It is the Nigeria preliminary to the International 2012 Battle of the Year Break-dance Championship featuring B-boy crew showcases and battles from the best B-boy crews in Nigeria.This annual event will hold this Sunday in Surulere, Lagos. The Winning crew represents Nigeria and possibly Africa at the 2012 International Battle of the Year finals in Montpellier, France in November. Participating B-boy crews include Space Unlimited (2011 winners and defending Champions) One Unit (2009 winners), All Stars (2008 winners), Dance Reloaded, Street Wizards, Shadows (Enugu), Code Red (Benin), C.I.A and Body Control. Admission is free for all.
Date: Sunday 14th October 2012
Time: 2 PM – 6 PM
Venue: Gymnasium Hall, NIS, National Stadium, Surulere, Lagos
_________________________________________________________________________________
Chill & Relax: The October Fever
Chill and Relax,  a Spoken Word, Performance Poetry and Soul Music Event is taking place this Sunday. This event titked "The October Fever" will feature Lagos finest poets.
Date: Sunday 14th October 2012
Time: 3 PM
Venue: 16 Abeni Close, ASA Estate, off Ayodele Okeowo Street, After Deeper Life Church, Soluyi, Gbagada, Lagos
_____________________________________________________________________________________________
BellaNaija.com is not responsible for the organization or further promotion of these events, neither do we have a stake in their sales or popularity. Inclusion in "Events This Weekend" is Free. Contact – adsales (at) bellanaija.com on or before Wednesday every week if you will like your event to be included. Note that BN reserves the right to choose which events are featured. "Pay to attend" parties attract a fee