Good Afternoon BellaNaijarians, hope you are having a fantastic holiday.
As you know its that day of the week, when yours truly, BellaNaija.com presents to you all the most buzzed about events and places of interest to be spotted with your loved ones this weekend.
For this year's Sallah holiday, BN searched high and low for the best of events that will guarantee you fun and excitement from Thursday to Sunday.
BN wishes all our Muslim readers, a wonderful Sallah holiday and to every one else, stay safe, show love and keep dreaming BIG!
Have a fantastic weekend
Ciao!
Small Talk with Brownie
Nigerian on-air-personality/actress, Omoye Uzamere, popularly known as Brownie, presents the first edition of Small Talk with Brownie, a series of conversations for social adjustment in Lagos at the Bogobiri House this Friday. You are invited to be a part of the audience. There will music performances by rising act, Lolo Eremie, Nigerian Idol Finalist, Diwari and Project Fame finalist, Marvelous Odiete. Jazz session from a veteran band and red carpet commences at 5 PM, while the event starts 6 PM. Admission is free for all.
Date: Friday 26th October 2012
Time: 6 PM
Venue: Bogobiri House, 9 Maitama Sule Street, Ikoyi, Lagos
___________________________________________________________________________________________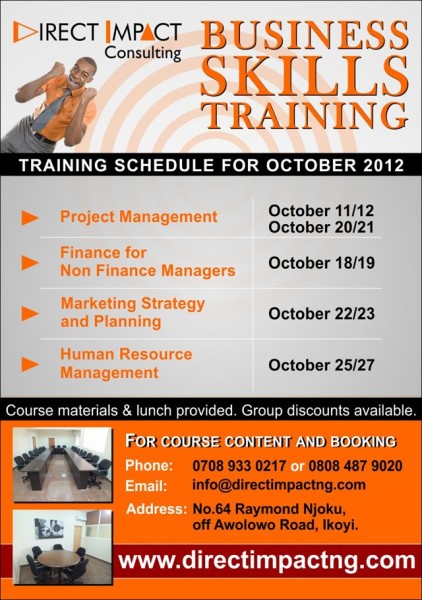 Direct Impact Consulting
Today and Saturday, Direct Impact Consulting, a leading provider of training and consulting services within the education and social development landscape, will hold its training program in Human Resource Management to suit the business peculiarities of SME's, in Lagos. The fee is N 55,000 and it includes course materials, tea-break and lunch. Be sure to get in touch with them for payment details.
Dates: Thursday 25th October 2012 | Saturday 27th October 2012
Fee: N 55,000
Venue: Direct Impact Consulting, 64 Raymond Njoku, off Awolowo Road, Ikoyi, Lagos
Contact: For more info and general inquiries, call 07089330217 | 08084879020 | e-mail [email protected] | Log on to their website
___________________________________________________________________________________________
The Official Opening of Oriki
Nigerian clothing line, Oriki will officially open its new store in Ikeja, Lagos and to mark this store opening, there will be a 3 day opening for lovers of the brand. At the end of the 3 day opening, Oriki will launch its male line alongside their new collection. Admission is free for all.
Date: Thursday 25th October – Sunday 28th October 2012
Time: 9 AM – 6 PM Daily
Venue: 60 Allen Avenue, 1 Adeboye Solanke Avenue, Ikeja, Lagos
Contact: For more info and general inquiries, call 08023341846 | 08138388004 | e-mail [email protected]
____________________________________________________________________________________________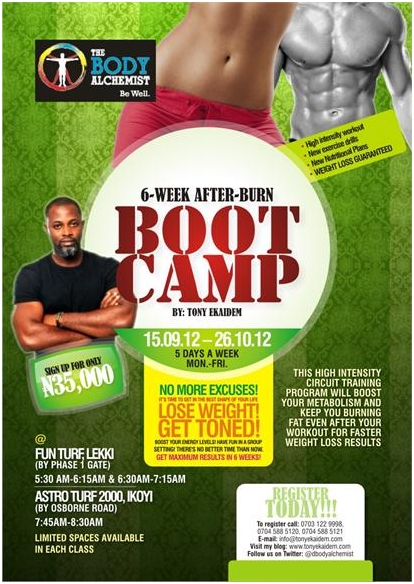 The Body Alchemist's 6 Week After Burn Boot Camp
Summer is over and it's time for you to get right back into shape and the After Burn is definitely the right medicine. The boot camp which is organized by Tony Ekaidem, a master instructor of World Taekwondo/Self Defence consultant, is a highly intensive circuit training program set to boost your rate of metabolism and keep you burning fat all day long. For payment details, be sure to get in touch with them.
Date:  Friday 26th October 2012
Venue 1: Fun Turf, By Lekki Phase 1 Gate, Lekki, Lagos
Time: 1st Session 5:30 AM – 6:15 AM | 2nd Session 6:30 AM – 7:15 AM
Venue 2: Astroturf 2000, Ikoyi, Lagos
Time: 7:45 AM – 8:30 AM
Contact: For more info and general enquiries, call 07031229998 | 07045885120 | 07045885121 | e-mail [email protected] | Log on to their website
___________________________________________________________________________________________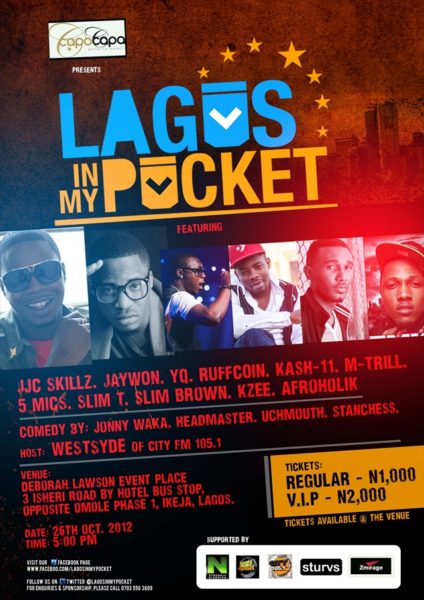 Capocapa Entertainment presents Lagos In My Pocket
CapoCapa Entertainment presents a brand new music initiative titled "Lagos In My Pocket" (L.I.P), a fun monthly music and comedy event. Due to the scarcity of high quality entertainment forums on the mainland for music lovers and enthusiasts alike, CapoCapa Entertainment has been urged to create such entertainment on every part of the mainland at an affordable rate. There would be musical performances by JJC Skillz, Jaywon, YQ, Ruffcoin, M-Thrill, Slim T, 5Mics and more, while there will be rib cracking jokes delivered by these rising comic acts, Jonny Waka, Headmaster, Uchmouth and Stanchess. Upcoming acts who attend will also be given the opportunity to perform.
Date: Friday 26th October 2012
Time: 5 PM
Venue: Deborah Lawson Event Place, 3 Isheri Road by Hotel Bus-Stop, opposite Omole Phase 1 Gate, Ikeja, Lagos
Ticket Prices: Regular N 1000 | VIP N 2000 (Payment will be made at the entrance)
Contact: For more info and general inquiries, e-mail [email protected] | Follow on Twitter@LagosInMyPocket
____________________________________________________________________________________________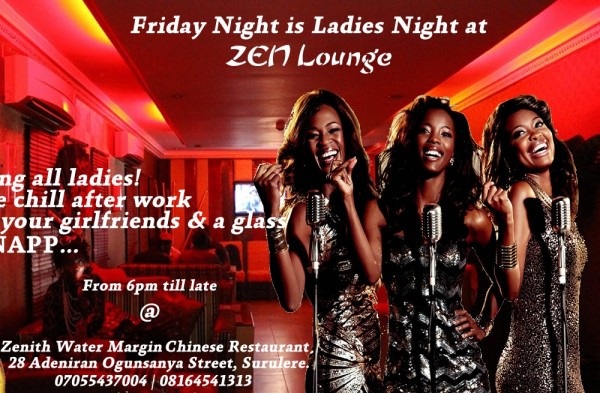 Ladies Night Out at Zen Lounge
Tomorrow, Friday 26th October 2012, will be another fabulous edition of Ladies Night Out at Zen Lounge, Surulere. The event is the perfect place for all ladies to relax and unwind with their colleagues after work, celebrate birthdays and bridal showers. Admission is free for all.
Date: Friday 26th October 2012
Time: 6 PM
Venue: Zenith Water Margin Chinese Restaurant, 28 Adeniran Ogunsanya Street, Surulere, Lagos
___________________________________________________________________________________________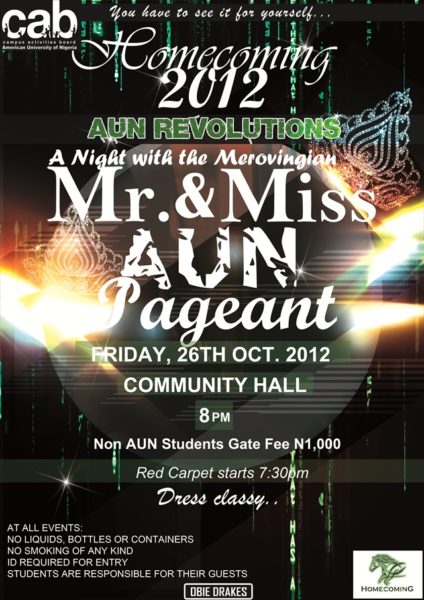 Meet the Merovingian's Mr & Miss AUN Pageant
America University of Nigeria's Home Coming event which includes a series of events including the Meet the Merovingian's Mr & Miss AUN Pageant will hold tomorrow. Where one luck girl and boy will be chosen as the king and queen for a period of time. Nigerian music star, Lynxxx will be a guest judge for the pageant.
Date: Friday 26th October 2012
Time: 7:30 PM
Venue: AUN Community Hall, Yola, Adamawa
Gate Fee: N 1000 (For Non-AUN Students)
___________________________________________________________________________________________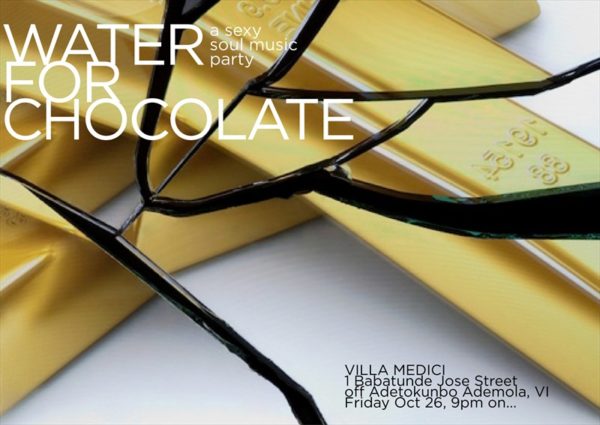 Water For Chocolate
Treat yourself to a night of soul music at the Water For Chocolate at Villa Medici, Victoria Island, Lagos. Admission is free for all, call 07069665555 to book a table for you and your friends.
Date: Friday 26th October 2012
Time: 9 PM
Venue: Villa Medici, 1 Babatunde Jose Street, Victoria Island, Lagos
____________________________________________________________________________________________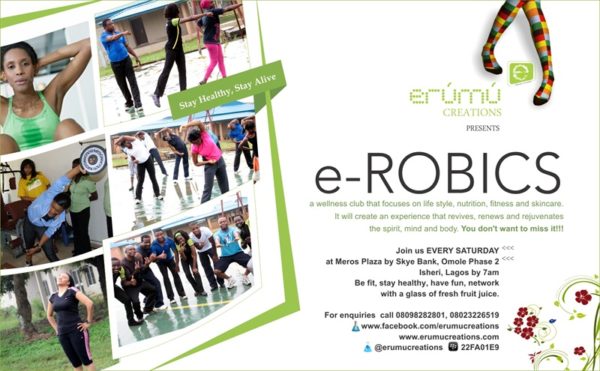 e-ROBICS
e-ROBICS is a wellness club that focuses on life style, nutrition, fitness and skin care. It will create an experience that renews and rejuvenates the spirit, mind and body. Admission is free for all.
Date: Saturday 27th October 2012
Time: 7 AM
Venue: Meros Plaza by Skye Bank, Omole Phase 2, Isheri, Lagos
___________________________________________________________________________________________
Zumba Fitness Training
Are you looking to improve your cardiovascular system, lose weight, improve your coordination or simply boost your mood? Then join Zumba Fitness training taking place this Saturday and Monday.
Date: Saturday 27th October 2012 & Monday 29th October 2012
Time: Saturday 9 AM | Monday 6: 30 PM
Venue: The Life Quest Gym, 37 Glover Court, off Glover Road, Ikoyi, Lagos
Fee: N 1500
Contact: For more info and general inquiries, call 07036572883 | Log on to their website
____________________________________________________________________________________________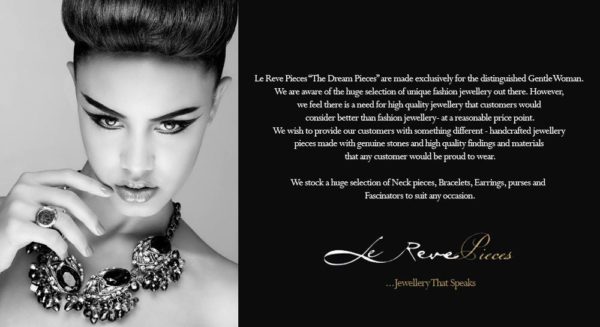 Le Reve Pieces Jewelry Store Opening
Le Reve Pieces, with an exclusive selection of exquisite jewelery for women, is celebrating the opening of its fashion retail store this Saturday. Attendees at the event will shop for lots of hand made jewelry from the brand at a 20% discount. There will be lots to eat and drink as well as music to dance to. Admission is free for all.
Date: Saturday 27th October 2012
Time: 2 PM – 8 PM
Venue: Valley View Mall, Shop FF4, No 1B, Niyi Okunbi Street, Lekki Phase I, Lekki, Lagos
Contact: For more info and general inquiries, call 08092222201 | e-mail [email protected]
____________________________________________________________________________________________
The Return of Ona Exhibition
You are cordially invited to the opening of "The Return of Ona" exhibition taking place at the Nike Art Gallery and Watersworth Gallery on Saturday and Sunday respectively. Exhibiting artists include Tola Wewe (Ondo), Kunle Filani (Ibadan), Bolaji Campbell (Rhode Island), Tunde Nasiru (Atlanta) and Moyo Okediji (Texas). Admission is free for all.
Date: Saturday 27th October – Sunday 28th October 2012
Time: 3 PM Daily
Venue: Saturday: Nike Art Gallery, 2 Elegushi Road, Epe Expressway, Ikate Cross Road, Lekki Phase 1, Lagos | Sunday: Watersworth Gallery, 38 Unity Close off Africa Lane, Lekki Phase 1, Lekki, Lagos
____________________________________________________________________________________________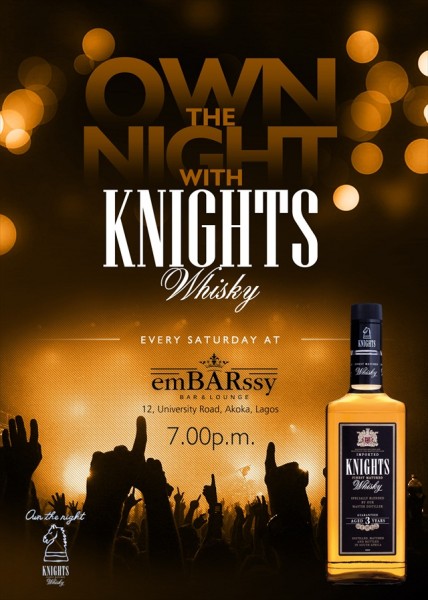 Own the Night with Knight Whisky
Top Nigerian comedian, Basketmouth's club, emBARssy Lounge will hold another fun edition of its soiree tagged "Own the Night with Knights Whisky". Be sure to come and join Basketmouth and other celebrities at the party. Admission is free for all.
Date: Saturday 27th October 2012
Time: 7 PM
Venue: emBARssy Lounge, 12 University Road, Akoka, Lagos
___________________________________________________________________________________________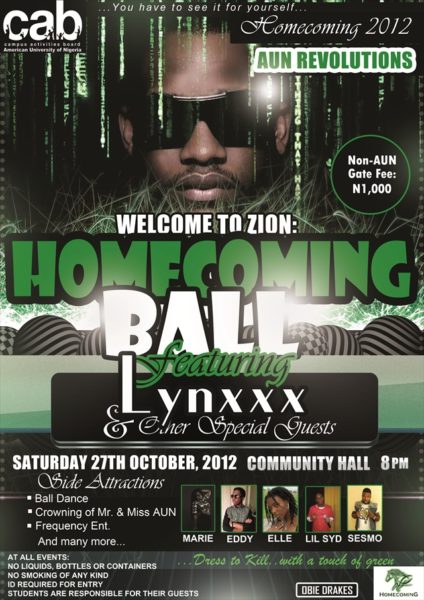 AUN Homecoming Ball & Concert
America University of Nigeria's Home Coming event which includes a series of events and it is a week dedicated for both undergraduate and alumnia to come together and have a fun filled weekend. Their Homecoming Ball and Concert will take place this Saturday and Nigerian miusic star, Lynxxx will perform his hit tracks alongside other upcoming acts. Side attractions of the event includes ball dancing and  crowning of Mr and Miss AUN
Date: Saturday 27th October 2012
Time: 8 PM
Venue: AUN Community Hall, Yola, Adamawa
Gate Fee: N 1000 (For Non-AUN Students)
___________________________________________________________________________________________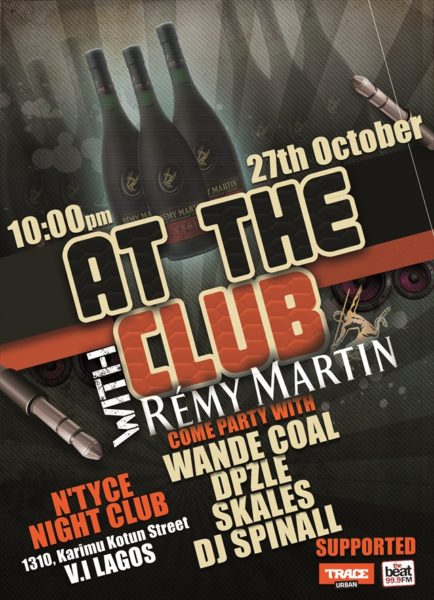 Party with Wande Coal, Skales & DJ Spinall at the Club with Remy Martin
The stage is set for yet another exciting edition of At the Club with Remy Martin this Saturday. You are invited to party with Wande Coal, Skales, D'Pzle, DJ Spinall and other Nigerian music stars at this soiree. Don't miss out, Admission is free for all.
Date: Saturday 27th October 2012
Time: 10 PM
Venue: N'Tyce Night Club, 1310 Karimu Kotun Street, Victoria Island, Lagos
____________________________________________________________________________________________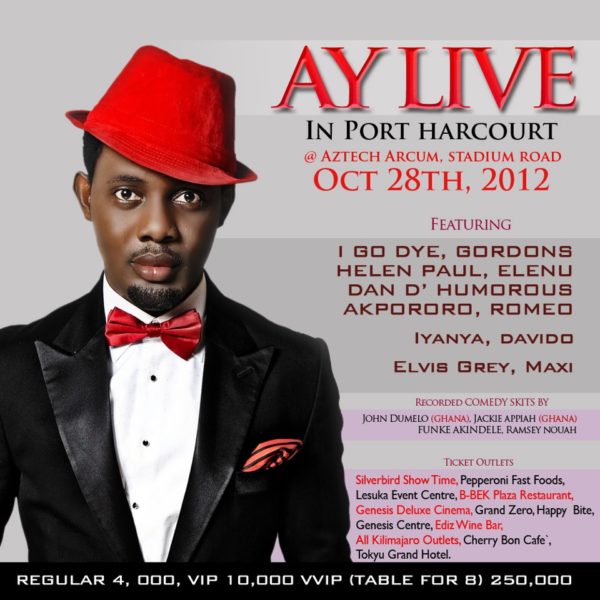 AY Live In Port Harcourt
Nation's oil rich city, Port Harcourt, get ready for a hilarious day out this Sunday. The AY Live in Port Harcourt show is here again and this time is more fun. Nigeria's top comedians, I Go Dye, Gordons, Helen Paul, Elenu, Dan D'Humorous, Akpororo and Romeo will be present to deliver hilarious jokes alongside AY while music acts, Iyanya, Davido, Elvis Grey and Maxi, will thrill with their songs.
Date: Sunday 28th October 2012
Venue: Aztech Arcum, Stadium Road, Port Harcourt, Rivers
Ticket Prices: Regular N 4000 | VIP N 10,000 | VVIP (Table for 8) N 250,000
Ticket Locations: Silverbird Show Time | Pepperoni Fast Foods | Lesuka Event Centre | B-BEK Plaza Restaurant | Genesis Deluxe Cinema | Grand Zero | Happy Bite | Genesis Centre | Editz Wine Bar | All Kilmajaro Outlets | Cherry Bon Cafe' | Tokyu Grand Hotel
____________________________________________________________________________________________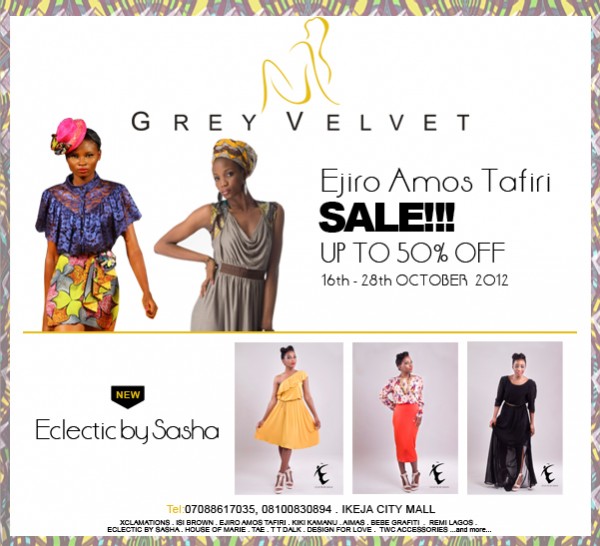 Grey Velvet Ejiro Amos Tafiri
The Grey Velvet Boutique, concessionaires of top Nigerian designers presents 20% – 50% discounts off gorgeous pieces from Nigerian design label, Ejiro Amos Tafiri this Sunday at their Ikeja City Mall Store.
Date: Sunday 28th October 2012
Time: 9 AM – 10 PM
Venue: Grey Velvet Boutique, Ikeja City Mall, Alausa, Ikeja, Lagos
___________________________________________________________________________________________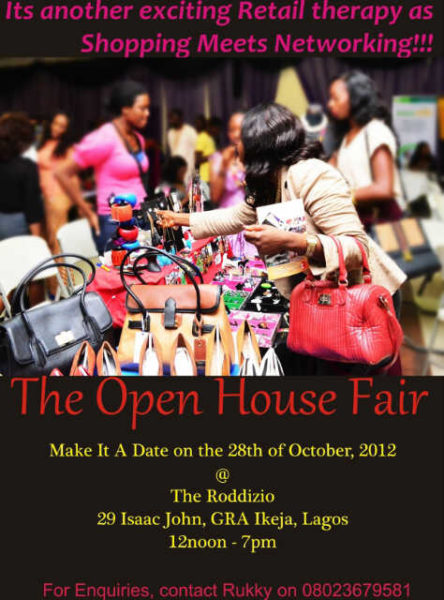 The Open House Fair
Shopping meets networking this Sunday at Rodizzio. Get great bargains in top quality wares and products for your home and personal use at the Rodizzio Open House Fair. Admission is free for all.
Date: Sunday 28th October 2012
Time: 12 Noon – 7 PM
Venue: Rodizzio, 29 Isaac John Street, GRA, Ikeja, Lagos
____________________________________________________________________________________________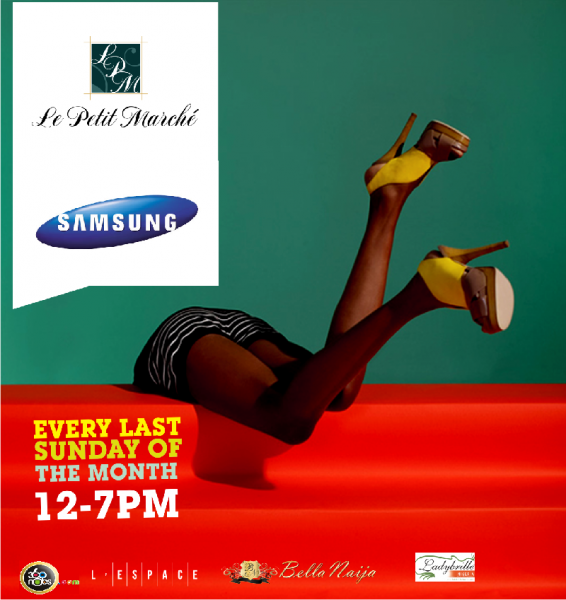 LPM October 2012
The sensational monthly shopping extravaganza, Le Petit Marche will hold once again this Sunday at the GET Arena, Lagos. Attendees will shop for shoes, bags, clothes and other items from these vendors; Anie's Place, Beyond Faces Make over, Biddy's Mondo, Cam Cam, Cookie Jar, Dealz9ja, Diva's lounge, Dukiees Beads, Ejiro Amos-Tafiri, Estitos, Hedges & Smith, Idea Builders Initiative, Indigo Boutique, Kenny Adelaja, Kikcot, La Bennis, L'Espace, Literati, Lummie's Collection, Morashat Nigeria Ltd, Patrick Ayanski, Rukkies Concept, Style Pantry, Wow! by Yhugee, Y.Craig and YM Couture. Admission is free for all.
Date: Sunday 28th October 2012
Time: 12 Noon – 7 PM
Venue: GET Arena, Oniru, Lekki, Lagos
___________________________________________________________________________________________
Golden Sand by Tunde Leye – The Book Reading & Signing
Join Nigerian author, Tunde Leye at the book reading and signing of his debut literary work, Golden Sand at La Mango Restaurant, Ikeja, Lagos. It promises to be insightful and educative gathering, which will see rising music act, Dipo perform his songs. Admission is free for all.
Date: Sunday 28th October 2012
Time: 3 PM
Venue: La Mango Restaurant, 2 Adekunle Fajuyi Street, GRA, Ikeja, Lagos
____________________________________________________________________________________________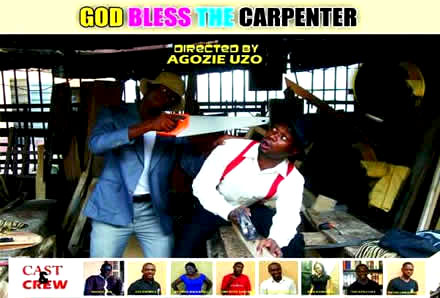 God Bless the Carpenter
This Sunday, be sure to head down to Terra Kulture for the final hilarious edition of their stage show, God Bless the Carpenter.
Date: Sunday 28th October 2012
Time: 3 PM & 6 PM
Venue: Terra Kulture, 1376, Tiamiyu Savage, Off Ahmadu Bello Way, Victoria Island, Lagos
Fee: N 2,500
____________________________________________________________________________________________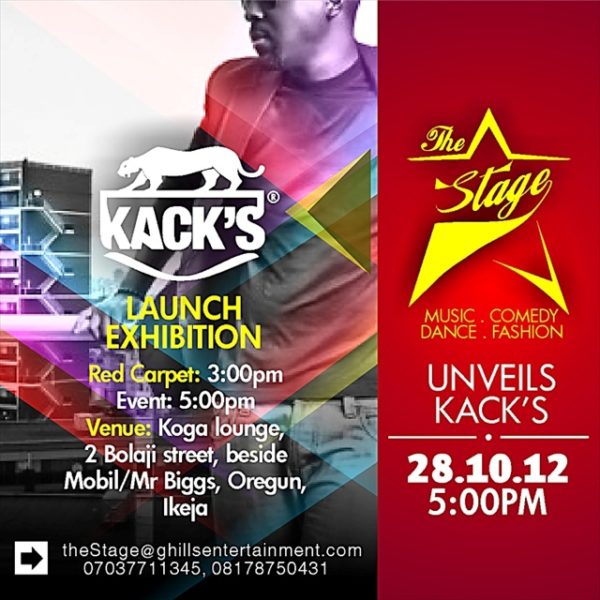 The Stage presents Kacks Launch Exhibition
This Sunday, The Stage's October edition, an event aimed at discovery new talents, will see the unveiling of Kacks Clothier. The rising Nigerian clothing line known for being classy and versatile would be made available for sale. Admission is free for all.
Date: Sunday 28th October 20112
Time: 4 PM
Venue: Koga Lounge, 2 Bolaji Street, beside Mobil/Mr Biggs, Oregun, Ikeja, Lagos
Contact: For more info and general inquiries, e-mail [email protected]
____________________________________________________________________________________________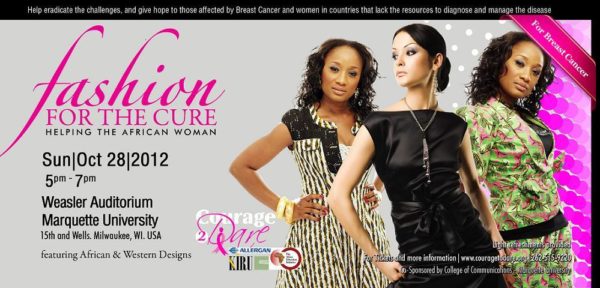 Fashion For the Cure
US Based Nigerian actress, Juliet Uzoma Aguwa will light up the Weasler Auditorium of the Marquette University, with a fashion show tagged "Fashion for the Cure", where both African and Western designs will be showcased. The event will also serve as a platform to further help women living with breast cancer. There will be lots of light refreshments for all attendees. For tickets and more information, log on to couragetodare.org
Date: Sunday 28th October 2012
Time: 5 PM – 7 PM
Venue: Weasler Auditorium, Marquette University, 15th and Wells, Milwaukee, USA
____________________________________________________________________________________________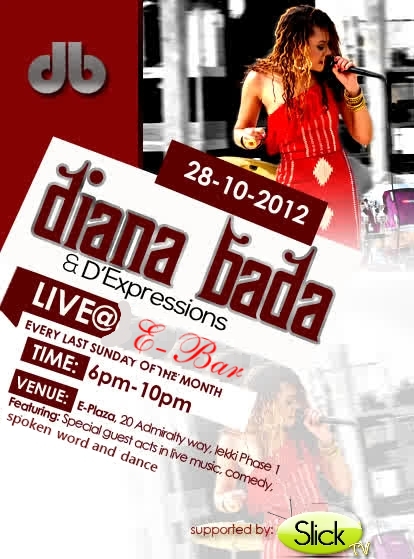 Diana Bada & D'Expressions Live at E-Bar
This Sunday, music act, Diana Bada and her band, D'Expressions will be live at E-Bar to thrill all with their sensational songs. The event hosted by Tokunbo Odedina, will feature special performances by D Queen, LightChild, Rymzi, Koffi, Overdose, Omotayo, DiggyDor, Jazzy, Kiss, Elfreda and SK Boys. Admission is free for all!
Date: Sunday 28th October 2012
Time: 6 PM – 10 PM
Venue: E-Plaza, 20 Admiralty Way, Lekki Phase I, Lagos
_____________________________________________________________________________________________
BellaNaija.com is not responsible for the organization or further promotion of these events, neither do we have a stake in their sales or popularity. Inclusion in "Events This Weekend" is Free. Contact – adsales (at) bellanaija.com on or before Wednesday every week if you will like your event to be included. Note that BN reserves the right to choose which events are featured. "Pay to attend" parties attract a fee