Hello BellaNaijarians, it's Thursday!
Hope your day is going great. BN Events is back with its listing of some of the most buzzed about events and places of interest taking place around you. From Lagos to Abuja, we've got you covered.
Stay safe, have fun and keep dreaming BIG.
Ciao!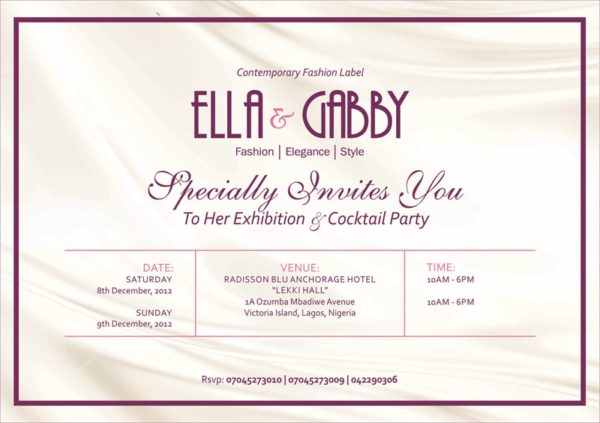 Ella & Gabby Exhibition and Cocktail Party
Contemporary Nigerian design label, Ella & Gabby cordially invites you to its exhibition and cocktail party this weekend at the Radisson Blu, Victoria Island, Lagos. To attend this event, call 07045273010 | 07045273009 | 042290306. It promises to be interesting and fashion fabulousity at its best.
Date: Saturday 8th December – Sunday 9th December 2012
Time: 10 AM – 6 PM
Venue: Radisson Blu Hotel, 1A Ozumba Mbadiwe Avenue, Victoria Island, Lagos
__________________________________________________________________________________________________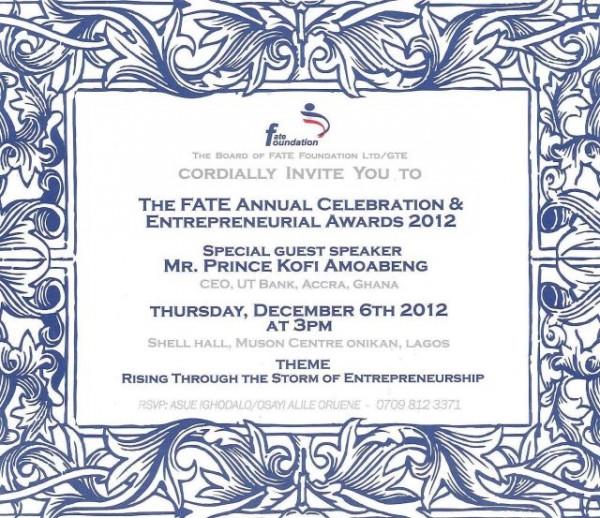 The FATE Foundation Annual Celebration & Entrepreneurial Awards 2012
Today, Thursday 6th December 2012, FATE Foundation will hold the 11th edition of its annual celebration and entrepreneurial award ceremony. Themed "Rising above the Storm of Entrepreneurship", the event will feature an array of awards presentation to outstanding individuals to recognize their significant contributions and achievements during the year.  The Special Guest Speaker is the co-founder/CEO of UT Bank Accra Ghana, Prince Kofi Amoabeng. The ceremony will be compered by ace comedian and businessman, Ali Baba and will be graced by eminent personalities in the country from the private and public sectors.
Date:  Thursday 6th December 2012
Time: 3PM
Venue: Shell Hall,  MUSON Centre, Onikan, Lagos Island, Lagos
Contact: For more info and general inquiries, e-mail [email protected]
__________________________________________________________________________________________________
A Celebration Memorial: Remi Lagos
Today, Thursday 6th December 2012, a committee of friends of the late pioneer Nigerian designer, Remi Osholake of Remi Lagos, will celebrate the life and times of the 51 year old, who died in early November, at the Landmark Village Events Centre, Lagos. Kicking off at 6 PM, the event according to one of the organizers is planned to be a celebration memorial where her friends will come together to appreciate her and her works. Some designers will present pieces that creatively define Remi's sense of style. Her collections will also be unveiled at the event. Admission is free for all.
Date: Thursday 6th December 2012
Time: 6 PM
Venue: Landmark Village Events Centre, Victoria Island, Lagos
__________________________________________________________________________________________________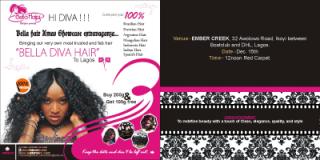 Bella Diva Hair
Bella Diva Hair is heading to Abuja this weekend for its Christmas sale extravaganza. Head to the venue by noon and for every 200 gram worth of Brazilian, Peruvian, Indonesian, Argentine and Mongolian hair extensions and lace wigs you buy, you get 100 gram free. Admission is free for all.
Date: Friday 7th December – Saturday 8th December 2012
Time: 12 Noon
Venue: Hatlab Place, Plot 1952 Sokode Crescent off Dalaba Street, Zone 5 around PDP Secretariat, Abuja
__________________________________________________________________________________________________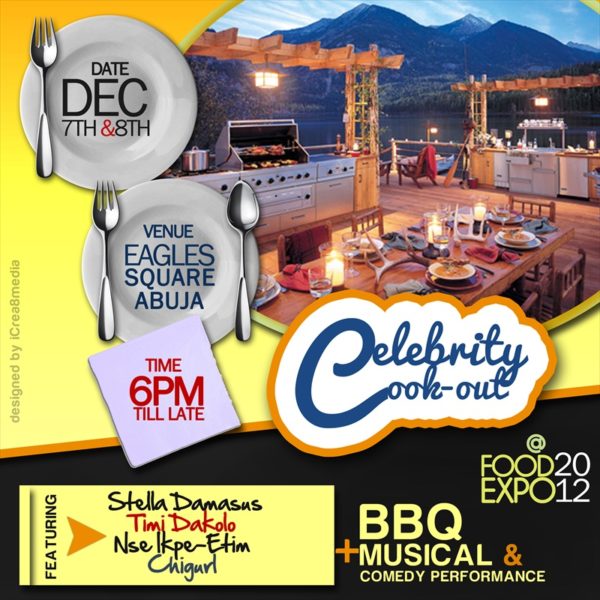 Celebrity Cook Out at the Abuja Expo 2012
It's going to be one yummy day in Abuja this weekend as the 3 day Abuja Expo 2012 is set and ready to take place . The event is aimed at creating awareness about food and use involvement within the agricultural sector. There would be loads of activities including young entrepreneur challenge and a celebrity cookout with Stella Damasus, Timi Dakolo, Nse Ikpe-Etim and Chigurl. Admission is free for all.
Date: Friday 7th December – Saturday 8th December 2012
Time: 6 PM
Venue: Eagles Square, Abuja
__________________________________________________________________________________________________
Ladies Night Out at Zen Lounge
This Friday 7th December 2012, another fabulous edition of Ladies Night Out will be held at Zen Lounge, Surulere. The event is the right place for all ladies to relax and unwind with their colleagues after work, celebrate birthdays and bridal showers. Admission is free for all.
Date: Friday 7th December 2012
Time: 6 PM
Venue: Zenith Water Margin Chinese Restaurant, 28 Adeniran Ogunsanya Street, Surulere, Lagos
_________________________________________________________________________________________
Nocturnal presents Friday Night Live with Lynxxx, Banky W and Burna Boy
Party with Banky W, Lynxxx and Burna Boy tomorrow at Nocturnal's Friday Night Live event at the GET Arena, Lagos. Admission is free for all and attendees are advised to dress their best. For an exclusive VIP and table bookings, call 08088501581 | 08056794283 or e-mail [email protected]
Date: Friday 7th December 2012
Time: 10 PM
Venue: GET Arena, Oniru, Lagos
__________________________________________________________________________________________________
Erumu Creations presents e-ROBICS
e-ROBICS is a wellness club that focuses on life style, nutrition, fitness and skin care. It will create an experience that renews and rejuvenates the spirit, mind and body and you are invited. Admission is free for all.
Date: Saturday 8th December 2012
Time: 7 AM
Venue: Meros Plaza by Skye Bank, Omole Phase 2, Isheri, Lagos
________________________________________________________________________________________
Zumba Fitness Training
Are you looking to improve your cardiovascular system, lose weight, improve your coordination or simply boost your mood? Then join Zumba Fitness training taking place this Saturday and Monday.
Date: Saturday 8th December 2012 & Monday 10th December 2012
Time: Saturday 9 AM | Monday 6: 30 PM
Venue: The Life Quest Gym, 37 Glover Court, off Glover Road, Ikoyi, Lagos
Fee: N 1500
Contact: For more information and general inquiries, call 07036572883 | Log on to their website
________________________________________________________________________________________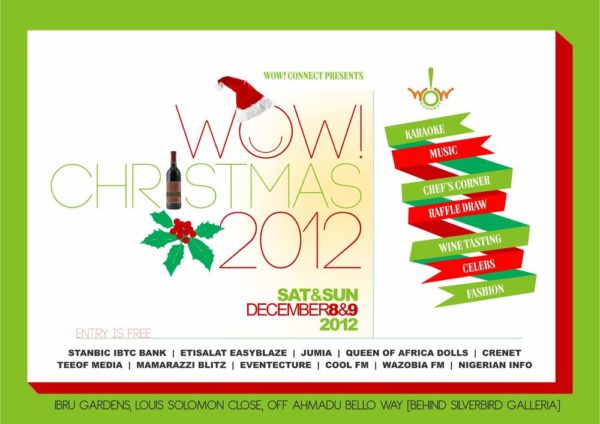 WOW! Christmas 2012
This weekend, WOW! Connect would host a 2 day lifestyle and Christmas fair guaranteed to start off the holidays with a bang. The event promises to be a fun filled one with more products including clothes, accessories, home ware, soft furnishings, gift hampers and services on display and attendees would also stand a chance to win fantastic prizes in the raffle draws. This edition of WOW! Christmas will include cake and wine tasting. Admission is free for all.
Date: Saturday December 8th – Sunday December 9th 2012
Time: 10AM – 7PM
Venue: Ibru Gardens, Louis Solomon Close (Behind Silverbird Galleria) off Ahmadu Bello Way, Victoria Island, Lagos.
Contact: For more info and general inquiries, call 08097291357 | 07059565734 | Add BB Pin 26E4E105 | Log on to their website
__________________________________________________________________________________________________
Lost in Lagos LIVE
You are cordially invited this weekend to the Lost in Lagos LIVE Christmas trunk show, where you you will have a nice time and shop for loads of items from lot of vendors including Retrospective. The first 25 shoppers to walk into the Retrospective store, will get a 25% discount. Admission is free for all.
Date: Saturday 8th December – Sunday 9th December 2012
Time: 12 Noon – 7 PM
Venue: Federal Palace Hotel, Victoria Island, Lagos
__________________________________________________________________________________________________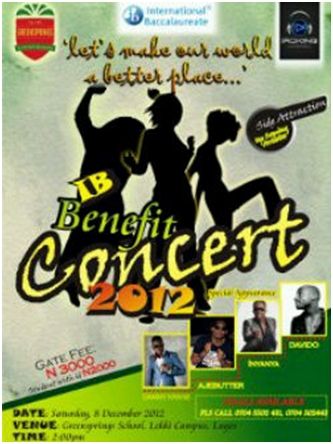 IB Benefit Concert 2012
On Saturday, the international baccalaureate students at Greensprings, Lekki, Lagos, will host a benefit concert. The event which will feature performances by Davido, Dammy Krane, Iyanya and Aje Butter, is aimed at raising funds gotten from the concert to further the education of orphans.
Date: Saturday 8th December 2012
Time: 2 PM
Venue: Greensprings School, Lekki Campus, Lagos
Gate Fee: N 3,000
Contact: For more info and general inquiries, call 08037196707 | 07045420434
__________________________________________________________________________________________________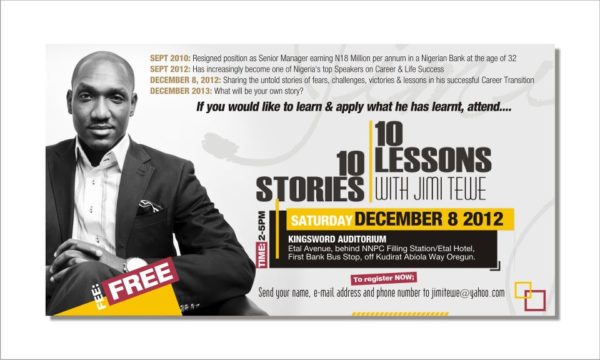 10 Stories, 10 Lessons with Jimi Tewe
Jimi Tewe, a savvy Nigerian entrepreneur will speak at the 10 Stories, 10 Lessons with Jimi Tewe event this Saturday at the Kingsword Auditorium, Lagos. Admission is free for all. Register by sending your name, e-mail address and phone number to [email protected]
Date: Saturday 8th December 2012
Time: 2 PM – 5 PM
Venue: Kingsword Auditorium, Etal Avenue, Behind NNPC Filling Station/Etal Hotel, First Bank Bus Stop, off Kudirat Abiola Way, Oregun, Lagos.
________________________________________________________________________________________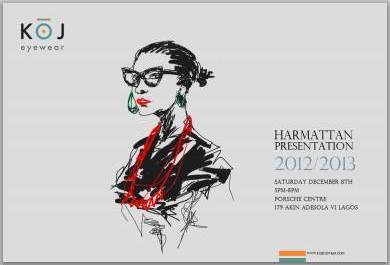 KOJ Eyewear – Harmattan 2012/2013 Presentation
Eyewear brand, KOJ Eyewear will unveil its 2012/2012 Harmattan presentation this Saturday at the Porsche Centre. To attend, call 07034124503.
Date: Saturday 8th December 2012
Time: 5 PM – 8 PM
Venue: Porsche Centre, 179 Akin Adesola Street, Lagos
__________________________________________________________________________________________________
The 5th Mode Men of the Year Awards
The 5th edition of the Mode Men of the Year Awards will take place this Saturday at the Oriental Hotel, Lagos. The event will be hosted by Stella Damasus and Chris Attoh.
Date: Saturday 8th December 2012
Time: 7 PM
Venue: The Oriental Hotel, Lekki, Lagos
__________________________________________________________________________________________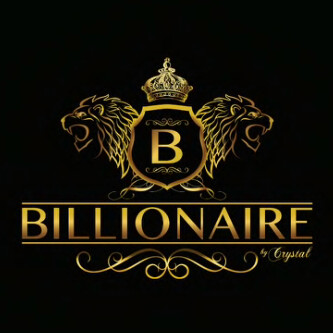 The Official Opening of Billionaire by Crystal
You are invited this Saturday to the official opening of Billionaire Nightclub by Crystal in Abuja. The event promises to be the start of the holiday season with performances from some of your most loved artistes including one of Africa's top rappers. Admission is free for all.
Date: Saturday 8th December 2012
Time: 11 PM
Venue: Safire Plaza Building, Ademola Adetokunbo  Wuse II, Abuja
__________________________________________________________________________________________________
You are Invited to the Exclusive Exhibition of the Meyin Collection by Ahme Couture
Handbag and accessories brand, Ahme Couture is holding an exclusive event for the exhibition of its new collection, Meyin Collection at the Cellar, Lagos. To attend, be sure to get in touch with them.
Date: Sunday 9th December 2012
Time: 12 Noon
Venue: The Cellar, 6A, Abimbola Awoniyi Close Off Saka Tinubu, Victoria Island, Lagos
Contact: For more info and general inquiries, call 08052022621 | 08023386421 | e-mail [email protected] | like their Facebook page
__________________________________________________________________________________________________
Fusion Lifestyle Shopping Event & Food Fair
On Sunday 9th December 2012, the exciting shopping event and food fair, Fusion Lifestyle will hold the 3rd edition of its Anniversary/Give Back edition at BMO Events, Abuja. With over 70 vendors  stocked with the best of fashion and accessories, health and beauty products and services, children items, home ware, specialized services and a garden full of a vast array of food and drinks, this shopping event is must attend for all. According to the organizers, for this anniversary edition, they are offering special discounts on participation for returning and new participants. Guests are not left out of the give-back as well – they would get to win loads of fabulous prizes including a shopping spree of N 50,000 for one lucky attendee. Admission is free for all.
Date: Sunday 9th December 2012
Time: 12 Noon – 7 PM
Venue: BMO Events, River Plate Park, Ahmadu Bello Way, Wuse II, Abuja
Contact: For more info and general inquiries, call 08098389882 | e-mail [email protected] | log on to website
__________________________________________________________________________________________________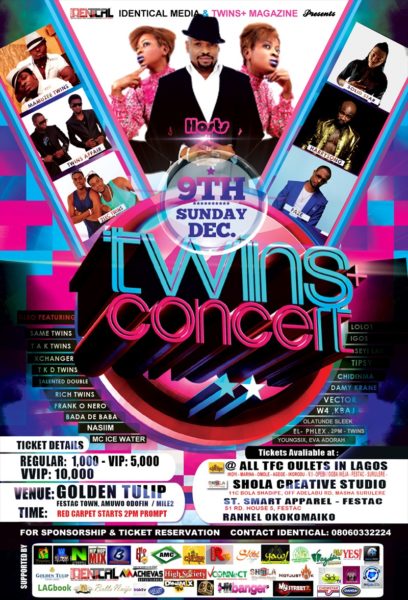 Twins Concert
Twins Concert – an annual event aimed at strengthening ties among twins and non-twins alike, fostering peace and friendship – will take place this Sunday at the Golden Tulip, Lagos. The event hosted by Yaw will feature performances and appearances by some of Nigeria's top entertainers including Vector, Solid Star, W4, Harry Song, Faze, Orezi, Twins Affairs, 2Sec, Same Twins, Mamuzee Twins and El-Phlex.
Date: Sunday 9th December 2012
Time: 2 PM
Venue: Golden Tulip, Festac Amuwo Odofin Mile 2, Lagos
Contact: For more info and general inquiries, call 08060332224 | 08153169060 | Add BB Pin 23024F73 | 22FE3999
Ticket Prices: Regular N 1,000 | VIP N 5, 000 | VVIP N 10,000
Ticket Location: All Tastee Fried Chicken Outlets in Lagos
__________________________________________________________________________________________________
Chill and Relax: December to Treasure
This Sunday, Chill and Relax, a spoken word and performance poetry open mic event, will hold its December edition tagged December to Treasure. Some of Lagos' famous poets will also be in attendance.
Date: Sunday 9th December 2012
Time: 3 PM
Venue: 16 Abeni Close, ASA Estate, off Ayodele Okeowo Street, after Deeper Lofe Church, Soluyi, Gbagada, Lagos
__________________________________________________________________________________________________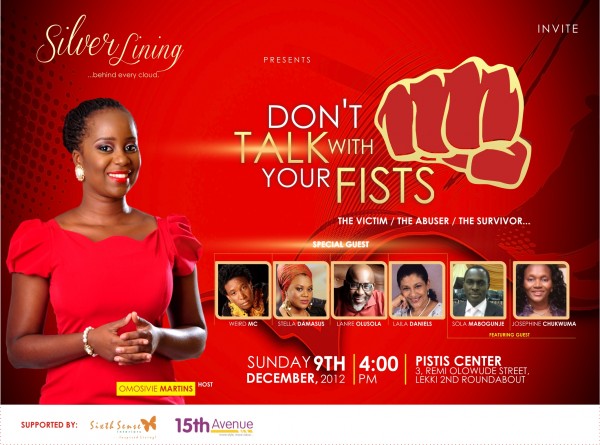 Silver Lining presents Don't Talk with Your Fists
This Sunday, Silver Lining – a platform to impact, restore and heal individuals and families by encouraging the personal and spiritual growth of the audience – will hold a seminar opened to both men and women on domestic violence. Tagged "Dont Talk With Your Fists", the event kicking off at 4 PM will see in attendance Weird MC, Stella Damasus, Lanre Olusola, Lara Daniels,  Sola Mabogunje and Josephine Chukwuma. Admission is free for all.
Date: Sunday 9th December, 2012
Time: 4 PM
Venue: Pitis Center, 3 Remi Olowude Street, (2nd Roundabout coming from Lekki Toll gate, Next to Marwa Roundabout), Lekki, Lagos
Contact: For more info and general inquiries, call 08038152515 | 08182600678
__________________________________________________________________________________________________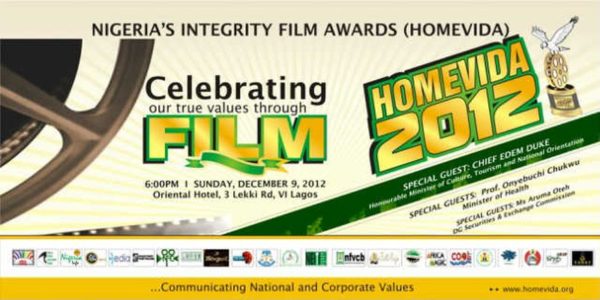 Nigeria's Integrity Film Awards – Homevida 2012
After two years in Abuja, the Home Video Integrity Awards (HomeVida) is set to hold in Lagos, this Sunday at the Oriental Hotel, Victoria Island. Hosted by Nollywood actor, Joseph Benjamin and on-air-personality, Gbemi Olateru-Olagbegi, the Homevida 2012 – an annual film award platform driving creative message on integrity and value change through the films – will kick off at 6 PM. Finalists in the short film categories will win N 1 million.
Date: Sunday 9th December 2012
Time: 6PM
Venue: Oriental Hotel, Victoria Island, Lagos
Contact: For more info and general inquiries, call 08036267188 | 08065643764 | 08069211173
__________________________________________________________________________________________________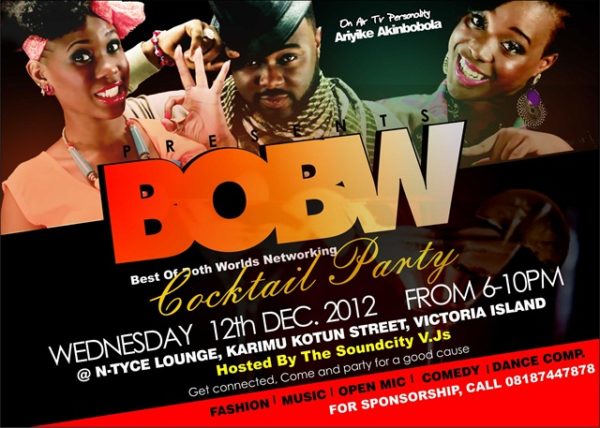 Best of Both Worlds Networking Cocktail Party
This Wednesday, another edition of the Best of Both Worlds Networking Cocktail Party will take place at the N-Tyce Lounge, Victoria Island, Lagos. The event will feature lots of activities including a fashion show by Nigerian design label, Fab Lane and a display of Kuku's Hair products. There would be musical performances by M-thrill, Leo wonder, BlackMagic, Miss Bimi, Classiq, Oloade Cucu, J Royalty (17 voices) and a surprise artist. Comedy will be by Mc Prince, Extreme and Mc Parrot. Admission is free for all.
Date: Wednesday 12th December 2012
Time: 6 – 10 PM
Venue: N-Tyce Lounge, Karimu Kotun Streer, Victoria Island, Lagos
___________________________________________________________________________________________________
BellaNaija.com is not responsible for the organization or further promotion of these events, neither do we have a stake in their sales or popularity. Inclusion in "Events This Weekend" is Free. Contact – adsales (at) bellanaija.com on or before Wednesday every week if you will like your event to be included. Note that BN reserves the right to choose which events are featured. "Pay to attend" parties attract a fee