An absolutely gorgeous wedding with an even sweeter love story! On BN Our Wedding Story today, we journey to Atlanta for TV host Seun Maduka and civil engineer Damola Adegoke's stunning wedding!
We admit that we just couldn't stop staring at the beautiful bride! Seun and Damola's wedding story takes things up a notch. From the way they met to their divinely orchestrated second meeting (in church!) then the yummy proposal on a romantic cruise and finally their blessed wedding day!
Enjoy…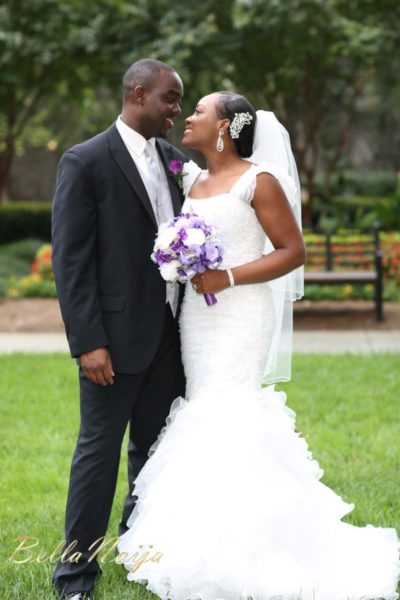 How Seun & Damola Met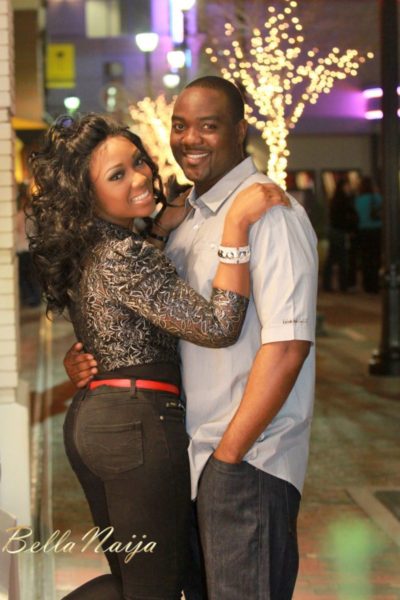 Seun starts
Damola and I met at a summer barbeque in Atlanta. As I was grabbing something to eat at the event, I couldn't help but notice a tall dark and handsome figure. Our eyes instantly met.
Damola interjects
She was the prettiest person I had ever seen. So beautiful she left me speechless. Something about her stood out. It was almost as if the room stood still.
Seun continues
He summoned up the courage to say hi to which I responded. He asked for my name and I said "Shay"*insert foneh* thinking he was American, then I asked for his name and he said Damola to which I replied "in that case my name is Oluwaseun". We both laughed about it and we got talking immediately. It was almost as if I had known him in like forever. As much as the conversation was flowing, I had to dismiss myself just to keep him guessing *ladies have you started taking notes*. We both felt something deep down and I was thinking like oh yeah he is definitely gonna ask for my number before the party is over to which I planned on doing small shakara and saying NO with the hope that he would be persistent sha *ladies, bullet point number 2* To my utter shock and disappointment, the party ends and he sees me walk out the door and even has the nerve to say bye WITHOUT ASKING FOR MY NUMBER *yepa*
Damola interjects
I knew we had a strong connection but I couldn't summon up the courage to ask Seun for her number. On my drive home, I kept thinking about her and beating myself up for not asking for her number. I never stopped thinking about her after that day.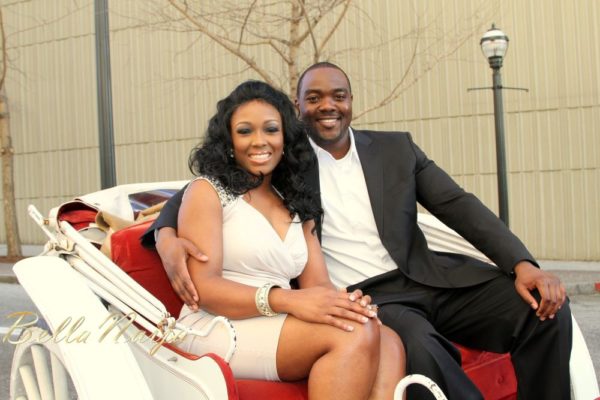 The Divine Connection
Seun continues
Fast forward to some months down the road. My sister and I had come to visit my aunty in Atlanta who had a baby. We drove in from out of town late at night and were so tired from the drive. We had only slept 3 hrs when my aunty woke us up at 7am for church. We were so tired and weak that we asked her if we could sleep in but my aunt insisted that we attended church *thank you Aunty Motunde for insisting*. During the service, I had my aunt's baby on my lap and a wonderful lady sitting behind me (my future mother in-law) took the baby from my lap. I didn't know what to think of it especially because I didn't know who she was. After the service, I looked back to take the baby back from her only to see the same 'Mr. Tall dark and handsome' standing beside her (Damola) and even playing with the baby. It turns out that my aunty and Damola's family have been long time family friends.
Damola interjects
I was so happy to see my beautiful queen again. This time around, I knew I couldn't let her go, so I asked her for her number.
Seun continues
And this time around, I knew there was no time for shakara, I had to give him my number. The next day was coincidentally my birthday. He called me and we have been like 2 peas in a pod since then.
The Proposal
by Damola

I proposed to Seun on her birthday on a cruise to the Bahamas. Last year, Seun and I decided to take a cruise for her birthday, I knew at that point in my mind that this would be the ideal place for me to ask her to marry me. I had already talked to her parents and my parents about my intentions along with our family members. My friend and his wife came with us on the trip, and they both played along like we were only going for her birthday. We arrived in Orlando and took a shuttle to the port were the cruise ship docked; we checked into our rooms and I knew I had to get ready first so I can go upstairs to the restaurant to reserve our sitting and come up with the proposal strategy. I told the waiters my idea which was to get her a heart shaped cake and write happy birthday on it, and then after we eat the cake the plan was for them to come with a plate that will say 'will you marry me on it' *sounds like a good plan right* WRONG!!! I guess the waiter didn't understand clearly what I was saying. The waiter brought the cake to the table, at this point, I am thinking the cake will say 'Happy birthday Seun' but instead it said 'Will You Marry Me' on the cake. So I guess I was just as surprised as she was because that was not the plan. The plan ended up working out though. As soon as I noticed it, I immediately got on one knee and asked my beautiful bride to marry me and she said YESSSSS!!!!!!!!!!!
____________________________________________________________________________
With talented singer/songwriter/sister of the bride Gloria Maduka singing Shania Twain's classic hit "From This Moment" as the bride Seun Maduka walked down the aisle to her groom, Damola Adegoke; Everyone knew we were set to experience a stellar day filled with love.
Damola: "I promise to start watching your chick flicks and all of Bravo channel's Real Housewives series except during Monday Night Football"
Seun: "I know you love to eat and you can eat a whole house, but baby, I promise to cook you a whole mansion"
As Seun and Damola recited their vows, family, friends and guests smiled! The celebration moved to the reception where Seun and Damola rocked with their friends in the majestic Biltmore Ballroom which had been beautifully enhanced with crystals, vases filled with floating candles and royal purple linens which matched the white and purple ribbon wedding cake. As Seun and Damola danced, the bride's ruffled mermaid wedding dress swirled in style while the silver Jimmy Choos she received from her beau as a gift on the morning of their wedding twinkled each time it caught the light. The night ended with the band playing on while the couple changed into their traditional Yoruba party attire and enjoyed the special day with their family and friends.
BN wishes Seun and Damola a blessed life together filled with joy, love and favour!

Wedding Details
Dates
Traditional Wedding: 24th August 2012
White Wedding: 25th August 2012
Wedding Venues
Traditional Wedding: Riverdale Town Center
White Wedding: Biltmore Ballroom, Atlanta GA
Wedding Colours
Traditional Wedding: Groom's Colour – Royal Blue | Bride's Colour – Gold
White Wedding: Groom's Colour – Peach | Bride's Colour – Red | Bridal Party Colour – Purple & Silver
Wedding Theme: Fairytale
Vendors
Bride's Wedding Dress: Anya Bridal
Groom's Suit: Men's Warehouse
Wedding Planner: Tiffany Rolle – tiffvrolle (at) yahoo.com
Traditional & White Wedding Cakes: Memorable Cakes by Kristen Brousseau – kristenbrousseau (at) yahoo.com
Wedding Singer: Gloria Maduka – www.gloriamaduka.com
Makeup Artist: Glitz by Tolulope Kara – tkara83 (at) gmail.com
Bride's Hair: Mary Omotunde for Annointed Hands Salon – foluhair (at) yahoo.com
Food: Nation's Cafe by Chef Okon – nationscafe (at) gmail.com
Disc Jockey: DJ Majesty – djaymajesty (at) gmail.com
Live Band: Taiwo Owokoniran – towokoniran (at) gmail.com
Engagement/E-session Photography: Cryxtalx Video and Photography – prince (at) cryxtalx.com | www.cryxtalx.com
Traditional Wedding Photography: Akobi Heritage Photography – www.akobiheritage.com
White Wedding Photography: Blane Marable – www.blanemarable.com | blanemarable (at) gmail.com
White Wedding Photography: Claire Diana Photography – clairedianaphotography.com
Videography: Cryxtalx Video and Photography – www.cryxtalx.com

In case you missed it, check out the bride's TV show "United States of Nigeria"