Yay! We made it. It's 2013.
I know, you must have heard this far too much but Happy New Year again. As you know, it's Thursday and BN Events is back with the first events listing of the year.
Although most of us are resting from the holidays, we have some events that you surely don't want to miss out on.
Check them out and be sure to have a fun weekend.
We LOVE you all.
Keep dreaming BIG, See you all, Ciao!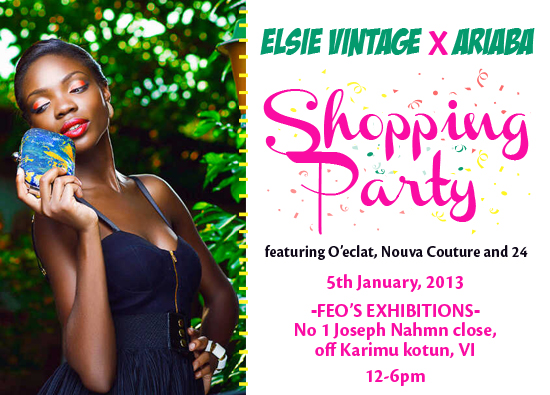 Elsie Vintage X Ariaba Shopping Party
Nigerian fashion brands, Elsie Vintage and Ariaba are hosting a shopping party to kick off the year this Saturday at Feo's Exhibition. The event promises to be interesting with lots of fashion items including clothes, accessories and footwear. Other brands scheduled to also be at the event include O'eclat, Nouva Couture and 24 Clothing.
Date: Saturday 5th January 2013
Time: 12 Noon – 6 PM
Venue: Feo's Exhibition, 1 Joseph Nahmn Close, off Karimu Kotun, Victoria Island, Lagos
______________________________________________________________________________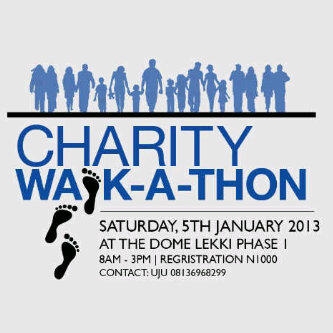 Charity Walk-A-Thon
Charity Walk-A-Thon is an initiative to raise money for Freedom Foundation – an organisation with 4 arms which helps provide education and sponsors for underprivileged children. The walk-a-thon will take place this Saturday at the Dome, Lekki, Lagos. Participants will be registered and T shirts for the event will be sold before the walk begins. Refreshments will be provided for all.
Date: Saturday 5th January 2013
Time: 8 AM – 3 PM
Venue: The Dome, Lekki Phase 1, Lekki, Lagos
Registration: N 1,000
______________________________________________________________________________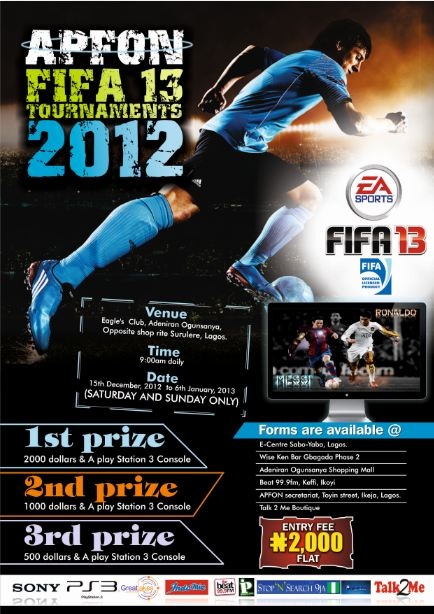 APFON FIFA 2013 Tournaments
APFON (Association of Professional Footballers of Nigeria) is organizing a play station FIFA 2013 competition and will hold this Saturday and Sunday.  AFPON president, Obinna Nsofor will also be at the event. The winner of this competition will win $2,000 & a PlayStation 3 Console while the 2nd and 3rd winners will win $1,000 and $500 respectively with Playstation 3 consoles.
Date: Saturday 5th January 2012 – Sunday 6th January 2012
Time: 9 AM Daily
Venue: Eagle's Club, Adeniran Ogunsanya Opposite Shoprite, Surulere, Lagos
Registration: N 2,000
______________________________________________________________________________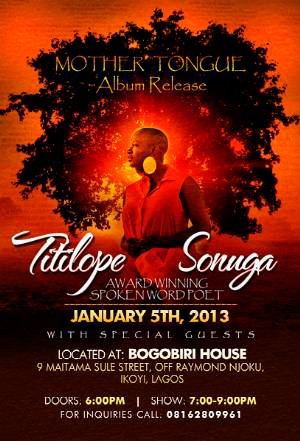 You are Invited to the Mother Tongue Album Launch
Join Titilope Sonuga this Saturday at Bogobiri House for the launch of her debut album, Mother Tongue – a stirring piece of story telling, a fusion of oral traditions and music that gets the listener deeply involved. Titilope will be performing live and the event will see in attendance special guests. Admission is free for all.
Date: Saturday 5th January 2013
Time: 7 PM
Venue: Bogobiri House, 9 MAitama Sule Street, Off Raymend Njoku Street, Lagos
_____________________________________________________________________________________________
BellaNaija.com is not responsible for the organization or further promotion of these events, neither do we have a stake in their sales or popularity. Inclusion in "Events This Weekend" is Free. Contact – adsales (at) bellanaija.com on or before Wednesday every week if you will like your event to be included. Note that BN reserves the right to choose which events are featured. "Pay to attend" parties attract a fee