US financial magazine, Forbes, has named Isabel dos Santos, eldest daughter of Angola's president, as Africa's first female billionaire. According to Forbes, the 40 year-old has pushed her net worth over the $1 billion mark. She has shares in several Portuguese firms, including a TV cable company, and an Angolan bank put her on the billionaires' list.
Her first venture was a restaurant in Luanda called Miami Beach which she opened in 1997 at the age of 24, said the magazine that tracks the world's rich.
This report is coming just weeks after Ventures Africa, another online financial magazine ranked Nigerian oil tycoon, Folorunsho Alakija as the World's Richest Black Woman. According to Ventures Africa, she ousted Oprah Winfrey from the position with a worth of at least $3.3 billion. This piece of news created quite a buzz across the country and when it was published on BellaNaija late last year.
Forbes says Ms dos Santos is a relatively shy public figure despite her successful business career. She studied engineering at King's College in London, where she lived with her mother, who is divorced from President dos Santos. She sits on the boards of several companies in Angola and Portugal and has been instrumental in making business decisions.
She has a 28.8% stake in Zon (worth a recent $385 million), a Portuguese media and is its largest shareholder, Forbes said. She also sits on the board of Angola's Banco BIC and is reported to have a 25% share of the bank, (worth a conservative $160 million). Several sources knowledgeable about telecom in Angola told Forbes that she sits on the board of Unitel – one of the country's two mobile phone networks – and is a 25% shareholder. That stake alone is worth $1 billion at a minimum.
So, who is Africa's Richest woman?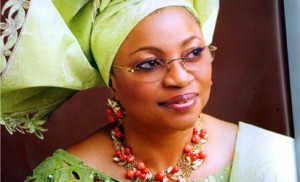 In a report published in November 2012, Forbes described Alakija as Nigeria's richest woman and said her net worth was $600 Million. But Ventures Africa countered that claim in December 2012 and said she was worth at least $3.3 Billion.
62 year-old Alakija made most of her wealth from oil exploration in Nigeria. She is reported to have a real estate portfolio worth over $100 million and owns a Bombardier Global Express 6000 which she bought last year for a reported $46 million. Her biggest break came in 1993 when Nigerian President Ibrahim Babangida awarded her company, Famfa Oil, an oil prospecting license which went on to become OML 127, one of Nigeria's most prolific oil blocks.
Guardian says that when Isabel dos Santos married a Congolese art collector in 2003, a choir was flown in from Belgium and two charter planes delivered food from France. African presidents were among 100 guests at the extravaganza, which cost an estimated $4m (£2.5m).
Evidently, both women are very successful business owners. But the conflicting reports creates room for debate. Who is Africa's richest woman?