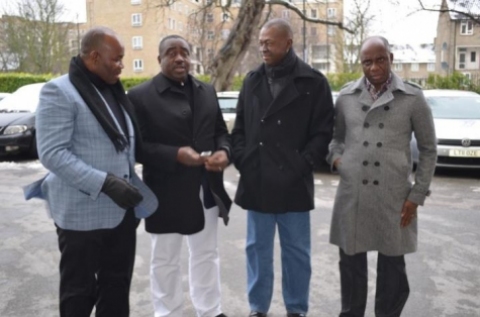 Since September 2012, Governor Sullivan Chime of Enugu state has been battling an undisclosed ailment outside the shores of this country, generating a lot of controversy in the news.
At some point, he was reported to be battling with a heart condition at a hospital in India and more recently, he was reportedly found in a London hospital. He was also reported dead by some news sources at the latter part of 2012.
Throughout this period, the state government has been silent on the state of his health which has angered a lot of indigenes of the state who have "demanded to know where their Governor is."
A civil society group, Save Enugu Group, SEG recently released a statement saying it found Governor Chime lying ill at the Wellington Humane Hospital Swiss Cottage, London.
And while the state government continues to remain silent and the speculations continue, an undated picture of three state governors visiting Governor Chime has surfaced.
In the picture, Governor Goodswill Akpabio of Akwa Ibom state, Governor Gabriel Suswam of Benue state and Governor Rotimi Amaechi of Rivers state were seen standing with Governor Sullivan Chime.
Many have said that picturing him standing outside is a plot to derail those who have been calling for his resignation and show the world that he is alive and in good health.
We wonder what the release of the picture means.