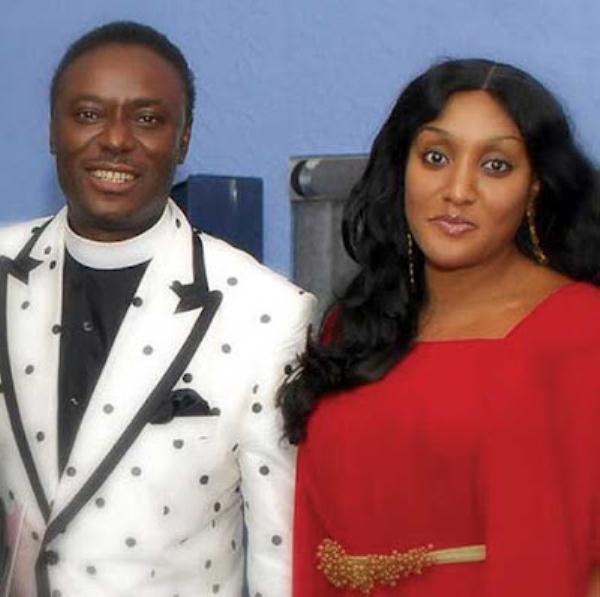 After the breakup of his marriage to Stephanie Henshaw in 2012, Household of God pastor, Rev. Chris Okotie has announced through his church's Director of Media & Communication Strategy, Ladi Ayodeji, that he has no intention of getting married in the future.
Read the official statement below;
The pastor of our great church, the Household of God, Oregun, Lagos, Rev. Chris Okotie has finally laid to rest speculations about his future marriage which have been the subject of media controversy since his separation from his former wife, Stephanie Henshaw last year.
He announced to the church during the evening service on Wednesday, January 09, 2013, his decision not to remarry which he said is final and irrevocable, having already settled the matter with the Lord Jesus Christ.
Taking cognisance of the wide media interest that this issue is likely to generate, we decided to make this statement to pre-empt mischief makers from distorting the facts.
The pastor assures his well wishers, friends and numerous supporters around the world that he is completely at peace with himself and his God in arriving at this historic decision.

Ladi Ayodeji.
Director, Media & Communication Strategy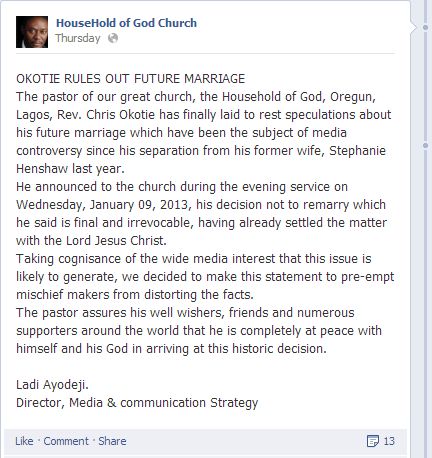 We are not sure what warranted this deceleration but there you have it!
Pastor Chris Okotie has been married twice in the past. His first marriage to Tina Okotie ended in divorce after 15 years. Tina moved out of Nigeria and made it clear that she had no intention of returning to Nigeria.
His second marriage to Stephanie Henshaw in 2008 created a media sensation (See Wedding Post). The mother of 3 had been previously married twice (sadly her first husband passed away while her second marriage ended in divorce). Unfortunately things came to a grinding halt in June 2012 when the Pastor announced to his congregation that the marriage was over with no chance of reconciliation.
Wishing all related parties the very best.