In December 2012, BN featured the New Ad Campaign for Nando's SA featuring South African celeb Nonhle Thema. We mentioned that she had recently given birth to her first child, a daughter named Star Phoenix Ivy and now we have our first look at Nonhle's precious bundle of joy.
Star made her magazine debut on the cover of popular magazine DRUM. In the interview, Nonhle talked about how Star is the "light of her life" and has given her a reason to live again. So cute!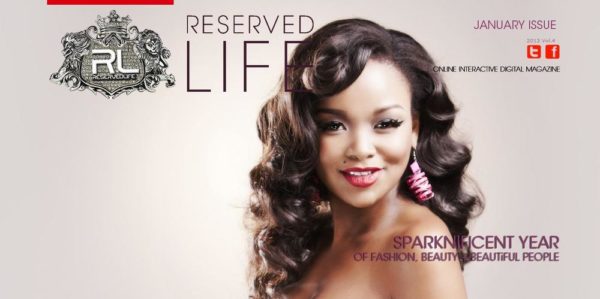 Nonhle also sat down with Reserved Life Magazine and here is what she had to say
RL: You seem to be flying out of the entertainment radar, are you happy with that?
NT: I've decided to take a break, reflect and find myself again. I needed to go back to God who started it all and reconnect with Him once again, as I had lost Him along my way. I think this was a great way to take a step back and just breathe away from people's eyes. Moreover God has blessed me with a baby girl. I therefore used my pregnancy as a way to stay away from limelight and focus on my family and loved ones.
RL: You are now a mom, entrepreneur, with legion of fans on twitter. How do you juggle things around, for sanity, balance and still continue to be the best you could be to baby Star?
NH: Being a mom has been the greatest blessing God has ever given me. I'm honoured to have been chosen to be mom to baby Star. She is my sanity away from the world's madness. It is easy to juggle between my job, interacting with fans and still be the best possible mom to my daughter. When your heart is at peace you are able to do things you never thought you capable of doing. My golden rule is simple. After 13 years in the industry, my priority is Star, family first and everything else after. My fans understand and they are supportive. My business is also growing phenomenally of course with the help of my team. I'm genuinely in a good place, good space.
RL: Being associated with Nandos, care to tell us how did the endorsement (TV commercial – talk of town) come about?
This has been by far the most fun endorsement I have done. Nandos came to me and proposed the idea: Nandos Nonhle campaign and I had just given birth to Star. Within 2 weeks, I was flown to Cape Town including my family to shoot the advert. I knew people would love it, cos I don't take myself too seriously. I knew people would understand me better after this ad campaign, the intention is to bring a smile to those tend to take every little tweet I send too serious.
SA sometimes can be a bit too serious and forget to laugh. Would you say you are now conforming to the public demands or you'd rather stay true to who you are?
LOL! I have always stayed true to myself. I don't do things to impress other people. I'm not interested in that. I'm now coming back in the industry as me. No fake-ness, it's either you like me or you don't. I'm glad though my fans love the real me.
RL: With haters spreading like wild fire on Twitter, how do you filter, and what's your advice to young women aspiring to follow in your footsteps?
I've experienced immense and dangerous hate to such an extent I've become immune to it. As a result I've adopted whatever "Live your life, you can't stop each time someone throws a rock your direction" attitude.