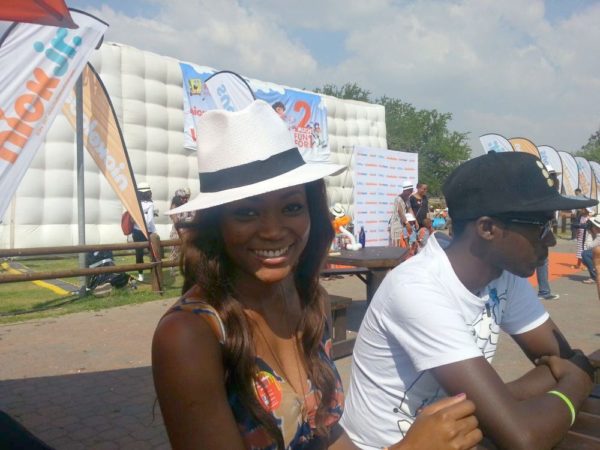 Do you know what my favourite part of landing in South Africa is? Those few minutes before you start descending for landing…just when the sun starts to rise and you can feel the essence of SA. The fact that I was going to be at the live recording of the Big Brother Africa Hotshots was definitely a major plus and I couldn't wait to get started on my Big Brother Hotshots Weekend.
After the rather bumpy landing, we finally got out of the plane and embraced the cold that I was warned about. I didn't listen and wore something I thought would suffice…but boy was I wrong! I'm sure even the South African Immigration Officer rushed going over my passport and documents just to help me get to warmth quicker – although that was before she hailed me for "not being like my brothers & sisters who don't come with the right documents".
On arriving at the Garden Court Hotel, Sandton with my Nigerian colleagues – Azu Amatus and Gbenga Bada from NET NG the only thing on our mind was FOOD! It might be just me, but every time I get hungry and it's finally time to eat, I take a tiny portion and get filled up quickly. Nah! it's not just me!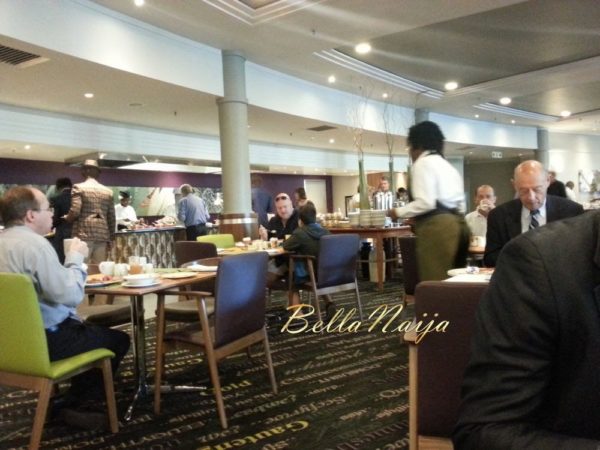 After a quick breakfast, we headed to our rooms and finally got the much needed shut-eye that was deprived us on the flight.
Several hours later, we headed to the lobby and met the rest of our group from all over Africa for dinner at Winnies Jazz & Soul Restaurant. We were a pretty large group so we had to get two tables and went round the table introducing each other.
Dinner was a safe choice for me. After my "food disaster" on my trip to Abu Dhabi, I decided that my taste buds should throw away their Indiana Jones hats and whips and settle for what they are used to tasting.
Of course judging from the name of the restaurant, dinner wouldn't have been complete without some live entertainment. A performer graced the stage and gave us several renditions of classics from South Africa and the world as well as a few original songs. Not the kind of music I like, but hey when in Rome…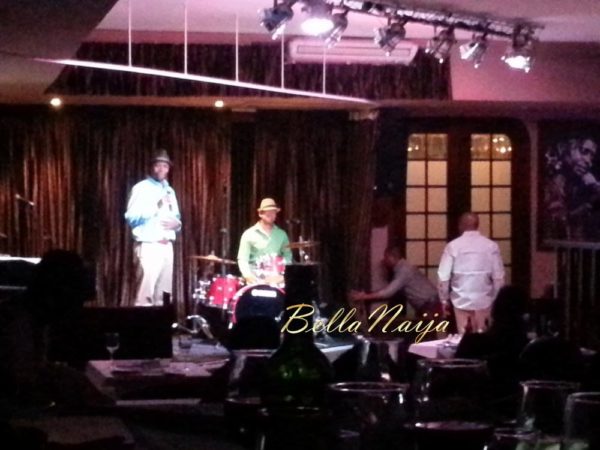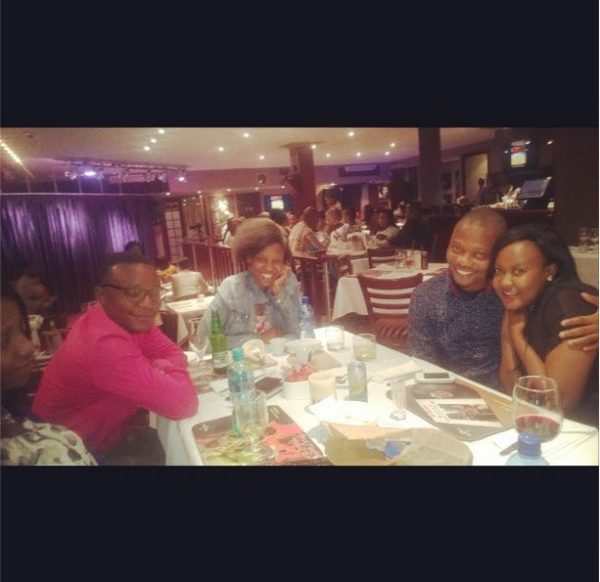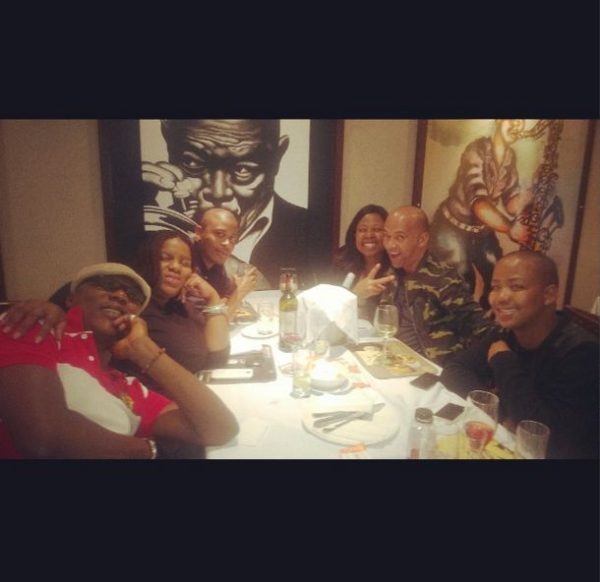 We also got a goody bag from MultiChoice! Yay!
The next day was quite fun! We headed over to the Nickelodeon Channel launch where 2 new channels – Nick Jnr. and Nick Toons were being introduced to the kids. On arrival we got signed in and were given hats for the welcomed sun and were off to enjoy the activities!
Senior Vice President & Managing Director, Viacom International Media Networks Africa Alex Okosi was present and the kids got to meet some of their favourite characters from the channels – Dora the Explorer, Diego, Raphael & Mikey from the Teenage Mutant Ninja Turtles, Sponge Bob Square Pants and Chuckie and Tommy from the Rugrats. How do I know all this – I'm a proud kid at heart.
Inside the tent where kids were walking on slime water and having a great time, Alex and his team gave a speech on the 2 new channels…
and of course got slimed in true Nickelodeon fashion!
We had so much free food and drinks that it took a while for me to recognize the celebs like ex-BBA housemate Lerato Sengadi, Nonhle Thema, Theo Kgosinkwe of Mafikizolo and more that were presents with their kids. lol.
After the fun and excitement of the day, we were on our way back to the hotel and I could have sworn they were driving me back to Nigeria. Places are so far apart. Now, sadly while the others went clubbing and to watch movies after our return, I acted like an old lady, ordered dinner and headed to my room for some much needed rest. Plus I was a bit under the weather (Insert 'Awwws' and 'Eyahs' here).
Day 3 and the most important day of them all – the Big Brother Africa Hotshots launch! Was I excited? Yes! Why? For one my mum is a huge Big Brother fan and the fact that I was 'possibly' going to be shown on TV at the live show was a thrill. But personally I just love experiencing new things and places…so let's go!
Sadly I didn't get a full photo of my dress thanks to the very persistent cleaner who rushed me out of my room (I was really pained by that) but at least the Selfies I took will make up for that.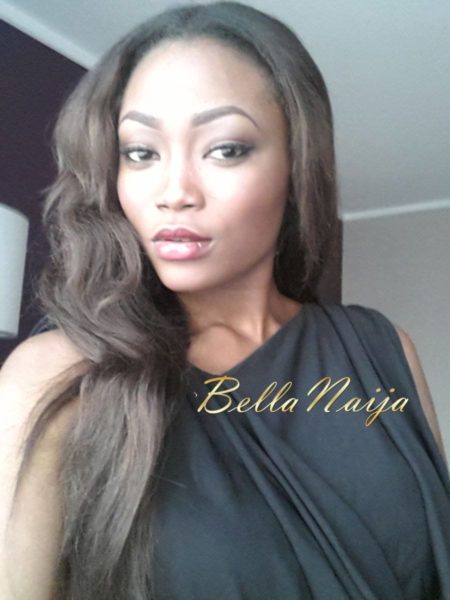 Most of you heard of the news that the Big Brother Africa house burned down, so sadly we had to make do with a smaller location. Irrespective of that, I must say they did a great job at making it work in 3 weeks. The venue, the house, the stage and the production still went on great and I think that just goes to show how much dedication they have towards putting together a great show.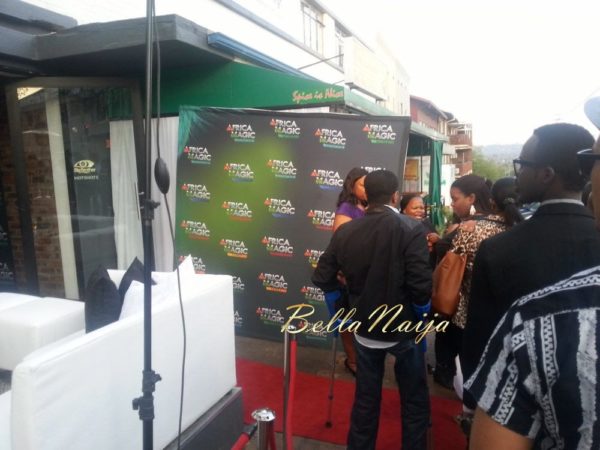 While mingling and networking at the event, we got to take photos and get ready for the exciting night for Africa!
A few minutes past 5 we were ushered to the stage and seated where BBA host IK Osakioduwa came out for a chat before the live show. Sadly we were asked to turn out phones off because of interference but we got to sneak a few photos.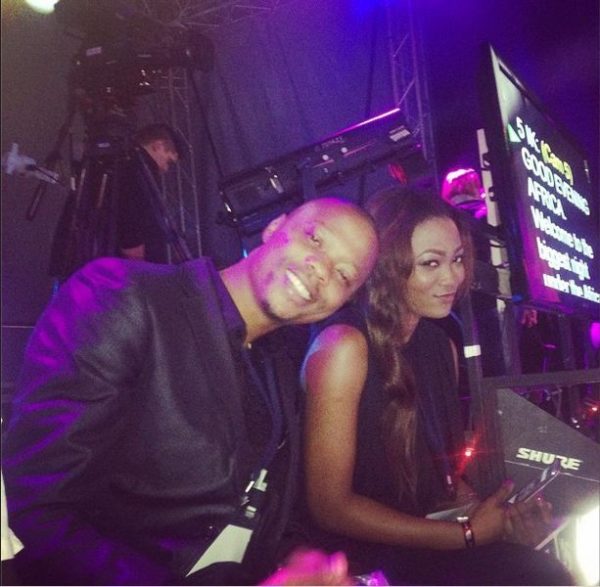 Let me just tale this time to say, if you think the housemates looked hot from your screens, they are 100 times hotter in real life!
I thought the show went really well especially IK's performance – now that was a pleasant surprise. The fact that the housemates had a talent show was also actually great as it gave us a peek at their personalities instead of having to wait for them to unravel during the show.
Watch IK's performance below in case you missed it.
Another highlight was the performances from AB Crazy & DJ Dimplez, Diamond, Casper & Davido who closed the show with 'Skelewu'. I had a blast meeting everyone and the show was definitely an amazing experience.
I really think the Nigerian contestants will go far, especially Lilian. She's really feisty. Who do you think will win and who's your favourite?
A huge thank you to MultiChoice for making this trip possible. I had a wonderful time and can't wait for the finale!
Extra Photo Credit: Courtesy of Nickelodeon & @Asuquoe (Instagram)