Good Morning BellaNaijarians, Happy Thursday.
I am super excited today, this Thursday is a special day for me. So I hope to make your weekend worthwhile.
As you know it's that day of the week, when yours truly BellaNaija.com keeps you constantly updated on all the most buzzed about events and places of interest to be spotted this weekend.
In this Pre-Valentine's Day 2013 edition, we bring you events from Lagos, Abuja and Ibadan. So grab a cup of tea and some scones and see for yourself where you need to be this weekend.
See you all next week with our Valentine's Day edition.
Ciao!
The Mobile Market presents The 2013 Valentine Fair
The Mobile Market is back with another fab shopping and retail experience tagged The Valentine Fair 2013. This monthly fair is specially organized to help vendors advertise their products and link customers to retailers. Come and shop for your clothes, shoes, jewelery, baked goodies, gift hampers and get a chance to win N 15,000 worth of shopping vouchers. Admission is free for all.
Date: Saturday 9th February 2013
Time: 12 Noon – 6 PM
Venue: 9B Isaac John Street, GRA, Ikeja, Lagos
Contact: For more info and general inquiries, call 08132342373 | 08132887549 | e-mail [email protected] | follow them on Twitter @TheMMarket | Add BB Pin 256B4285
_________________________________________________________________________________________
Global Education Counselling 2013-2014 Enrollment
Global Education Counselling, a recruiter of students for various Universities is organizing a presentation for the University of Debrecen, Hungary. It is a bi-annual programme and they are offering over 200 courses from Foundation, Undergraduate to Postgraduate degrees. Through this presentation, University of Debrecen is providing a unique opportunity for parents, students and schools to meet the International Office Director from the University.
Abuja
Date: Thursday 7th February 2013
Time: 11 AM – 6 PM
Venue: GEC Office, 3 Nairobi Street, off Aminu Kano Crescent Opposite Amal Court by Access Bank Wuse II, Abuja
Ibadan
Date: Friday 8th February 2013
Time: 11 AM – 4 PM
Venue: Global Cambridge College, 12 Rotimi Williams Avenue, off Awosika Avenue Old Bodija, Ibadan, Oyo
Lagos
Date: Saturday 9th February 2013
Time: 11 AM – 5 PM
Venue: GEC Office, 48 Saka Tinubu Street, Off, Victoria Island, Lagos
Contact: For more info and general inquiries, call 01-8980612 | 01-7621587 | 08039662065
___________________________________________________________________________________________________
SmartMark Limited presents NIKE 50% Sale
SmartMark Limited, the exclusive distributor of the NIKE brand in Nigeria has announced a 50% price slash on selected NIKE merchandise from now till Sunday 10th March 2013 at all FastForward stores in major cities in Nigeria.
Date: Thursday 7th February 2013 – Sunday 10th March 2013
Venues: Adeniran Ogunsanya Shopping Mall, Surulere, Lagos | Murtala Mohammed Airport, Terminal 2, Ikeja, Lagos | Ikeja City Mall, Ikeja, Lagos | The Palms Shopping Mall, Lekki, Lagos | Ceddi Plaza 264, Tafawa Balewa Way, Central Business District, Abuja | 107, Aba Road, Port Harcourt, Rivers
Contact: For more info and general inquiries, call 0814838314
______________________________________________________________________________________________________________
The Body Alchemist 6 Week After Burn Boot Camp
If you are looking to take your workouts to the next level and achieve maximum, the Body Alchemist "After Burn" boot camp is just right for you. This high intensity circuit training workout will raise your metabolism and keep you burning fat all day long. Tony Ekaidem (The instructor) guarantees you will not be disappointed with the results. The fee is N 35,000, please contact them for payment information.
Date: Thursday 7th February 2013 – Friday 22nd February 2013
Time
5:30 AM – Fun Factory, Lekki Phase 1, By Phase 1 Gate on Admiralty Way, Lekki, Lagos
6:30 AM – Fun Factory, Lekki Phase 1, By Phase 1 Gate on Admiralty Way, Lekki, Lagos
7:45 AM – Astrotruf 2000, Ikoyi, By Osborne Road, Lagos
Contact: For more info and general inquiries, call 07045885120 | 07045885121 | e-mail [email protected] | log on to the official website
_______________________________________________________________________________
African Artists' Foundation presents Line.Sign.Symbol
You are cordially invited to the solo exhibition of Uche Uzorka tagged "Line.Sign.Symbol". Uche Uzorka is a graduate of the University of Nigeria, Nsukka. He majored in painting. Admission is free for all.
Date: Thursday 7th February 2013 – Saturday 23rd February 2013
Time: 7 PM
Venue: African Artists' Foundation (AAF) HQ, 54 Raymond Njoku Street, Ikoyi, Lagos
_______________________________________________________________________________
NJOY: A Nite of Jazz & Laffs
NJOY is a variety and outreach event by The Elevation Church. It's a time of fun, laughter and interaction where guests are treated to music and comedy in an atmosphere of God's presence. The event is a special Valentine edition and will see in attendance guest comedians Gordons and Seyi Law. Music will be provided by Elevation's very own Ozichi. Admission is free for all.
Date: Friday 8th February 2013
Time: 7 PM
Venue: Pistis Centre, 3 Remi Olowude Street, 2nd Roundabout, Oniru, Victoria Island Extension, Lagos
Contact: For more info and general inquiries, call 07003538283 | e-mail [email protected] | follow them on Twitter@ElevationNG | like their Facebook page
________________________________________________________________________________________
#DearArtiste Music Business Seminar Season 2
Another edition of the Dear Artiste Forum will take place this Saturday. The event will provide an avenue for upcoming artistes to meet with managers, producers, label executives, DJs, radio presenters and publicists. Speakers at the event include Godwin Tom, Demilade Olaosun, Ayo Adepoju, Uche Briggs and Tobechukwu Ejiofor. Themed The Artiste, His Career, His Management and the Law of Contract, the event will kick off by 9 AM. Registration fee is N 2,000.
Date: Saturday 9th February 2013
Time: 9 AM
Venue: Conference Room, Sweet Sensation, Opebi, Lagos
Registration Fee: N 2,000
________________________________________________________________________________________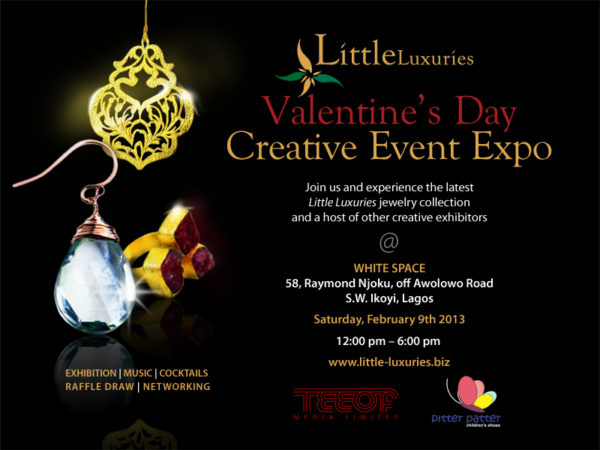 Little Luxuries Valentine's Day Creative Event Expo
The lifestyle networking and marketing event showcasing businesses – Little Luxuries Valentine's Day Creative Event Expo will take place this Saturday. The event hosted by Emi Faloughi will kick off at 12 noon. On display at the event will be an assortment of rings, earrings and necklaces. There will cocktails and a chance for guests to win loads of prizes. Admission is free for all.
Date: Saturday 9th February 2013
Time: 12 Noon – 6 PM
Venue: White Space, 58 Raymond Njoku, off Awolowo Road, Ikoyi, Lagos
_________________________________________________________________________________________
90 Minutes Speaker Series with Jason Njoku
Jason Njoku, CEO and co-founder of iROKO Partners will speak at this month's edition of the 90 Minutes Speaker Series. Come and interact with the business mogul, who after several failed business attempts in the world of online media, came up with an idea to stream Nollywood films online. Admission is free for all.
Date: Saturday 9th February 2013
Time: 1 PM
Venue: Bogobiri House, 9 Maitama Sule Street, off Raymond Njoku Street, off Awolowo Road, Ikoyi, Lagos
___________________________________________________________________________________________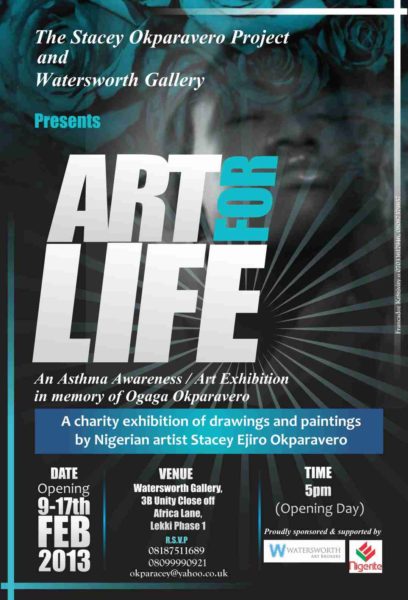 The Stacey Okparavero Project & Watersworth Gallery present Art For Life
The Stacey Okparavero Project and Watersworth Gallery cordially invite you to Art For Life, an asthma awareness exhibition. Proceeds from the event will be used to raise funds for a local hospital in Lagos.
Date: Saturday 9th February 2013 – Sunday 17th February 2013
Time: 5 PM
Venue: Watersworth Gallery, 38 Unity Close off Africa Lane, Lekki Phase 1, Lagos
Contact: For more info and general inquiries, call 08187511689 | 08099990921 | e-mail [email protected]
_________________________________________________________________________________________
Date Auction for Charity
The 2nd Annual Charity Date Auction will take place this Saturday at the Republic of Play, Abuja. Admission is free for all.
Date: Saturday 9th February 2013
Time: 6 PM
Venue: Republic of Play, 170 Adetokunbo Ademola Crescent, Wuse II, Abuja
________________________________________________________________________________________
Bheerhugz Cafe& Pixie Dust PR present Karaoke with Ese Peters
Bheerhugz Cafe, in partnership with Pixie Dust PR presents Karaoke with Ese Peters. Come and enjoy a night of music and fun. There will be also be performances by Wonda Boy and Rexx. Admission is free for all.
Date: Saturday 9th February 2013
Time: 6 PM – 10 PM
Venue: BheerHugz Cafe, Upper Floor, Ikeja City Mall, Alausa, Ikeja, Lagos
__________________________________________________________________________________________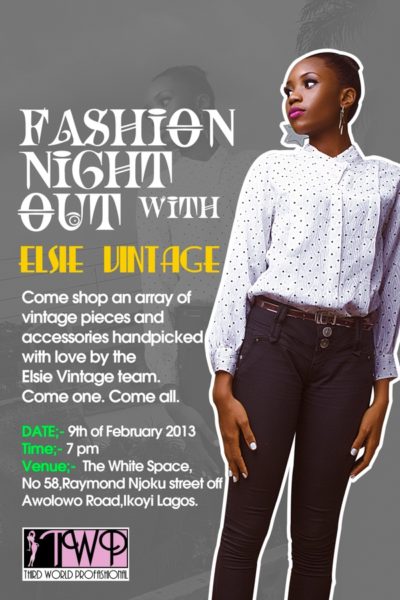 Fashion Night Out with Elsie Vintage
Nigerian vintage retail brand Elsie Vintage will be participating at the Fashion Night out at Whitespace, Lagos this Saturday. Themed Vintage Glam, you are cordially invited to the event where you will shop for vintage clutches and jewelry. There will be a special cocktail "The Profashional" at the event for N 1,000. It promises to be a night of fun, shopping and where shoppers get to play dress up in the photo booth which will be made available. Admission is free for all.
Date: Saturday 9th February 2013
Time: 7 PM
Venue: White Space, 58 Raymond Njoku Street off Awolowo Road, Ikoyi, Lagos
_________________________________________________________________________________________
MDSA & Whitespace present Love & Art
MDSA and Whitespace invite you to create a memorable gift – by picking out cards from the Caxton Alile card stand or design your own. Your final creative package will also be delivered to your loved one on Valentine's day. Admission is free for all.
Date: Sunday 10th February 2013
Time: 10 AM – 7 PM
Venue:  The Whitespace, 58 Raymond Njoku, Road, Ikoyi, Lagos
_____________________________________________________________________________________
BnB Party Solutions presents Red Fair
Fashion lovers, B&B Party Solutions is organizing another fair for you, this time in the month of love, it is tagged Red Fair: Valentine Sales Edition. Lots of vendors will have on display their amazing fashion pieces at their best deals. Admission is free for all.
Date: Sunday 10th February 2013
Time: 12 Noon – 6 PM
Venue: Browns Café, 15 oduduwa Crescent, GRA Ikeja, Lagos
Contact: For more info and inquiries, call 07080159180 | 08081990626 | e-mail [email protected]
_________________________________________________________________________________________
The Sunday Bazaar
You are cordially invited to the Sunday Bazaar. It is a Sunday themed fair aimed at creating low cost retail solutions for you and your business. A range of items including clothes, jewelry, shoes, bags, household items, pastry and food will be available for sale. Admission is free for all.
Date: Sunday 10th February 2013
Time: 1:30 PM – 6:30 PM
Venue: Banquet Events Centre, Plot 6 Lateef Jakande Road, Agidingbi, Ikeja, Lagos
Contact: For more info and general inquiries, call 08179015990 | e-mail [email protected] | follow them on Twitter @TheSundayBazaar | like their Facebook Page
________________________________________________________________________________________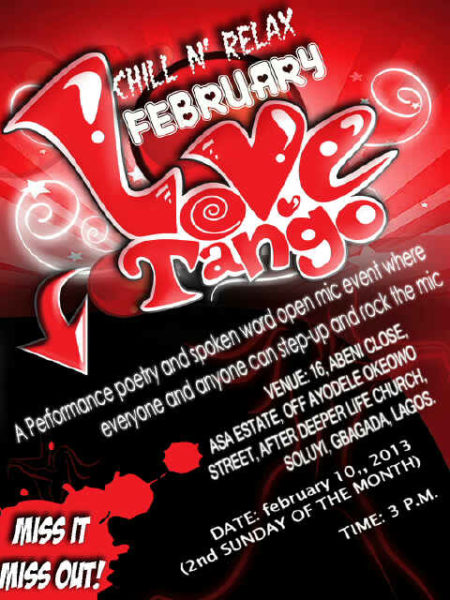 Chill 'N' Relax February Love Tango
The February edition of Chill 'N' Relax tagged February Love Tango will take place this Sunday. The monthly open mic and spoken word event will feature performance by Lagos' finest poets. Admission is free for all.
Date: Sunday 10th February 2013
Time: 3 PM
Venue: 16 Abeni Close, Asa Estate off Ayodele Okeowo Street, After Deeper Life Church, Soluyi, Gbagada, Lagos
________________________________________________________________________________________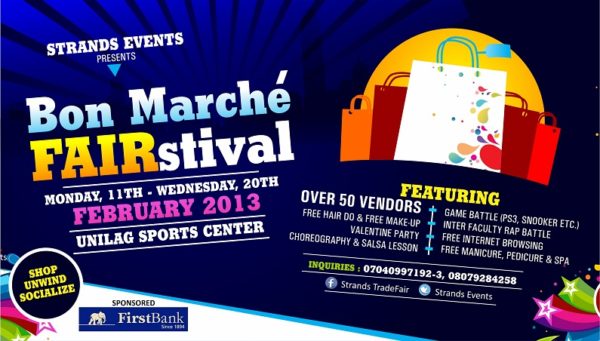 Strands Events presents Bon Marché FAIRstival
Strands Events is organizing a double celebration event and you are invited. First is the BonMarche FAIRstival and the second is the signing of the World's Biggest Valentine Card, which is a charity cause against domestic and religious violence, rape and hate. There will be lots on vendors stocked with fashion pieces as well as free make-up and hair styling, pedicure and manicure, internet browsing, rap battle and free game (Snookers, PS3, Foos Board and Chess). The event is expected to see over 200,000 attendees including celebrities. Admission is free for all.
Date: Monday 11th February 2013 – Wednesday 20th February 2013
Time:  9 AM – 6 PM
Venue: UNILAG Sports Centre, Akoka, Yaba, Lagos
Contact: For more info and general inquiries, call 0704099712-3 | 08079284258 | e-mail [email protected]
_____________________________________________________________________________________________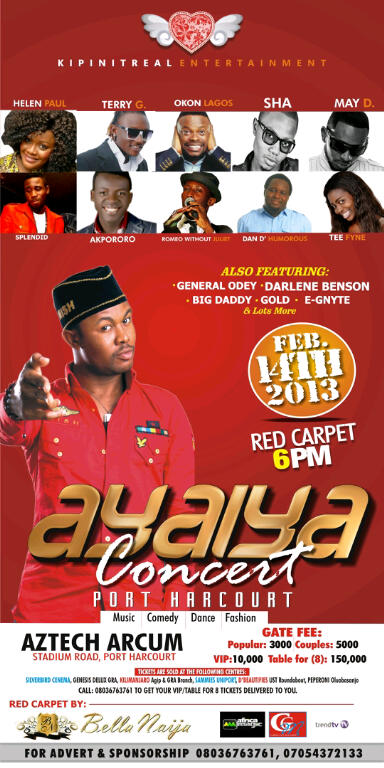 Ayaiya Concert Port Harcourt
Kipinitreal Entertainment owners of the fastest rising music brand Mish- the Akwa Ibom Ayaiya crooner proudly presents "Ayaiya Concert Port Harcourt" . The event is poised to be biggest Comedy & Music show in the Niger Delta in this season of love. 'Ayaiya' meaning beautiful will attract top notch artists including Mish, Terry-G, Mr May-D, Helen Paul, Akpororo, Okon Lagos, Sha(UK), E-gnite, Darlene Benson, Gold, General Odey, Splendid, Big Daddy to mention a few.
Date: Thursday 14th February 2013
Time: Red carpet starts at 5PM
Venue: The Arztech Arcum Event Center, Stadium Road.
Tickets: N3000 Popular | N5000 Couple | N10000 VIP  | N150,000 Table for 8
___________________________________________________________________________________________________
BellaNaija.com is not responsible for the organization or further promotion of these events, neither do we have a stake in their sales or popularity. Inclusion in "Events This Weekend" is Free. Contact – adsales (at) bellanaija.com on or before Wednesday every week if you will like your event to be included. Note that BN reserves the right to choose which events are featured. "Pay to attend" parties attract a fee