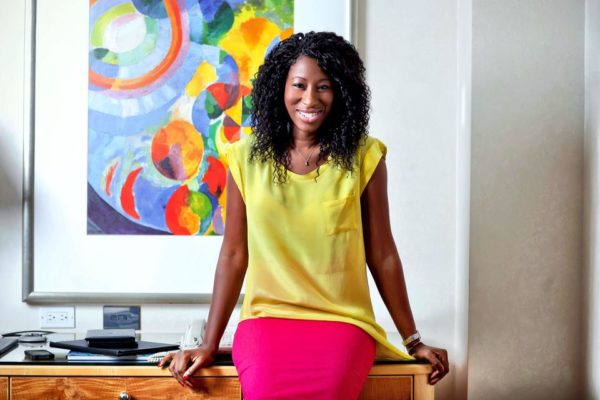 Saran Kaba Jones was born in Monrovia, Liberia. At age 8, she left Liberia with her family as a result of the civil war and moved to Cote d'Ivoire where her mother hails. After 2 years in Cote d'Ivoire, they moved to Egypt where her father was posted as ambassador. After Egypt, she lived in France and Cyprus before moving to the United States in 1999 to attend college. In 2009, having worked for the Singaporean government's economic development board for 5 years, she launched FACE Africa –  a nonprofit organization focused on providing access to clean drinking water in poor, rural communities in Liberia. 
Saran, who was recently named as one of the World Economic Forum's Young Global Leaders for 2013, takes us through her intriguing journey from the early pre-civil war days to making big impact in her home country.
What are some of your fond memories of growing up in Liberia before the civil war started in 1989?
The years I spent in Liberia before the civil war began were very memorable. I grew up with my parents, 3 brothers and 2 sisters in a relatively stable and average home. My father was a university professor and my mother a businesswoman. I attended catholic school with my brothers and have fond memories of those days.
In what ways did the frequent change of location whilst growing up in a diplomatic family shape your worldview and contribute towards making you the person that you are today?
Frequently traveling and moving around gave me a global perspective and allowed me to experience different cultures and environments at a very young age. My father being a career diplomat and public servant also contributed to my desire to get involved in international affairs. I grew up knowing that I wanted to do something that would help people and improve the world.
Saran, you quit your six-year old job as an investment project manager with the Singapore government to commit yourself full time to FACE Africa, mostly a solo effort, with no salary from the organization. What motivated you to take such a bold step?
FACE Africa really started out as a project to give back and contribute to improving lives in Liberia. But people really started to support the cause and I saw the impact we had when we completed our first project in October 2009 with a $10,000 grant from the Davis Project for Peace. I knew then that if I wanted to have any real impact, I'd have to raise funds, scale, and build capacity on the ground and that involves committing a lot of time and energy. So,  not too long after launching FACE Africa, in late 2010, I decided to take the plunge and quit my job to focus on running the organization full time. It was a hard decision to make but I just knew it was time to follow my passion.
During the commemoration of the World Water Day in 2010, UN Secretary-General Ban Ki-moon said that more people die from unsafe water than from all forms of violence, including war. What was the reality you met on ground when you returned to Liberia to kick off FACE Africa projects?
Absolutely true! I went back to Liberia after 20 years and was quite devastated by what I saw. It was not the Liberia I remember growing up in. The war had caused so much damage to the country's infrastructure: roads, buildings, health clinics, communications networks, schools, farms and factories were almost totally destroyed. Things that we take for granted in the West like 24-hour electricity, running water or sewage system, basic education and healthcare were non-existent. It was overwhelming and somewhat depressing but at the same time it was an eye-opening experience that forced me to take action and do my small part to help – which is what led to the establishment of FACE Africa.
I choose to focus on water because water is life and directly affects every area of development. Children cannot attend school if they are sick from dirty water, and adults suffering from water-borne illnesses overwhelm hospitals and cannot go to work. Hours spent looking for and collecting clean water mean hours not spent adding to a family's economic well being. It made sense to tackle the issue of water because without it, a country cannot make true progress in terms of development.
What have been your major successes and milestones since inception of FACE Africa in 2009?
We've cultivated some key partnerships over the last 2 – 3 years with donors, foundations, and local development agencies that have been critical to our success. Without groups like the Voss Foundation, the Global Neighborhood Fund, and donors that support our clean water gala, we wouldn't be able to be where we are today.
We completed our 20th project recently and our projects combined have impacted over 10,000 people in Monrovia and its outskirts. In January of 2013, we launched an ambitious new initiative to provide clean water coverage to the entire county of River Cess, one of the most marginalized and under-served counties in Liberia. We're calling it our 'County by County' commitment and the goal is to construct 250 clean water points, which will provide clean water access to over 60,000 people. The plan will cost about $1.2 million and take place over 3 – 5 years so it's a huge undertaking but once completed will be a major accomplishment for us and for Liberia.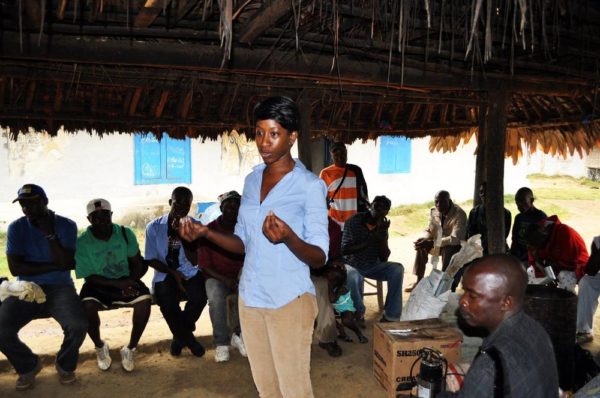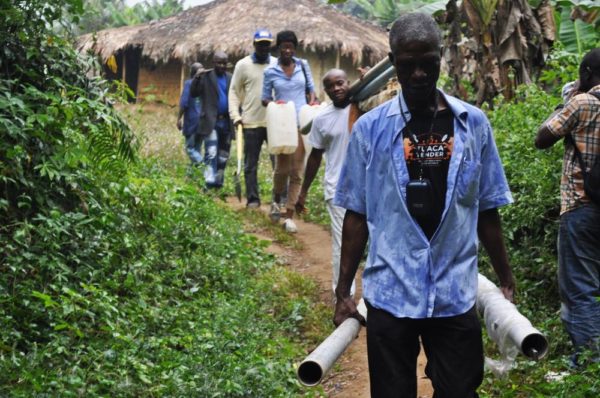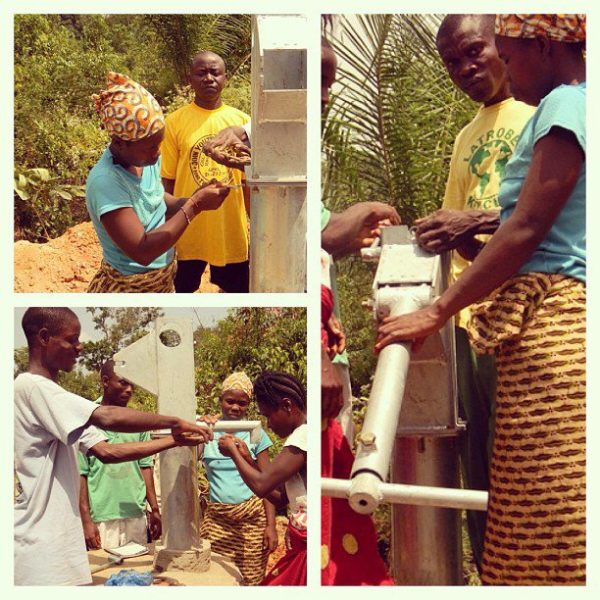 In pursuing social change via the non-profit route, there is the tendency for the visionary to easily feel the burden, like carrying an impossible weight of the whole world. Have you ever gotten so stressed and tired to the point of almost giving up on your dreams for FACE Africa and Liberia? How do you handle such moments?
Absolutely! There have been many times where I felt like giving up, not so much because the work was overwhelming but more because I felt I was lacking the resources and capacity to get the work done. Mainly the financial resources and the human capacity. It's been a challenge running the organization on very little funding and it's even more frustrating when you know you have the passion, the vision and the know-how to get the job done, but you simply don't have the resources. But one of the lessons I've learned during this journey is when you're chasing your dream, you're bound to go through hard periods when everything seems to oppose you and you feel you cannot even bear one more minute. But you have to continue to give it your all and remember to never give up. Also having a solid and strong support system, people you can talk to and lean on during tough times is critical to helping you get through those difficult periods.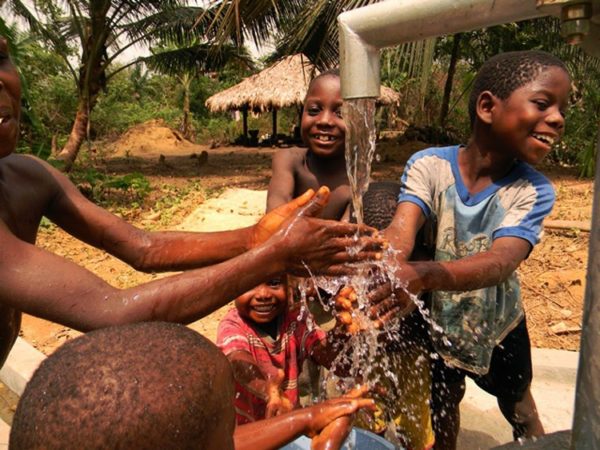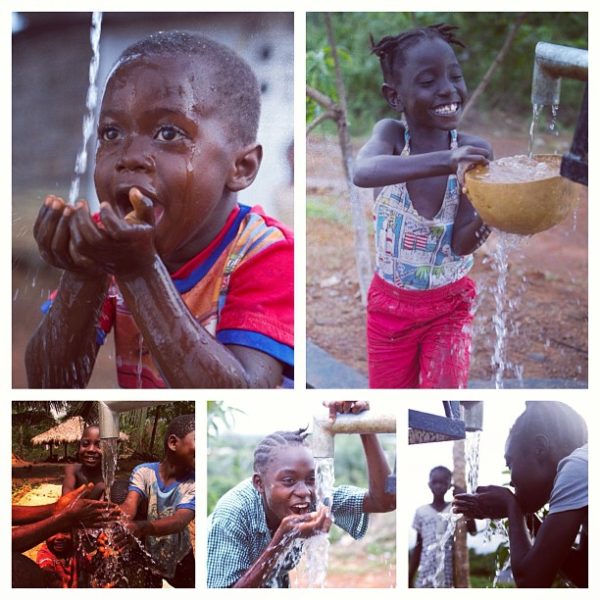 Where do you draw inspiration from when you are not having a fantastic day or week and what motivates you to continue to do the kind of work you do at FACE Africa?
The impact of my work motivates me. Seeing first hand the impact our work is having on people's lives. Knowing that the more people we provide with clean water, the more we provide opportunities for people to live healthier, more productive lives. This is what keeps me going.
FACE Africa followers have come to admire your skill in connecting with people far and wide. I have also observed your 'strategic' social media activities in recent weeks. How did you develop your networking skills and to what extent has New Media impacted your philanthropic work?
I can't stress enough how critical new media has been in our growth and success. It's been a great tool that has allowed us to raise awareness among our target audience, cultivate new supporters. Also get more people to learn about the water crisis in Liberia and the work we're doing to bring clean water access to the country. As a small, grassroots organization, FACE Africa does not have a marketing budget so social media has proven to be an effective tool for us to market ourselves and promote our work.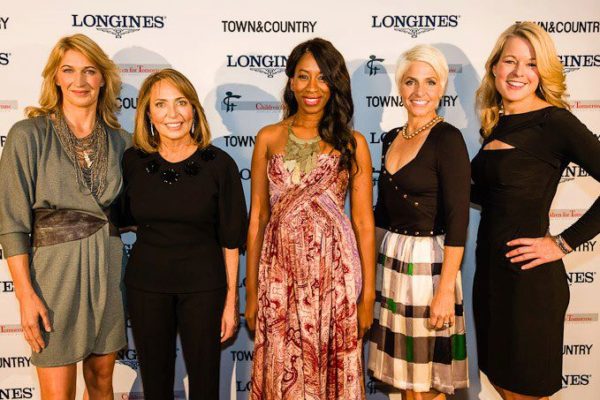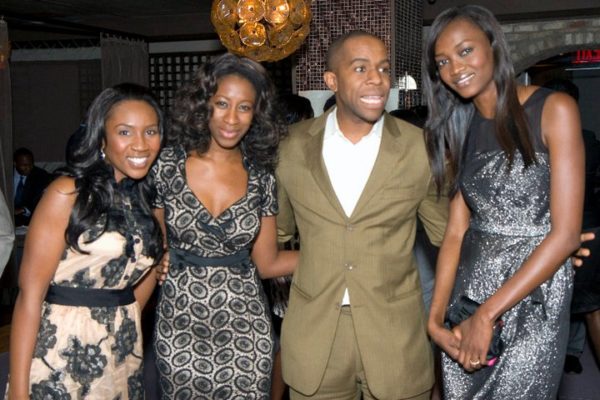 Talking about Networking, can you tell us about some of the high-profile celebrities and global figures you have personally met and it how felt conversing with them?
Development work involves a lot of networking and relationship building. And that means a lot of traveling and attending industry events, engaging constituent communities, and cultivating relationships with other leaders and thinkers in your sector. As you know a lot of celebrities are now involved with many different charities and causes and I've gotten the chance to meet and engage with some celebrities at charity events. I think the most high profile of these events was Alicia Key's Black Ball where I got the chance to meet Ms. Keys herself, Halle Berry, Spike Lee, Usher, Tyler Perry and Kerry Washington among others.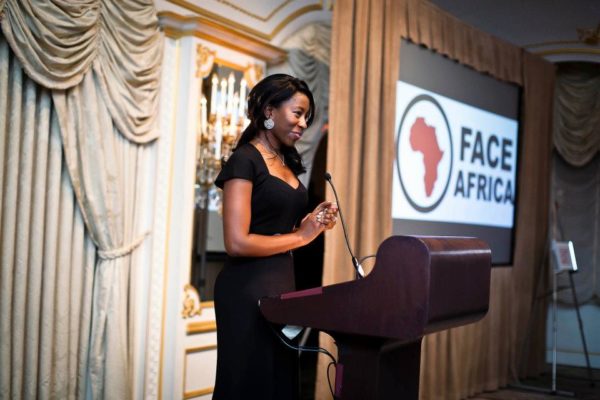 Could you tell us a bit about the FACE Africa Annual Gala and your key achievements till date via that platform?
The FACE Africa Gala is our annual clean water benefit and one of our main sources of raising revenue for the organization. It's held every March in commemoration of United Nations World Water Day to raise awareness for the world water crisis and to raise funds for our water projects in Liberia. It is also an opportunity for us to honor an individual who has dedicated him/herself to improving the quality of life for the people of Africa and beyond. Past events have honored Ms. Lisa Lovatt-Smith, founder of OrphanAid Africa and a former Vogue editor, Chef and Author Marcus Samuelsson, Peter Thum, Founder of Ethos Water and former Director at Starbucks and Dikembe Mutombo, Founder of the Dikembe Mutombo Foundation and a close friend and supporter of FACE Africa. Our 4th annual gala will be held on March 23rd 2013 in New York and as always will bring together over 200 incredibly committed change-makers, young professionals and tastemakers for a good cause.
The 1989-2003 conflict left Liberia with a shattered infrastructure and drove unemployment rate to as high as 85 percent at a particular time. What are your thoughts about the limitations associated with aids and development grants towards truly sustainable socio-economic transformation in Africa?
I think African countries should try to limit their reliance on aid and development grants and focus more on becoming self-sufficient. I am not a huge fan of aid and charity to be honest; granted aid has its place in ensuring that people can have access to basic services that should be guaranteed by their government. But when improperly used, aid fuels corruption and creates a sense of dependency, which stifles development. What I'm passionate about is empowerment and opportunity. I believe in giving people the opportunity and chance to live out their dreams by providing them access to the tools and resources that can help them become self-sufficient. People ask me all the time where do I see FACE Africa 20 years from now, and I say to them if FACE Africa is still digging wells and boreholes in Liberia 20 years from now, then we have failed as a nation, as a society.
What ideas are you exploring in order to ensure that FACE Africa's work in Liberia is truly sustainable and that the people are empowered with relevant skills with which they can create jobs and be empowered to earn a living for a very long time to come?
Right now we're empowering people and communities through access to safe drinking water, sanitation, and hygiene – giving them the chance to reap the health, economic and educational benefits. To ensure that our projects are truly sustainable, we make sure we use technology that is lower in cost and appropriate to the geographical conditions of the communities we work in. More importantly, they are within the technical capacity of the communities to operate and maintain with the right training. All materials and supplies used in our projects are locally sourced and spare parts can be easily purchased and transported in the region. We establish a local Water Committee and fully train them in pump mechanic. They are on hand to observe the installation of the hand pump and are also taught the makeup of the pump in case any minor repair work is required. This full training is provided so that locals are equipped to run their projects long after we've left.
How often do you get to visit Liberia and monitor FACE Africa projects; to what extent do you involve local volunteers to ensure quality delivery?
I travel to Liberia about 4 times a year and one of the main reasons is because we are still so very small and under-staffed so I have to be very hands on. We do have a full-time Program Coordinator on the ground who's responsible for overseeing and monitoring our projects on the ground.
The enormous time and energy you invest in FACE Africa most probably means you have little free time to spend with your husband (of five and half years). How do you manage the home-front alongside your work?
It's a challenge to juggle the demands of work and personal life, there's no question. You want to be a good wife, a good friend, mother, sister whatever but it's tough. I am getting better at prioritizing and building downtime into my schedule whether it's date nights with my husband, or taking long road trips to see our families. But most importantly, I've started to drop activities that sap my time or energy and I try not to waste time on activities or people that add no value to my work or my life. That frees up a bit more time to focus on my self and my personal and family life.
"Oh my, she is gorgy! …making philanthropy sexy!" An online commenter once said that. And, I totally agree. How do you keep your fabulous look and trim figure?
I must say I have my mother to thank for passing down some great genes! Telling women I eat whatever I want and can't gain weight is one of my favorite things.
Tell us about your style and five words that best describe you.
My style is very feminine chic. I love clothes that are elegant and classy but at the same time effortless. Five words that best describe me: Ambitious. Driven. Giving. Generous. Loyal.
Could you mention three of your favourite African designers and tell us why?
Korto Momolu. Jewel by Lisa. Yemi Osunkoya. Loza Maléombho and Sophie Zinga. Love them all because they are putting African fashion on the world map!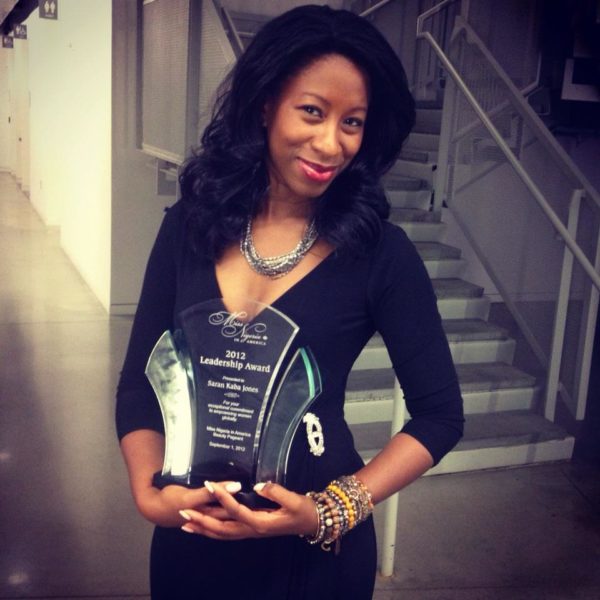 You were nominated for a 2010 CNN Hero award, how did that did it feel like being considered for such a great honour, even though did not win on that November night in Los Angeles?
I have been nominated a few times for the CNN Heroes Award but was not a finalist. I've simply had the honor of attending the award ceremony for the past few years and it's an incredible evening filled with inspiring everyday people sacrificing everything to make the world a better place. I think it would be great to be a CNN Heroes finalist one day.
How does it feel to be selected as on of the World Economic Forum's Young Global Leaders for 2013?
To be named a Young Global Leader by the World Economic Forum, such a highly respected and prestigious organization is an incredible honor! The class of 2013 is filled with inspiring individuals and I am excited to be part of such a dynamic group of young leaders and change-makers. I look forward to serving, connecting and sharing with my fellow YGLs!
What would you say to other young Africans in Diaspora who want to make a difference in their respective communities as well?
I would say they absolutely must! It is our duty and responsibility! We all have a responsibility to try to improve the world around us especially those of us in the diaspora who have been fortunate to have incredible opportunities and access.
Photo credit: Yinka Aj