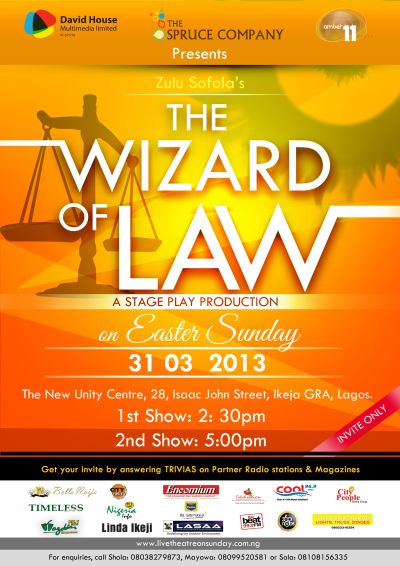 Davidhouse Multimedia, Amber 11 Media and the Spruce Company are set to light up the stage this Easter with Zulu Sofola's stage play 'TheWizard of Law". This production is part of the 'Live Theatre on Sunday' series initiated in 2008 by Davidhouse Multimedia Limited.
The 'Live Theatre on Sunday' is a repertory project that has featured the production of many plays including J.P. Clark's 'Song of a Goat', 'The Wives' Revolt', Ola Rotimi's 'Our Husband Has Gone Mad Again' and 'Grip Am' amongst others. It has already being graced by notable stars in the Nigerian entertainment industry including Iretiola Doyle, Yinka Davies, Gabriel Afolayan, Matse Uwatse, Igos, Omonor Imorbhio, Ego to mention a few.
About the Play
'The Wizard of Law' tells the tale of Ramoni, an old lawer who has fallen on hard times but tries nonetheless to impress his wife even though he is penniless. However, Rafiu, the crafty cloth- seller, takes advantage of Ramoni and pushes Ramoni's further down into misfortune, leading to many more mishaps. Desperate Ramoni seeks a court case to redeem his loses. "The Wizard of Law" revolves around Ramoni's many antics and the "wizardry" he deploys to get out of the debt.
The production will feature Oluwole Muyiwa Moses (Amusa), Preeire Yibowei, Shola Adenugba, Tomiwa Kukoyi – 1st Runner Next Movie Star 2011, Adebola Ogunshina, Febechi Archibong, Emma Nlemadim and Ahide Adum. The play is directed by Leke Gbolade and Adenugba Oluwanishola, who also doubles as the producer.
To Attend
Attendance to the production is strictly by invitation and invitations can be won by participating and answering quiz and trivias on City 105.1 FM and other radio stations partnering with the producers for the hosting of the show such as 95.1 Wazobia FM, 96.9 Cool FM and 99.3 Nigeria Info.
Date: Sunday 31st March 2013
Time: First Show at 2.30PM | Second Show at 5PM
Venue: The Unity Centre, Isaac John Street, GRA, Ikeja, Lagos.
Contact: For sponsorship and attendance enquiries contact, [email protected] | Call 08038279873, 08099520481 and 08108156335 ___________________________________________________________________________________________ Sponsored Content