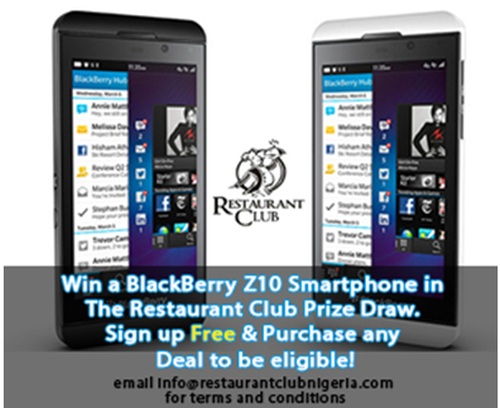 Celebrate the launch of The Restaurant Club and get your hands on the new BlackBerry® Z10™ Smartphone with this fantastic prize draw!
The Restaurant Club is a unique lifestyle product for food lovers pioneered by Matrix Lifestyle Systems Limited. It was created with one goal in mind: to give diners a fast and easy way to find deals at their favourite restaurants.
To celebrate the launch, The Restaurant Club is giving away a brilliant new Smartphone to one lucky winner!
How To Win
For your chance to win this great prize, simply sign up for free @ www.restaurantclubnigeria.com and purchase any meal.
The Prize Draw closes at 11:59PM on 22nd April, 2013. It is open only to residents of Lagos and Abuja. The winner will be chosen from a random draw of entries. Good luck!
Terms & Conditions apply.
Contact: For more information on the terms and conditions Email [email protected]
______________________________________________________________________________
Sponsored Content