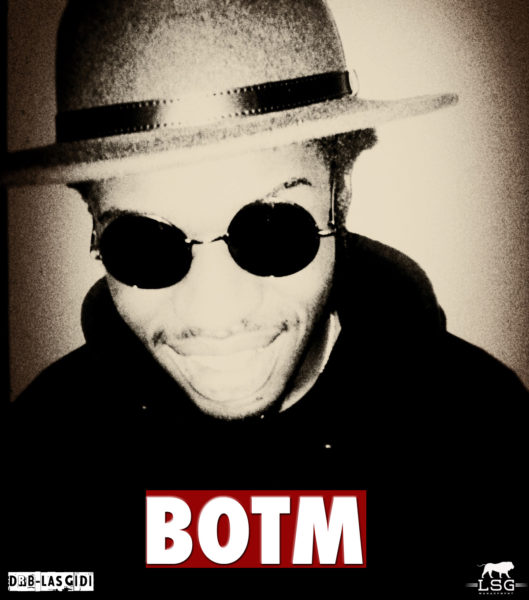 Boj of DRB Lasgidi has certainly grown as an artist in the past 18 months; from making his debut on BN with his solo track, "Cruella" to featuring on Ajebutter22's hit of 2012, "Omo Pastor" & Show Dem Camp's massive new single, "Feel Alright".
Being the first from his DRB Lasgidi camp to do a solo song collection, Boj's "#BOTM" mixtape is a huge step for the formerly obscure group, setting a pace for his group members as well as making a statement as the hook-savvy, hit-making husky crooner of the Nigerian music industry, as a whole.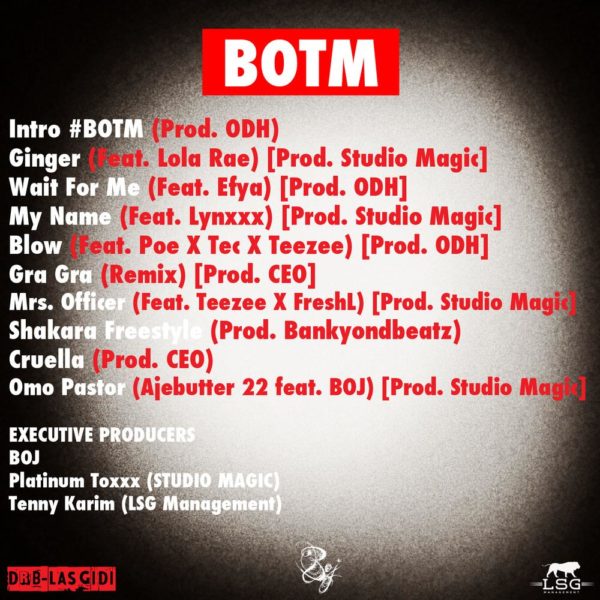 With such major tunes as "Cruella", "Shakara Freestyle", "Ginger" feat. Lola Rae, "My Name" feat. Lynxxx and "Mrs. Officer" feat. Teezee & Fresh L; with features from Efya, Poe & Tec (of Show Dem Camp) as well as production credits from the highly acclaimed Studio Magic, "#BOTM" is a must-have.
1. Boj – Intro #BOTM (Prod. ODH)
[audio: https://www.bellanaija.com/wp-content/uploads/2013/04/1.-BOTM-Prod.-ODH.mp3]
Download
2. Boj Feat. Lola Rae – Ginger [Prod. Studio Magic]
[audio: https://www.bellanaija.com/wp-content/uploads/2013/04/2.-Ginger-feat.-Lola-Rae-Prod.-Studio-Magic.mp3]
Download
3. Boj Feat. Efya – Wait For Me [Prod. ODH]
[audio: https://www.bellanaija.com/wp-content/uploads/2013/04/3.Wait-For-Me-Feat.-Efya-Prod.-ODH.mp3]
Download
4. Boj Feat. Lynxxx – My Name [Prod. Studio Magic]
[audio: https://www.bellanaija.com/wp-content/uploads/2013/04/4.My-Name-Feat.-Lynxxx-Prod.-Studio-Magic.mp3]
Download
5. Boj Feat. Poe X Tec X Teezee – Blow [Prod. ODH]
[audio: https://www.bellanaija.com/wp-content/uploads/2013/04/5.-Blow-Feat.-Poe-X-Tec-X-Teezee-Prod.-ODH.mp3]
Download
6. Boj – Gra Gra (Remix) [Prod. CEO]
[audio: https://www.bellanaija.com/wp-content/uploads/2013/04/6.-Gra-Gra-Remix-Prod.-CEO.mp3]
Download
7. Boj Feat. Teezee & Fresh L – Mrs. Officer [Prod. Studio Magic]
[audio: https://www.bellanaija.com/wp-content/uploads/2013/04/7.-Mrs.-Officer-Feat.-Teezee-FreshL-Prod.-Studio-Magic.mp3]
Download
8. Boj – Shakara Freestyle (Prod. Bankyondbeatz)
[audio: https://www.bellanaija.com/wp-content/uploads/2013/04/8.-Shakara-Freestyle-Prod.-Bankyondbeatz.mp3]
Download
9. Boj – Cruella (Prod. CEO)
[audio: https://www.bellanaija.com/wp-content/uploads/2013/04/9.-Cruella-Prod.-CEO.mp3]
Download
10. Ajebutter22 Feat. Boj – Omo Pastor [Prod. Studio Magic]
[audio: https://www.bellanaija.com/wp-content/uploads/2013/04/10.-Omo-Pastor-Feat.-BOJ-Prod.-Studio-Magic.mp3]
Download