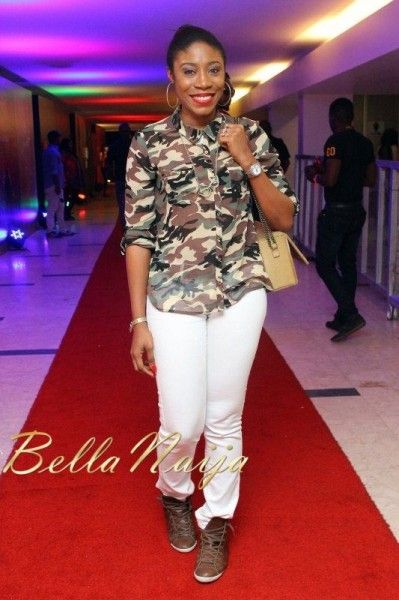 We are just half way through the year and we have already seen a number of different trends – monochrome, graphic prints, floral prints, the all white look – and now we can add one more to that list, Camouflage.
The camouflage trend is one of the few trends that both men and women can incorporate into their style and style however they see fit. I remember a while ago when the trend was in full swing and I lived in the Air Force Base. I would constantly hear stories of how guys were flogged on the road for wearing their camouflage jackets by Army personnel. Now, I think it's safe to wear without looking over our shoulders.
At the recently concluded DKM concert Naeto C, Adams Ibrahim, Kayla and some other individuals were spotted walking the red carpet in different variations of the trend. So how can you rock this trend? Here are a few guidelines to get you started without  being stopped by the Army for impersonation.
– For the guys, camouflage is guy territory, so if you decide to wear this trend go all out with the masculinity. Add a pair of colourful sneakers like Naeto C and you're good to go.
-Camouflage has a way of adding this tomboy-ish look, so if you aren't one, you can rock a camouflage top, jeans or otherwise with a pair of heels. This softens up the edgy look the camouflage gives.
-If you are not sure about the trend and how it would look on you, go for a small scarf, bag or handkerchief like Adams Ibrahim. This way you still wear the trend without being too dedicated to it.
-Pair your camouflage with nude colours like the base colour of the camouflage. If yours is a combination of blue hues you could wear a camouflage jacket with a sky blue top underneath.
-Try a new colour. Camouflage comes in many cool colours like blue and yellow now so you don't have to go for the regular green.
-Camouflage and gold accessories mix beautifully. Add a gold brooch, some gold chains or even a gold belt to complement your look.
Just like in regular prints, if you are going for all round camouflage, make sure it varies in size. Having them in the same size will definitely get you arrested by the Army.
This trend can also be transformed to suit any personality or street style.
Hip Hop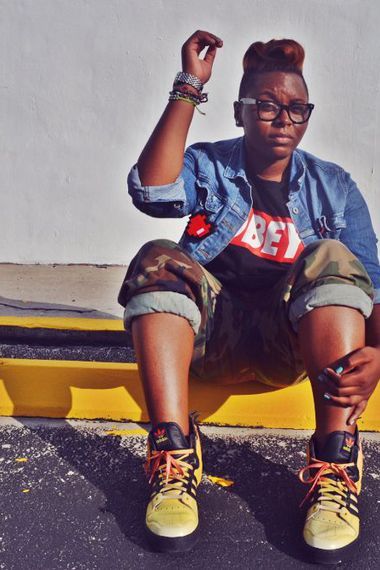 Punk – (Adetoun Ajiboye of Tounaj Blog)
Preppy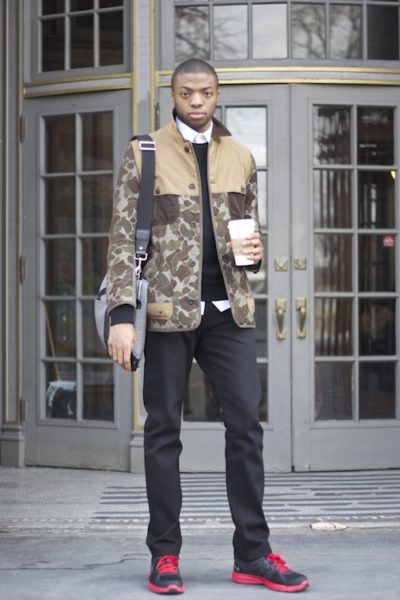 African Chic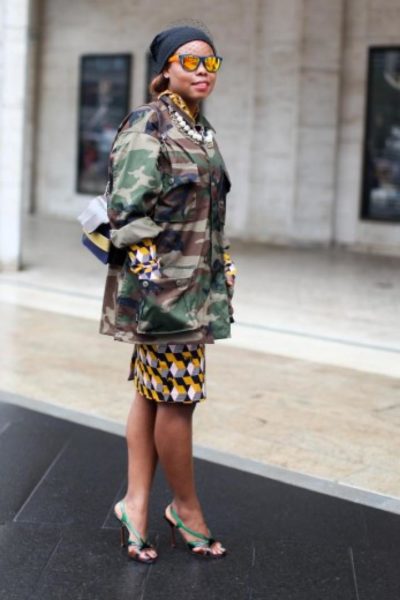 Still not sure about this trend? You can also try this trend on your nails. Camouflage nails are a nice creative way to add the trend to your nails while rocking some seriously cool nails.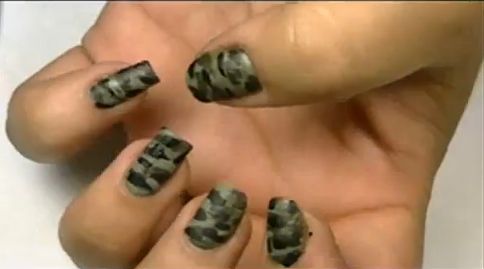 Click play for DandyNails to show you just how to do that.
Check out our BN Style Inspiration from Brandy's BET106 & Park show outfit, Pharrell Williams street style and Kayla's laid back D'Kings Men concert outfit for how you can rock the camouflage trend too.
Use a washed camouflage jacket to give it that old army look, and get one with zips for that extra edge.
Buy here – TopShop International
Pair your camouflage jacket with a pair of white denim jeans to make it stand out. If you would like to dial it down a little, use black or deep blue instead.
Buy here – TopShopUK
Finally, get heels or snickers in a colour present in your jacket or in the same colour family. Like Kayla, you could go for brown sneakers to really pull the look together.
Buy here – Heelshot.com
When rocking the camouflage trend, don't forget to always personalize the pieces so you have a more unique look. Rising singer Donna Diva channelled her inner camouflage diva in this unique Poison Ivy ensemble. She has been known to be creative in her music videos and wore one of the outfits from her Gaga music video to the DKM concert red carpet.
Would you rock the camouflage trend? If you have you rocked it, how did you style yours?
 Photo Credit: Fashionfinder.asos . Fashionfinder.asos . Collegefashionista . Collegefashionista . Blbradio . Heelshot . Glamorousdeception . Redcarpet-fashionawards . Fashionbombdaily . Fashion-law.org .