Last year, BN brought exclusively to you all the exclusive scoop and photos from Nigerian TV personality/actress Dolapo Oni's Moet & Chandon's VIP Experience trip to France. Today we bring you the scoop from Kemi Adetiba's trip.
Nigerian TV personality and film maker Kemi Adetiba recently returned from a tour of the home of one of the world's most influential Champagne brands Moet & Chandon as well as attending the 2013 French Open.
Kemi who was selected by the Moet & Chandon team to join other international VIPs in France, shares all about the event with BellaNaija.com.
Exclusive Photos
Epernay, France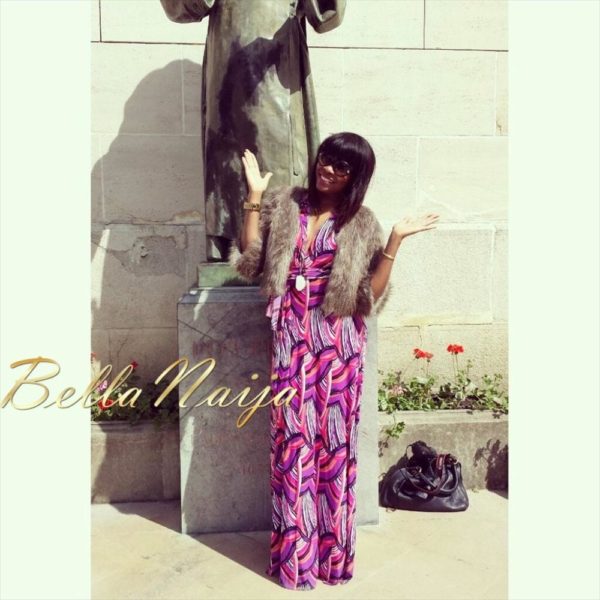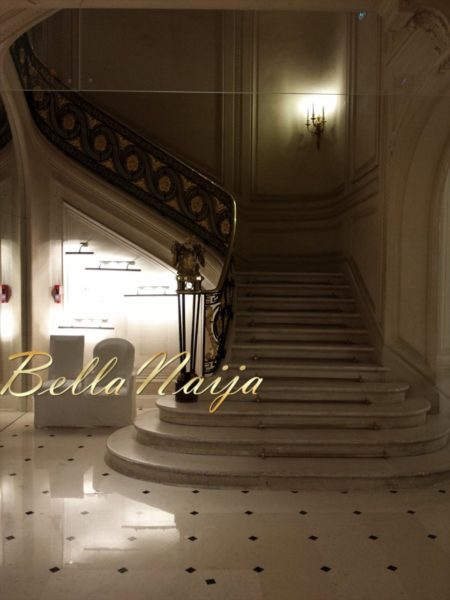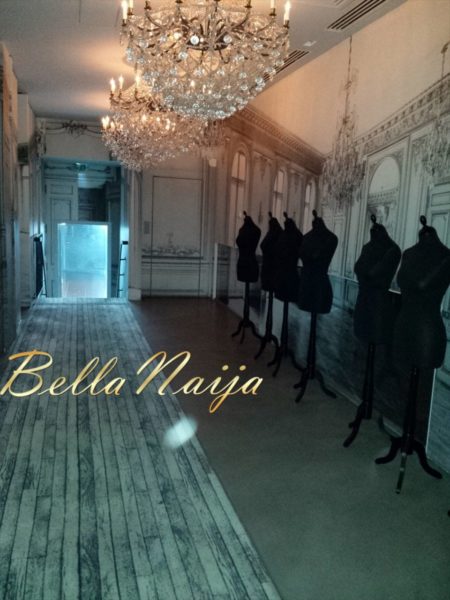 Kemi tells the Moet & Chandon team all about her trip below.
Welcome back from the French Open, how was the city of Love?
I love Paris, and its energy and allure was no different this time. She was AMAZING and instructed me to send back her love and kisses. Seriously though, it was a whirlwind experience full of fun and lacking sleep. From the moment I got in, there was an experience to savour and I am still reeling from it.
We are curious to know, how did you earn the chance to represent Moet & Chandon at Roland Garros and what can I do to get a chance to wine and dine with the international jet set this time next year?
Wow! Till this very moment, I have no idea what I did right. Someone please tell me so I can duplicate it in time for next year as well. However, the simple details are that I was busy minding my business in New York and from no where got a call from a representative in Nigeria, explaining the VIP Experience and asking if I would like to be part of it this year. Of course I said no. Just kidding…I immediately responded with "When?? Where??"
What was it like being in the home of champagne? What did you do during your day in Epernay, France?
It's amazing that we were only in Epernay for only a day as we had experiences that could have been filled into days. Epernay is roughly a two hour car ride from Paris, so we set-off pretty early, but I was lucky to have the awesome Kemi Ogunleye and Owen Aisien along for the ride with me to kill time.
We arrived at this gorgeous mansion that seemed filled with so much history. We were welcomed at the foot of the Moet and Chandon training "school" by a representative armed with gifts of flutes, filled with champagne to quench our thirst after the long journey.
From that very moment, our glasses never reached the half-way mark. We were soon joined by other Moet and Chandon guests from all over the world; Switzerland, France and Hong Kong to name a few. We had lunch, more champagne and everyone was so nice, and excited to be there. However, I think we bonded more with the party from Hong Kong. They were simply hilarious and we had a great time "shooting the breeze", drinking champagne and laughing out loud without a care in the world.
We then went to the home of Moet and Chandon; it's headquarters, on 20 rue de Champagne where we learned about its rich history, how the name of the champagne moved from "Moet" to "Moet & Chandon" as we know it today, the historical visit from Napoleon and its importance and the fact that the Imperial line is actually a dedication to him for the boom in business after hosting him during his visit in 1804 (Yes! I was listening).
The grounds and its aesthetic were simply overwhelming. They have been able to maintain everything in perfect condition that you feel taken back in time during the tour.
Part of the tour is visiting the deep, dark cellars that lay underneath your feet. This is where the champagne is made. The first thing you notice is the chill. A jacket is very necessary there but necessary for the wine preservation. You are warned from the jump to stay with the party. The cellar is built like a maze and easy for one to get lost in. We saw the various stages in the evolution of the Moet & Chandon champagne we drink today. It's truly a painstaking task, and takes years to get the finished product to your table.
We finally made it to the hotel to check in and I literally opened the door to my room and sucked in air. My hotel room looked more like a lush mini apartment. I had a private balcony and the view from it across the hill was simply breathtaking. My pictures do it no justice at all. However, I had no time to fully admire the room, as I had to get changed real quick to head out to the Chateau de Saran for dinner.
The next morning, we were off back to Paris… and to the FRENCH OPEN.
We understand that Moet & Chandon arranged for you to spend an evening at the Chateau de Saran. Is it true and, if so, how was that experience?
Oh Yes. Like I said, we had dinner there that evening. It was amazing. When we arrived, we first hung out in the garden filling up on canapés and even more champagne. Some of the other guests entertained us by partaking in the game of Tiny Tennis which is essentially a miniature version of tennis. It was fun seeing the ladies running around in heels and the guys sweating it out in their dinner jackets.
We were then ushered into the grand dinning room for dinner. It was all so posh, but devoid of the stiffness you would attach to such grandness. We dined on creations by the famous Chef Pascal and every course was paired with the appropriate Moet & Chandon champagne. I got to meet Chef Pascal, and we got on so well. He also gave me a tour of his kitchen. I promised to visit soon, He and is food were amazing.
We gradually filed out into the cigar room where we had tea, sweets and (you got it) more champagne. Such a grand experience. I think I eventually made it back to my room at about 1 a.m. in the morning just in time to flop on my pillow, exhausted from the day's activities, food and champagne.
Were you a champagne lover before your trip? And has this experience changed your perception of champagne in anyway?
I have always been a fan of the bubbles and to some extent considered myself an aficionado in this respect. This experience has given me a deeper respect and understanding for the brand. First of all, we can put to rest the correct pronunciation of "Moet".
There are various schools of thought, the most popular being "Mow-eet" and "Moow-aaaa". I learnt a few years ago that the proper pronunciation was "Mow-et" but it was great to finally get confirmation right from the horse's mouth. I also got to appreciate the work Moet et Chandon does on every bottle that ends up on your table and every drop in your glass. It takes a lot of patience and love to create a single bottle. I believe I had maybe two glasses of water my entire stay in France. If you were thirsty, you were offered a glass of champagne. If you were hungry, you were offered a glass of champagne. It was truly comical and cool at the same time.
Did you get to meet any Tennis heroes at Roland Garros – Roger Federer, Serena Williams, Maria Sharapova…?
Unfortunately, I did not. But I got to have a great lunch at the VIP Moet Salon set aside for only Moet and Chandon staff and guests and meet other cool people.
What was it like watching such great tennis stars live? Any key memorable highlights or moments from the match?
I got to watch Serena Williams, Tsonga and finally FEDERER play. What an EXPERIENCE? My father who is a tennis fanatic was so jealous. I mean… Serena was right… THERE! I was only a few rows back (7 to be specific, I counted) in the Moet and Chandon box and was close enough to hear her grunts and see beads of sweat trail down her face. There is nothing like watching a game LIVE. It takes the anxiety to another level.
How does the French Open rank next to the US Open and Wimbledon?
Well, for now this would be an unfair comparison because it is the only tournament I have gotten to experience LIVE and in person. Plus being in Paris always helps to tip the scales in the advantage of Roland Garros… Doesn't it? 😉
Finally, you are a beautiful lady, with refined taste. Is there any tennis personality that you admire or closely identify with?
I would have to say the Williams sisters, less for the obvious similarities in the colour of our skin, and more for their determination in achieving their goals and reaching the pinnacle of their careers. I remember the first US Open I watched with them partaking in. It must have been 1997. I remember the day vividly.
Then they were still rocking the multi coloured beads in their hair and they totally dominated the game ever since then. I admire their strength, I identify with their drive, I see a lot of them in myself and it definitely was a dream come true to see Serena play after following her closely for so many years in both text and electronic media.