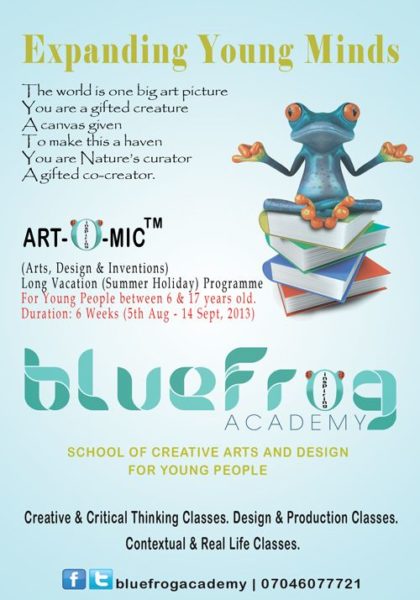 At the Blue Frog Academy they believe that a child's mind is the best place for creativity and inventions. It is with this belief that they would like to invite young people between the ages of 6 and 17 years to attend creative & critical thinking classes, design & production classes and contextual & real life classes.
They have tagged the summer holiday program "ART-O-MIC" – Their unique, intensive and extensive program which is united by a focus on providing students with knowledge in arts, design and technology, supported by wide interdisciplinary skills set in animation, lighting & photography, game art & design, music, illustration & painting, art appreciation and innovative & product designs and many more.
Enroll your children & wards today.
Date: Monday 5th August – Saturday 14th September 2013
Time: 9AM – 4PM (Monday – Friday); 10AM – 4PM (Saturdays)
For more information on the school's programme and invites to their Open Day on Saturday 27th July 2013, please call Williams on 07046077721 or 08184593384.
______________________________________________________________________________________________________
Sponsored Content