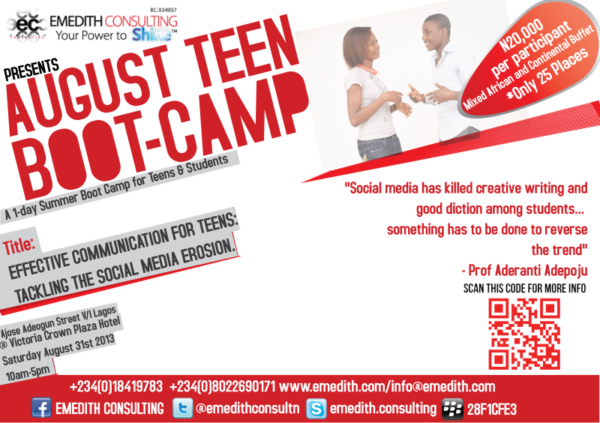 Emedith Consulting (EC) was founded in 2011 primarily to deliver personal development/motivational sessions to teenagers, students and young adults to better equip them to face the rigors of life, school and profession, as well as conquer the personal challenges that hinder them from attaining maximum potential. With this in mind they are inviting teens and students to the August Teen Boot Camp.
For the boot camp sessions, the attendees would be povided with he following
• Participants Workbook
• Personal Action Development Plan (PADP)
• Participants Evaluation Questionnaire
• Certificate of attendance at the end of session.
• Mixed African and Continental Buffet to be served.
• 2 Post-Session development meetings. (Optional and attracts extra cost)
This boot camp will provide a unique and exciting way of exposing teens and students to core personal development concepts as well as success skills that are required in the present day. These skills are an evolving competency and we predict will be the great distinction for success at university, today's competitive job market and life in general. the boot camp will also provide  a forum for teens from various backgrounds and schools to meet, interact and share ideas and experiences in a way that fosters human integration.
There will be a talk mid-way into the boot camp by a young and upcoming youth coach/mentor. The talk will focus on the amount and kind of personal information one puts on social media platforms and the potential dangers and effects this can have both now and in the future.
Fee: N20, 000 per participant
NOTE: PLACES MUST BE RESERVED AND PAID FOR BEFORE THE BOOT CAMP, SO CONTACT THEM TODAY TO RESERVE A PLACE.
Account Details:
Account Name: Emedith Consulting Limited
Bank: GTBank, Lekki Branch
Account Number: 0009280233
At the end of this boot camp, the organizers promise that participants would be better able to understand the difference between formal and informal writing, appreciate the negative effects of social media slangs, recognize areas for improvement for effective communication, use and interpret body language for effective communication, conduct effective research using proper sources and hold conversations and influence people.
Boot Camp Agenda
• The scourge of 'social media language.'
• Expert views on 'social media language'.
• Effects of 'social media language'.
• Non-verbal communication skills practice.
• Elements of Effective Communication: Speaking skills, questioning skills, listening skills and research skills.
• Barriers to Communication.
• Verbal communication skills practice.
Click HERE to view pictures from the 2012 August Teen Boot-Camp.
For more information on the 2013 August teen Boot Camp information please Click HERE | For more information on the August Teen Boot Camp 2013 Please Click HERE
Date: Saturday 31st August 2013
Time: 10 AM – 5 PM
Venue: Victoria Crown Plaza Hotel, Ajose Adeogun, Victoria Island, Lagos
Contact: For more information please call | visit www.emedith.com | Email [email protected] | Like their page on Facebook | Follow them on Twiiter @emedithconsultn | Add them on BBM on 281CFE3
_______________________________________________________________________________________________________
Sponsored Content