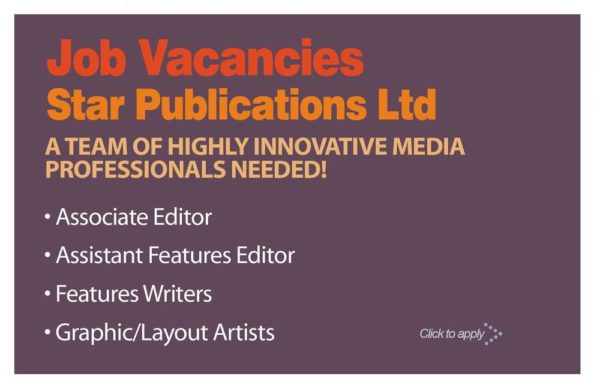 Star Publication Limited
Requires immediate employment of a dynamic team for a monthly publication.
Associate Editor – AE1002
• Determine the editing needs of a feature and calibrate the level of editing accordingly.
• Deliver creative ideas on story topics that meet client needs and attract readers
• Help develop products and content across all platforms including print, Web, tablet and mobile
• Display strong proofreading skills
• Work quickly yet thoroughly through large volumes of copy
• Write smartly and creatively with forceful headlines that match the tone and topic of a feature that will captivate readers
• Collaborate with art directors, designers and other editors to ensure that concepts meet specific client requirements within deadlines
• Be able to work long hours and overtime if necessary on projects with extremely tight deadlines, and be flexible in shifting among different projects as determined by a supervisor, clients or other circumstances
• Work effectively with team members and maintain a positive atmosphere and a spirit of collaboration
Our ideal candidate must be professional, outgoing and dependable with excellent organisational and multitasking capabilities. Strong writing, editing and grammatical skills are essential, with a keen attention to detail. Self-motivation and positive response to editor's feedback are a must. 3+ years editorial experience preferred.
Assistant Features Editor – AFE1003
• Generating ideas for features with writing staff;
• Reporting to the Feature editor
• Managing writing staff and freelance feature writers;
• Editing and re-writing articles, some of which may be rejected or returned to the writer for revision;
• Selecting feature articles for each issue;
• Sending out briefs to writers, which can include word count, deadline, and writing style;
• Networking with others at industry events; assisting other staff to meet their deadlines.
– Features Writers FW1004
• Generating feature ideas for publication and reporting to the features editor
• Writing well composed articles and being able to meet deadlines
• Doing interesting interviews with personalities
• Attending events and reporting for the publication
• Proofreading and making sure articles are print worthy
• Flexible with time especially when pressed to go to press
• Being able to work as part of a team
Graphic/Layout Artist GLA1005
• creative flair
• a strong visual sense
• originality
• strong computer skills ie Indesign, Quarkexpress, photoshop etc
• the ability to pay attention to detail
• the ability to balance work on several projects at a time
• good teamworking skills
*Mass communication / media experience is an additional advantage
Send resume and cover letters to [email protected] within 2 weeks of publication – 19th July 2013
Get ready to join a team of dynamic young men and women.
Star publication…only the best!