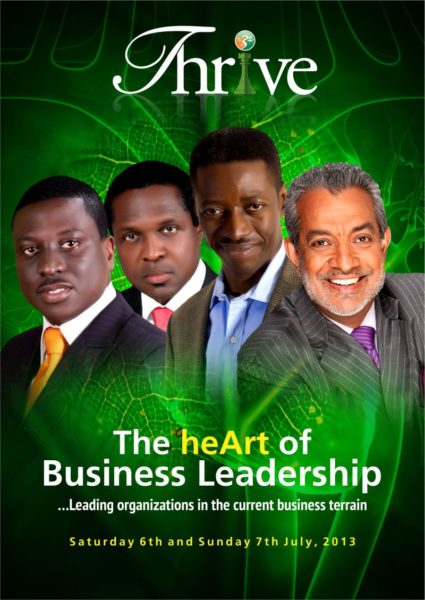 The Thrive is your one stop location for engaging face-to-face leadership on thoughts and rich counsel drawn from decades of successful practicing and teaching leadership. The event is an interactive question and answer forum which will be anchored by a panel of successful business leaders who have made their mark in various sectors. The event will also include the Thrive Business Clinic where questions will be asked and answered on business and leadership.
It is a unique opportunity to have your questions on business and leadership answered with rare insights on how to resolve present challenges to move ahead in business.
Sam Adeyemi, a renowned leadership expert is expected to open the discussion, providing crucial insights into how global leadership best practice can be applied in the Nigerian context.
Dr Sam Chand, acclaimed as a global thought leader in the area of leadership and voted the 13th most influential leadership guru in the world; will deliver insightful tools, tips and strategies on how to unleash the leadership potential of participants.
A team of Thriving business leaders led by Tonye Cole (Co-Founder and Executive Director, Sahara, Energy) will also be speaking and facilitating discussion on making businesses work in Nigeria, and how to lead in the business sphere.
Date: Saturday 6 July & Sunday 7 July 2013
Time: 9.30AM – 1.30PM (Saturday) & 7.15AM, 9AM, 11AM (Sunday)
Venue: Harvesters, Plot 5 -7 Gbagada-Oshodi Expressway, Opposite Mobil Petrol Station, Gbagada, Lagos.
For more information please visit their Website: www.harvestersng.org/thrive. Preferred seating available via pre-registration, visit the website to register.
______________________________________________________________________________________
Sponsored Content