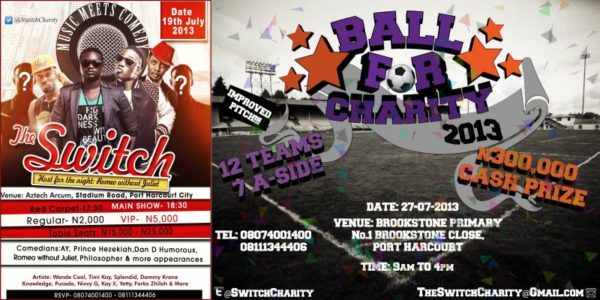 It's time for The Switch to hold the second edition of The Switch Charity event. This time there will be two events all to support charitable organisations. The events are tagged "The Switch: Comedy Meets Music" & "Ball for Charity".
"The Switch: Comedy Meets Music" event empowers artists and comedians by creating a platform for local and upcoming artistes as well as comedians to showcase their talent & perform alongside bigger names in the entertainment industry.
The "Ball for Charity Event" is a 12-team 7 a-side football tournament featuring teams who participate and play to raise funds for a chosen charity/cause. The "Ball for Charity" team enrollment officially commences and will operate on a first come first served basis and end once the 12 man team is complete. Both events will be hosted in Port Harcourt.
For more information about the show, the tournament or participation details, please send your enquiries to [email protected] Follow them on Twitter @SwitchCharity and Facebook
To view the first edition of the event, please click HERE
Comedy Meets Music
Date: Friday 19th July 2013
Time: Red Carpet: 5:30PM / Main Show: 6:30PM
Venue: Aztec Arcum, Stadium Road, Port Harcourt
Contact: To RSVP call: 08074001400 or 08111344406.
Ball for Charity
Date: Saturday 27th July 2013
Time: 9AM – 4PM
Venue: Brookstone Primary, No1. brookstone Close, Port Harcourt
Contact: For more information please call 08074001400 or 08111344406 or Email the at The Switch [email protected]
______________________________________________________________________________________
Sponsored Content