Salut a toutes!
It's been crazy couple of days for me but in these last few days I have gotten to try good food and learn a lot as a chef.
In my last post, I wrote my ode to all those who are inspiring me to shed the pounds and set free the six pack I have blocked so long with this Alcatraz layer of fat.
However, I know some of you were like "abeg abeg YOLO jo! We gats eat meat and real spaghetti! Who even has time for brown rice pasta? Like who?"
Well this post is my apology and my way of restoring balance to the universe. But please we team fitfam, you know how it's most annoying that you have that friend that eats for Nigeria, Cameroon and Ghana and yet they maintain the six pack, the skinny ones are usually the worst!
There is a God anyway because I would get there by force, fire and the motivation of my friends on Nike Running+ App.
Ok, enough with my bitter antics. Today's post is just an ode to the classic meatballs and pasta. I had a few friends come to visit and I really didn't want to spend so much on entertaining (sometimes also known as I did not have enough money as of that time) Thankfully, thanks to my job I get to have all sorts in my freezer et al. I had some Spanish pork and some veal tenderloin and pasta was cheap and cheerful so what better thing to do than meatballs and pasta?!
This was a no recipe dish. I was literally going with the flow but I made sure there were a few essentials and made a good spice mix for the mince before they were formed into balls. I had my trusty plum tomatoes in a can on hand to make the sauce and my fresh herbs that are forever handy in my fridge.
Since there is no real recipe for this I would just list all the ingredients I used and how I cooked it.
What You Need
The Meatballs
Pork mince about 800g to a kilo
About 200g minced veal
1 egg to bind
Spice Mix
2 tablespoons minced garlic
Sprigs of rosemary and thyme
A few teaspoons of Smoked Paprika
Regular Paprika
Steak Seasoning
Dry pepper
Salt and Black Pepper
Sauce
1 serving spoon minced onions
2 cans plum tomatoes
1 teaspoon tomato puree
2 tablespoons garlic puree
Thyme fresh or dried
A few springs of basil and parsley
2 teaspoons of dried oregano
How To
In a bowl mix the egg, seasoning mix and the mix thoroughly (you can wear gloves and mix through by hand and do the forming too and leave your hands fresh!) You can either taste a little. But, if you can't stomach raw tasting, then cook a small batch to check that the seasoning is on point.
After the balls have been formed place on a tray and place in the fridge to firm up a little.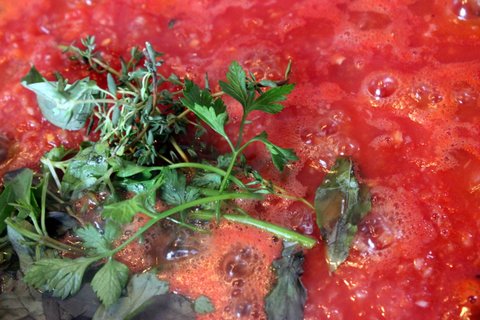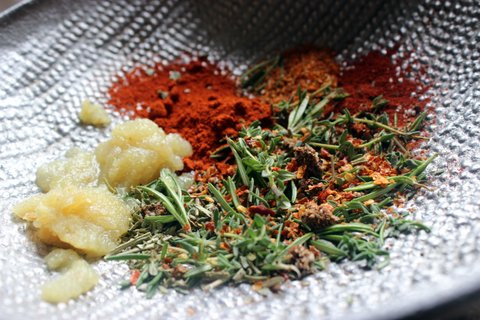 While that is firming up, start making the sauce. In a pan or a saucepan, stir-fry the onions with the garlic in some olive oil; after a few minutes add the tomatoes and the basil and parsley. Do not fret that it's fresh and what not – you would take it out when it is don e infusing its flavour into the sauce.
Season the sauce with salt, black pepper, oregano and fresh or dried thyme. If you're using dried remember to go easy as it has a way stronger flavour.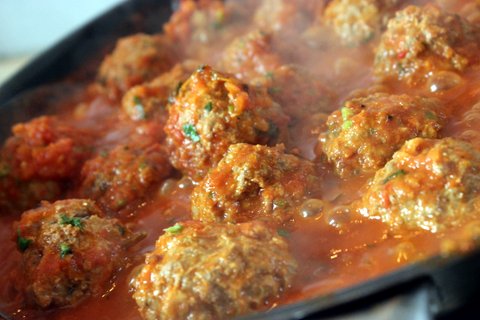 Allow the sauce simmer for about 10 minutes then add the meatballs. Now you may wonder why didn't I roast them or fry them first. My honest answer? "I did not have time for that!" Again you're thinking, "Wouldn't the meatballs fall apart?" Well, being a chef has its perks. I just took the gas to the lowest mark; spread the meatballs round the pan I used and allowed the meatballs and to simmer gently in the sauce for another 15 minutes. That way the meatballs would tighten and firm up and there wouldn't be any need for any extra frying or roasting especially as there's a time constraint.
Serve with some spaghetti or whatever noodle pasta or pasta in general you prefer.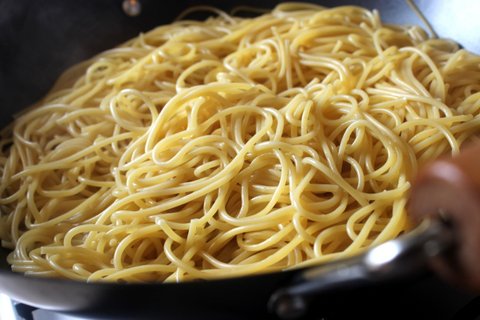 Finish off by sprinkling chopped parsley and celery and if your like grate over some Parmesan cheese!
So that's it from me people. If you're feeling classic and have no time go ahead and make this. I forgot to mention I minced the meat myself with my food processor so if you have chunks of meat lying fallow you might as well save yourself that trip to the meat market or spending that extra cash.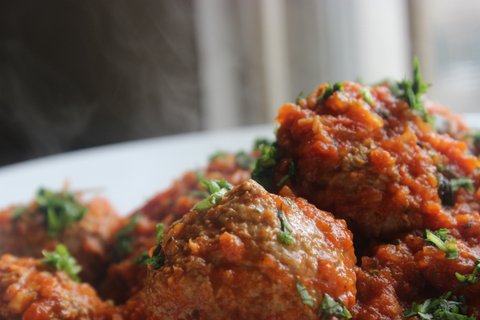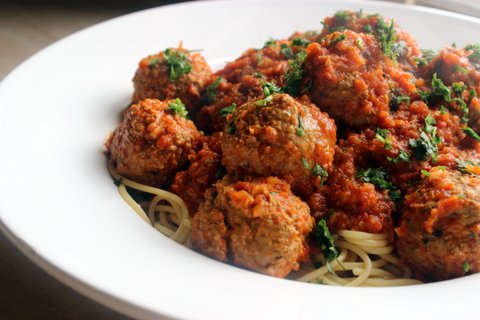 If you're feeling extra adventurous add some vodka to the tomato sauce for a subtle kick of flavour to the sauce.
Have a great weekend!
Ciao!
_____________________________________________________________________________________________
Chef Fregz loves to cook! He is a graduate of Le Cordon Bleu Paris Culinary Arts School in France and hosts monthly "Chef Fregz Specials" where he whips up a yummy menu with a different theme each time then everyone enjoys a taste.He also caters special events and private dinners. To find out more visit www.cheffregz.com.Chef Fregz provides premium private catering services. For bookings and orders email info@cheffregz.com @Chef_Fregz on Instagram and Twitter. You can check out the Chef Fregz Page on Facebook as well.