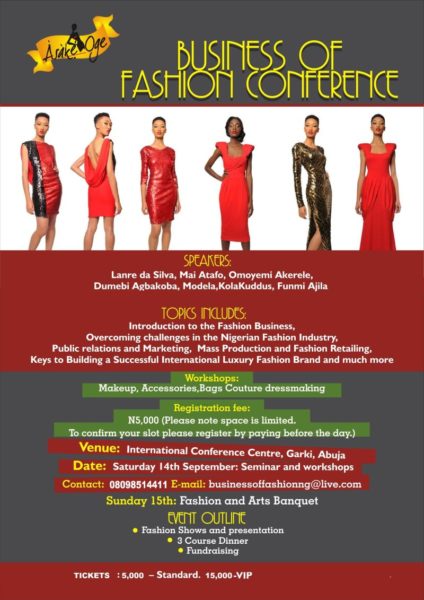 Do you want to get into the business of fashion and live in Abuja? Then, the Business of Fashion conference to be hosted by award winning London brand – AsakeOge – is where you need to be.
The event, which has been endorsed by FCT Minister Oloye Olajumoke Akinjide who will also be opening the event, is aimed at those in the fashion industry and others with keen interest in fashion. If you are a student, graduate, an established fashion designer or want to set up your own fashion business, this program will educate you on business opportunities and how to identify, manage and develop new products, ideas and services.
Other special guests to expect are Evelyn Oputa MD Bank of Industry, Dr C Chime, MD Nigeria-China Business Council, Hajia Aisha Abubakar, Abuja Enterprise Agency, Alhaji Bature Masari, MD SMEDAN (Small Medium Enterprise Agency Nigeria) and other government stakeholders.
With several multi-award winning speakers like Lanre Da Silva, Mai Atafo and Modela lined up to speak at the conference, this is sure to be an opportunity not to be missed.
This seminar is set out to achieve three main objectives:
• Support the growth of the Nigerian fashion industry.
• Nurture and guide emerging fashion entrepreneurs to start up, survive and grow their business with access to start up funds.
• Demonstrate how fashion graduates can use entrepreneurial skills to explore work opportunities within the fashion industry.
Registration Seminar & Workshop Fee: N5000
Fashion & Arts Banquet Tickets: N5000(Standard); N20,000 (VIP)
*Limited spaces available*
Pay day isn't for another day so here's how you can win free tickets. All you have to do to be one of the 25 lucky people to get a ticket to the conference is email [email protected] | Tweet at @bizoffashionNG | Call 08098514411, 08180139231 or 08069885167.
*This applies to the first 25 people and is limited to people in Abuja only*
Date(s):
Fashion Seminar & Workshop – Saturday 14th September 2013
Fashion banquet – Sunday 15th September 2013
Time: 10AM – 5PM
Venue: International Conference Center, Garki, Abuja.
For more information please visit @bizoffashionNG | Visit www.businessoffashion.wordpress.com | Email [email protected] | Call 08098514411, 08180139231 or 08069885167.
______________________________________________________________________________________
Sponsored Content