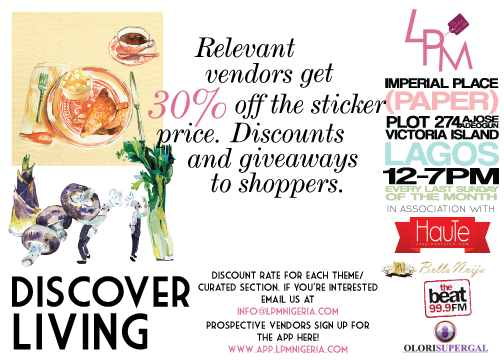 Newlyweds shopping for home pieces? Yummy Mummies looking for the best accessories for your home or new recipes to try?
LPM August is the place to be. LPM is bringing the best in "Living and Well-being" to its regular and new shoppers this month.
You can expect to see some amazing pieces which range from throw pillows, lamps, kitchen utensils, a wide variety of good food and wines, artwork, and much more. As always expect great offers and discounts at all Living and Well-being stalls.
Not limiting variety for shoppers, other vendors are still welcome and will be showcasing different products so be ready to splurge.
Be prepared to see the following vendors – Hellofood.com, Ivie's Home, Ivie's Art, Arimex Wine, IN-VOUGUE, Heels-et-cetera, Wonu Ohio Styles, Scarlet Pieces, HeadHoncho and Ajali.
**
LPM Inside Loyalty Scheme  – The LPM team wants to reward all loyal shoppers. Each LPM visitor will get a loyalty card and for every purchase over N 3,000 the customer gets a stamp. All you need are 12 of these and you're on your way to getting a freebie worth over N 10,000.  Make sure you stop by at the August edition and get to shopping.
Date: Sunday 25th August 2013
Time: 12 Noon – 7 PM
Venue: Imperial Place (Paper) Plot 274 Ajose Adeogun, Victoria Island, Lagos
Contact: For more info and general enquiries, call 08162463603 | add BB Pin 28BC6BE3 | follow them on Twitter @LePetitMarcheNG | on Tumblr www.LPMPaper.tumblr.com | 0n Instagram www.Instagram.com/LPMNigeria
For news, updates and LPM highlights, delivered straight to you sign up here http://eepurl.com/y2RPT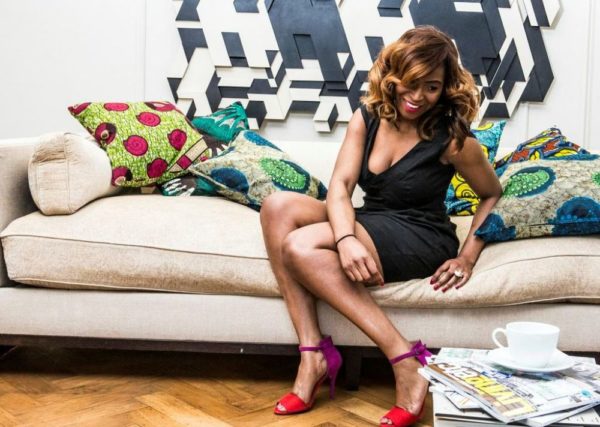 LPM Vendor Spotlight – House of Arike (Interview by the LPM Team)
Tell us about your brand evolution
Although this is a relatively new company, however the concept has been in the research stage for several years. With any start-up you can't start a business without doing your homework; you need to know whether your product/service is needed, focusing on what you can bring to the table that's new and innovative. You have to think about the investment you will be making, not just monetary but your time.
Anyone that knows me, knows that I love African print so when I bought my London flat years ago I was really excited and fired up about the decorating aspect. I knew that African print needed to feature, so I incorporated little accents around each room.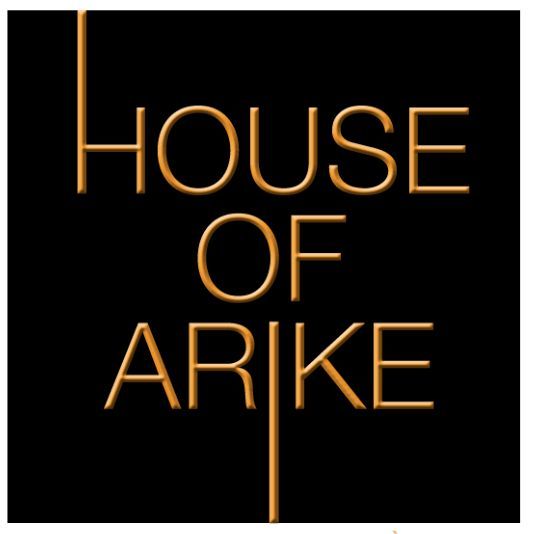 It wasn't until when family and friends came around to visit, giving me some positive comments about the placements of the prints that I started to think about interior designing using African prints as my unique twist. Fast forward a few years and here we are with House of Arike.
I called my company "House of Arike" to pay homage to my ever supportive parents; Arike is my middle name. It is pronounced "Ah-Ri-Keh" and means "one who is blessed on sight". The meaning of Arike is befitting as with interior design it's about visuals, what captures you at first sight. So the name fits perfectly.
What would you say is the House of Arike signature/aesthetic?
The use of African print has always been a big part of my heritage. I recall being very young and my parents making me an African print dress for a wedding. I thought it was the most beautiful dress I owned. Guess this was the start of my love for African print. Till this day you can catch me wearing African print to weddings and functions. It's the versatility of African print that I especially love, and this is what influenced my taste. This has now become my signature for HOA.
I'm passionate about the textures and prints especially when it comes to the home. To me a home is your sanctuary, so when you are stressed from the hustle and bustle of life or need a place to just relax your home should offer a haven. A home should reflect and be an extension of yourself and personality, which is why each home should be unique and individual to each person.
I think that House of Arike sets a unique tone. My brand gives the customer a complete home experience, this means we are not only focusing on soft furnishing or furniture, we are creating staple print pieces for each aspect of the home – from the lounge to the dining room to the bedroom. We also offer a bespoke service for our discerning clients, so they can get any product they like in their favourite print. It's all part of the extra mile we go for our customers.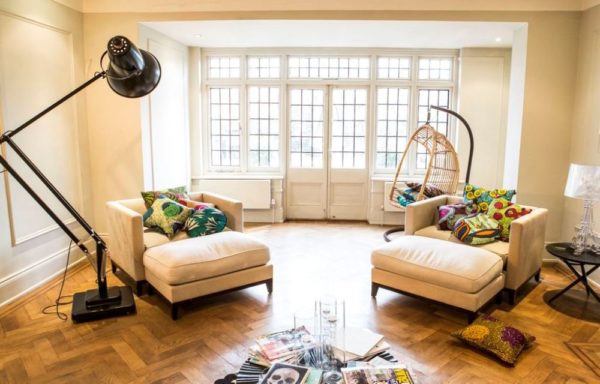 LPM has just launched a new initiative called #DiscoverDesign. In your opinion what makes African fashion unique? Worth "discovering"?
I believe that some international design houses like Burberry, Moschino, Marni et al have been greatly influenced by Africa. This has been demonstrated by their use of African print in their collections. To some, Africa is finally coming to the surface in terms of fashion but to me the rest of the world is the one that is catching up to the amazing things that Africa has been producing for many years.
Africans are paving the way for design and fashion, and not just with African print. We have produced some well-renowned designers such as Adebayo Jones, Duro Olowu, Tiffany Amber (Folake Folarin-Coker), Lisa Folawiyo, Toju Foyeh, Ariike Alden, Anita Quansah, and that's just a handful of the outstanding talent we have. They all offer something new and refreshing to African fashion; all are inspiration and there is a lot to learn from them.
When is your next sale and where can we purchase?
Anyone can purchase our collection at HouseOfArike.com, Soboye.com, VouBrown.com and Looklikelove.co.uk. If you have any queries then please get in touch with us at [email protected]. We are also excited to be part in LPM monthly showcase event, watch out for us in the next few months.
What would you say has been the highest point of your career till date?
I have been so blessed to have had some amazing things happen in the last few months. From having a live interview on Ben TV "The Magazine Show", to winning the LPM "Discover Design" competition, to being on Joselyn Dumas' brand new show "At Home with Joselyn Dumas", to debuting my collection at the world renowned African Fashion Week London 2013 and having the honour of being an official partner and sponsor of AFWL 2013.
All this has been absolutely phenomenal for such a new company. However if I were to chose, I would say that the most pinnacle moment is that House of Arike was privileged to decorate the lavish Dorchester Hotel banquet tables with signature HOA table runners for the exclusive African Arts and Fashion banquet (AAFB) event hosted by Princess Fifi Ejindu and Ronke Ademiluyi (AFWL founder). This was a huge recognition for myself, HOA and most definitely puts several African print feathers in our cap.
What is your vision for House of Arike in the next few years?
Right now at HOA, we are about putting our brand out there, and this will be our focus for the next coming years. It is something that we are working hard towards; it will take time however we are here for the long haul. It was mentioned above that it was a great achievement to debut at AFWL 2013; being an official partner and sponsor of the event, showcasing the brand at the prestigious AAFB and winning the LPM "Discover Designer" competition; all this is helping to put our name on the map.
One of my visions is to be become the go-to luxury brand for African inspired home décor, with signature prints that can be recognized anywhere. I'm a massive fan of Laura Ashley and Missoni, their repeating prints are simple but very effective; in that they are catchy and memorable. Their prints are easily recognizable by most people, based on that, that is the level of recognition that I want for the brand. I want HOA outlook and designs to be unique, to set us apart from other brands, not just African inspired ones.
At present HOA is only accessible to Europe however I am looking at expanding this. Since HOA started in Africa it would be privilege to take it back home. With the win of the LPM initiative, this opportunity will help bridge that gap between the UK and Africa. So with this we will be able to do just that, this is very exciting for team HOA.
There is so much more that I am looking at doing for HOA, we have some extremely busy few years ahead of us so keep following our story and see our journey unfold.
Any other exciting news you'd like to share with our readers?
Right now we have a few projects going on simultaneously, so HOA headquarters is constantly buzzing. As mentioned above we are just recovering from showcasing at AFWL 2013 and the Dorchester AAFB.
As I'm trying to catch my breath, I am also working towards exhibiting at the upcoming [email protected] event in London at the end of August. Our calendar is full of pop up exhibitions and shows that we are taking part in throughout the year, so please join our mailing list by registering on our website to keep up-to-date.
From all the above you can see HOA has a very busy and productive year ahead. Its definitely all hands on deck!