Welcome to another exciting edition of the Glo X Factor diaries, where we give you all the juicy details of the Glo X Factor shows.
The theme for Show 6 was "Night of African Legends". We're so used to seeing the contestants perform western songs, so it was a nice change to see them go back to their African roots.
Sadly, everyone's favorite trio Symphony got evicted. Now, the competition is down to the top 5 performers: DJ Switch, Princess Pat, Vicky, Eshun, and Pheel.
DJ Switch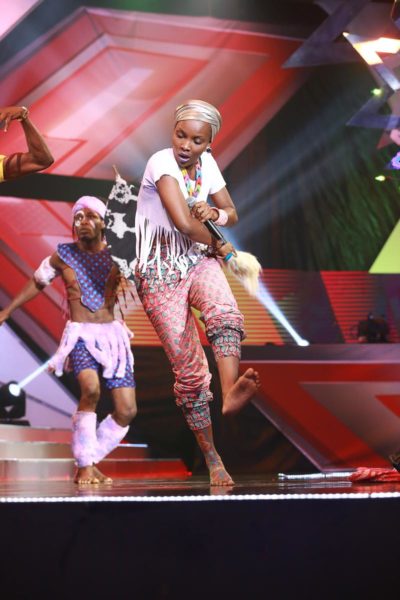 Artists often say they have split personalities. For instance there's Beyonce, and her alter ego, Sasha Fierce; Ciara and "Super C." DJ Switch on the other hand doesn't have a split personality. She has multiple personalities! In show 6, she showed yet another facet of her dynamic artistry – DJ Switch the African warrior artist.
She gave a highly entertaining performance, singing Brenda Fassie's "Vulindlela." It seemed as though the barefoot DJ Switch was possessed by the spirit of dance. She commanded the stage with some killer African dance moves and delivered some very strong vocals.
And of course, being the chameleon that she is, she suddenly switched generes. All of a sudden a hip hop dancer suddenly emerged; Crumping and giving us all that street attitude. Switch rapped for a couple of minutes, then switched back to singing "Vulindlela."
"You're really starting to live up to your name when you say 'Switch.' 'Switch' will always switch styles. And that what you just did there, switching was AMAZING…That was one hell of a show" said Reggie.
Watch DJ Switch's thrilling performance here.

Eshun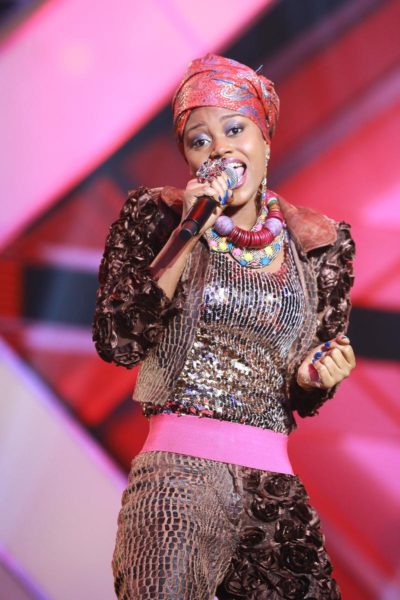 The adorable Eshun performed "Wombo Lombo" by Angelique Kidjo. The choreography was pretty cool. She's a good dancer. She even threw in a bit of tango and salsa into the dance routine. Oh, and she rapped a bit too. This was probably one of her most versatile performances ever.
Towards the end of her performance, Eshun chanted, "Let me hear you say Shun!" You go girl! This pop princess is definitely destined for stardom. She'll probably perform for crowded arenas in the future, and they're sure her audiences would only be too happy to scream "Shun!" over and over again.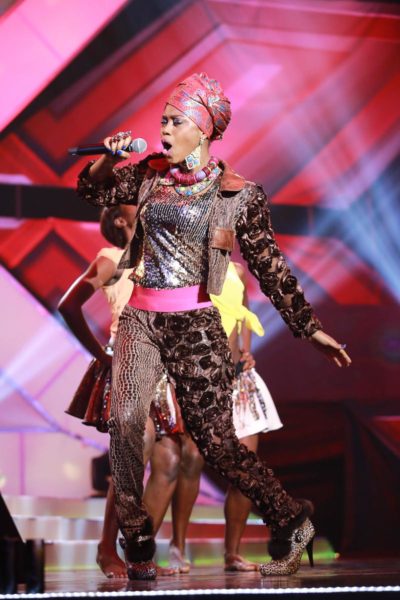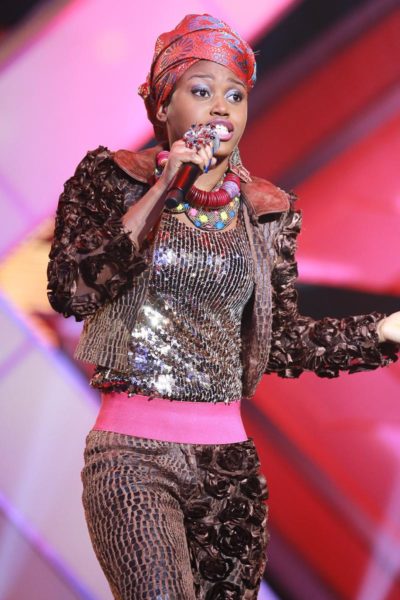 MI was pretty impressed by Eshun's choreography and overall performance. "You reminded me so much of Aaliyah on the stage. With the dancing and everything you did…you're a fighter, you're a star, you're special. God bless you," he said.
Do you agree with MI? Watch Eshun's performance below and tell us what you think.
Pheel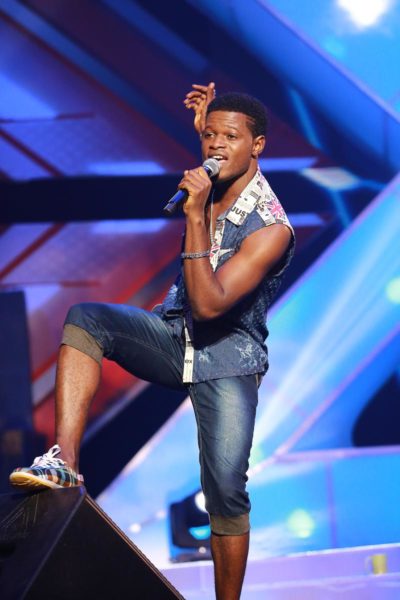 The suave and delectable Pheel performed Oliver De Coque's "Biri Ka Mbiri," and added a bit of a modern twist to the classic song. We all know Pheel has some amazing moves. But oh my! He really showed us another side of his personality this time, showing off some pretty cool Ibo traditional dance moves.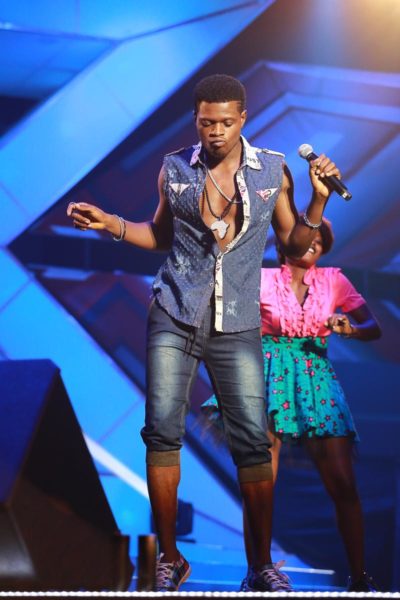 "You've definitely got the X Factor!," said Reggie.
This was probably one of Pheel's most entertaining X-Factor performances ever! Check it out here.
Vicky

Vicky "the voice" gave an amazing rendition of Yvonne Chaka Chaka's "Umqombothi." She kept strutting all over the stage like a true diva, commanding the stage and giving the audience goose bumps as always. The dancers were amazing, and the choreography was awesome. However, the main attraction was her powerhouse vocals. She delivered a performance that was way beyond her years.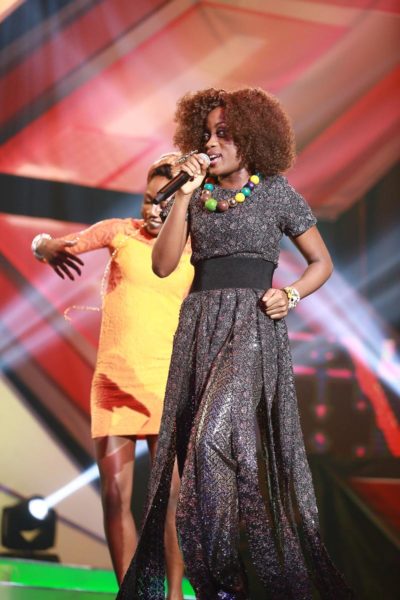 "My friend Yvonne Chahakaka would just love you. You did justice to the song," said Onyeka.
Do you agree? Watch her performance here.

Princess Pat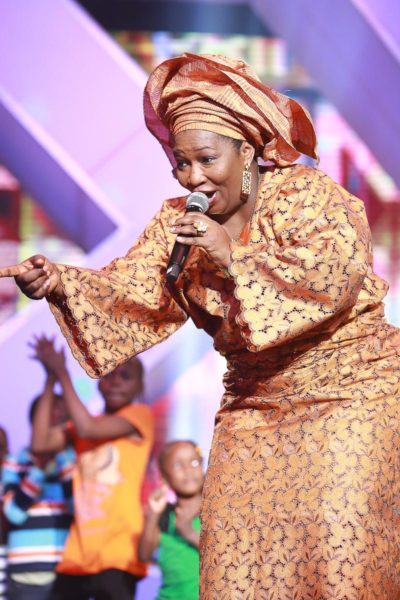 The regal Princess Pat, performed Christy Essien Igbokwe's "Seun Rere." She looked stunning in her Iro and buba and matching gele. And she gave a stellar performance.
The children who performed with her were just so adorable. She exuded such a motherly-diva vibe as she performed with the kids. The audience thoroughly enjoyed her performance so much that she got a standing ovation.
Speaking about her performance, Reggie said, "You're a tough act to follow. To me, this is your best performance I've seen on this show. You just took it to another level," said MI.
Check out what all the hype is about! Watch Princess Pat's performance here.
So do you agree with the judges?
Who is next to leave the show? Tune in to the results show tonight on these stations: AIT 5PM, Soundcityand Silverbird TV 8:3oPM.
Follow the conversation on social media with the hashtag #GloXFactor | visit their websitewww.gloxfactor.com | Like them on Facebook: Facebook.com/xfactorafrica | Follow them on Twitter@gloxfactor | Check them out on Google+: gplus.to/gloxfactor | Watch them on Youtube:youtube.com/gloxfactor.
_____________________________________________________________________________________
Advertorial – Sponsored Content