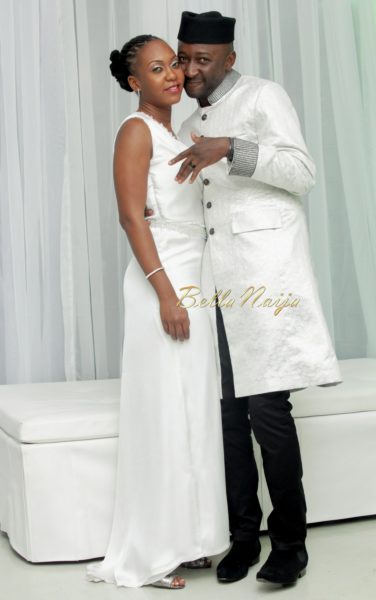 Aww, we're so elated to bring you Raven Taylor and Katung Aduwak's beautiful wedding! The groom proposed via Skype on Valentine's Day 2012. Such a cute modern day move. Lol
We love Katung and Raven's ceremony and style – simple, artistic and sweet. The theme of their wedding was a classic white and green.
The bride wore an ivory sheath dress with silver embellishments and accessories and rocked her lovely natural locs in a high bun. Her handsome groom Katung wore white and black, silver cuffs and buttons to complement his bride, with suede loafers and a traditional hat. For her second look, the bride rocked a white t-shirt dress with peacock colours, that matched her bright personality and the wedding colours of the day.
The bridesmaids were also in simple elegant ivory dresses with varying styles and fabrics, while the groom and his men wore white traditional outfits.
____________________________________________________________________________________________
How They Met
From the groom, Katung
Raven and I met at a restaurant called Madiba in Brooklyn New York in 2010, it took her almost a month to agree to go on a date with me. Even when she agreed, she showed up 3 hours late, after trying to cancel all day, but I persisted and after that date we hit it off almost immediately. I decided to move back to Nigeria in 2011, she supported though it was hard, we visited each other back and forth for a year and both decided she should give Nigeria a try. She loved it!
The Proposal!
On Valentines day of 2012, I convinced her to take her laptop to work, prior to this I had picked out an engagement ring and had it delivered to her friend, I wrote "marry me poochie" (my name for her) on my t-shirt,went down on one knee and popped open an empty ring case while her friend slipped the real ring in front of her. All this was done via Skype because I was in Abuja and she in New York. SHE SAID YES!
From Raven, the bride
So let me begin with how every morning I always watch Good Morning America to just have a little background noise of news as well as the cute, sometimes corny proposals they show. Well I got my corny, EXTREMELY cute, and sweet proposal February, 14, 2012 at work. My beautiful boyfriend at the time, now of course fiancé, Katung proposed to me via skype. And yes, my co-workers were in on it…
I could not understand why he was so persistent for me to bring my laptop to work that day, but he explained he felt so terrible that he was not there to celebrate Valentine's with me so he just wanted to see me. I brought it of course, coincidentally, I set it up in the reception area which worked out considering my co-worker had the ring. So as we skyped he then stands back and has a shirt on that read, "MARRY ME POOCHIE", he had an opened ring box held to the camera and at that moment my co worker slid me the actual box with my ring inside. I would've never imagined this. A proposal from Nigeria, literally.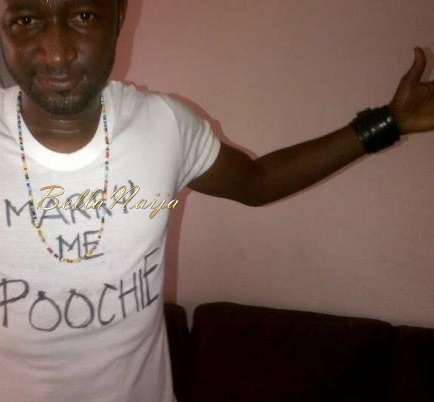 Aww!
Pre-Wedding Photos: In case you missed it, check out the rest of their cute pre-wedding photo shoot in Lagos HERE !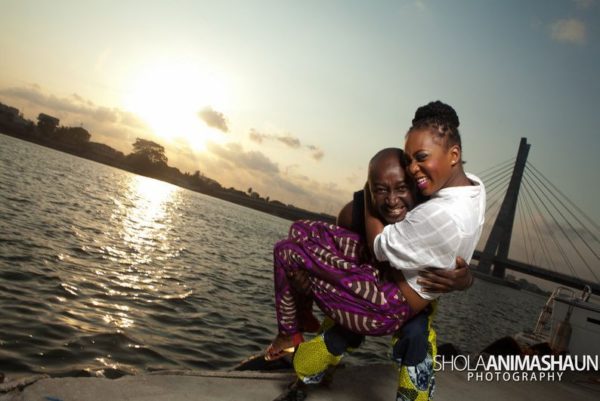 ***
White Wedding
Vendors
Wedding Attire
Wedding Dress: Sunny Rose (Maureen Ikokwu)
Bride's Makeup: Landis
Venue: Prairie Productions 1314 W Randolph St, Chicago, Illinois
Decorator & Coordinator: Michelle Bellamy Buck
______________________________________________________________________________________
We love weddings as much as you do – get in touch for inquiries, inspiration & more!