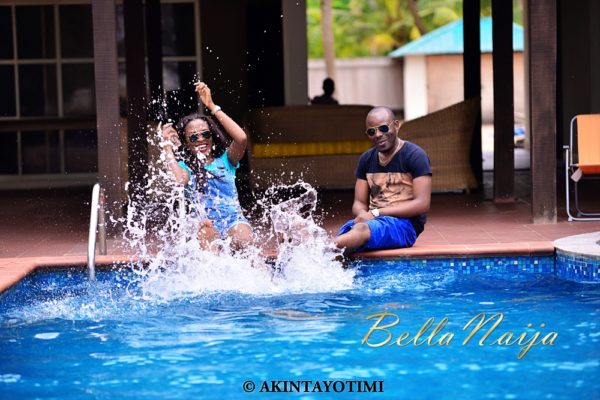 We can't get enough of Lara and Wale's playful pre-wedding shoot! We love when couples take something as routine as hitting the beach on Sunday and make it something special like turning into a shoot.
You can almost hear music in the background as you see the pictures – this is a couple that's always having fun!
***
Bride-to-be: Lara
Groom-to-be: Wale
How He Proposed 
From the bride, Lara
He planned the whole proposal with my friend Sade, they had been at it for over a month and I had no idea. Sade kept bugging me to come hangout with the girls, I finally decided to hangout.
We decided to go to Rodizzio at GRA Ikeja, got there, ordered our food and drinks. All seemed normal, we were all gisting and having fun, I kinda noticed Sade steal away a couple of times to talk with the waiters but I paid it no attention.
The food finally came & I was digging in…half way through the meal, I finally noticed a sparkly thing at the tip of the plate. Just as I realized it was a ring, I looked up & saw my boo walk in with a couple of his friends. I was confused for a second as I had just gotten off the phone with him 5 minutes earlier and he told me he was at Lekki.
He walked up to me all smiles, I had to hit him playfully with a napkin. Next, he gives me a lil speech on how I complete him and make him happy, he stated all the reasons why he wants to spend the rest of his life with me. Then he goes on on one knee and asks me to be his lady forever.
The Concept – From AkinTayoTimi, the Photographer
If a young man asks a young woman for a date,
That's his business.
If the woman accepts,
That's her business.
If the young man and the woman decide to marry,
That's their business.
However, if they want great wedding photographs –
That's MY BUSINESS! Lol
Regular visitors of my blog – 
www.akintayotimi.com/blog
 – can tell that I'm a foodie and proud of it. That being said, I met Lara (the bride to be) while shooting a friend's wedding – Dammy. How did I notice her? Well I was hungry and there was this huge pile of cupcakes nobody touched. I felt obliged to eat them 'cause being wasteful can be categorized as a sin. Just before I was about to take one, I saw Lara (the bride) come around and take like 3….I was like OMG? She noticed the cakes too? We immediately connected.
She got my number from Dammy (the bride of the event) and informed me about her wedding coming up during the fall. Hell yeah I said yes, if not for anything there would be food right? 
 A week to the pre-wedding shoot we began discussing ideas, locations etc, 
nooo don't use this place, it's too far, nooo, cant you come to the mainland, nooo, I don't know the road,
 oh boy, felt like we were going to shoot a movie.
We finally concluded the location during the early hours of the shoot, imagine! At the back of my mind, I knew – this gonna be some pre-wedding shoot alright, better make intense fun out of it. I met Wale the same day and we began talking like we've been friends for a while. Its definitely a guy thing, no offence ladies.
Such a free spirited couple they are. Tolani and Sade good friends of the couple joined us on our trip to Illashe as well as Banana Island which were the 2 locations we shot at, well apart from reducing our food ration, they helped a great deal in assisting me. When photography meets fun, the limit to creativity is endless. Amateurs worry about equipment, professionals worry about time. I could spend the whole day gisting and shooting with this couple. I told Lara we needed a few coperate and casual outfits, you can tell she has impeccable taste. Most of the outfits were gotten from Dammy by the way, small world.
With over 1,200 pictures taken, I hope the chosen few can give you a glimpse of how amazing it is to work with a foodie, oh I'm sorry with a lovely couple 
Enjoy!!!
***
Credits:
AkinTayoTimi | Blog | Facebook | Twitter| Instagram | Email: tayo_dapo "at" yahoo.com
______________________________________________________________________________________
We love weddings as much as you do – get in touch for inquiries, inspiration & more!