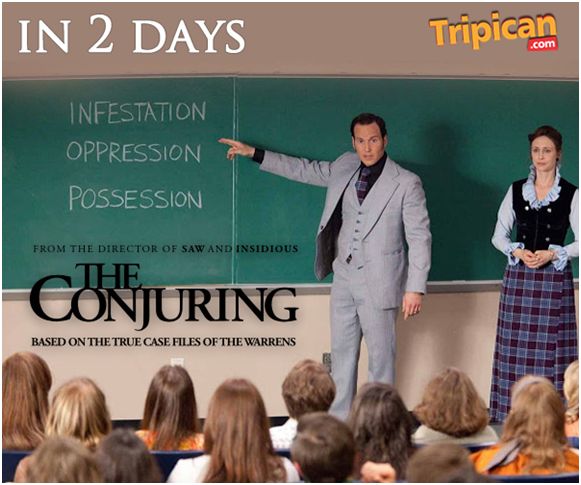 Tripican.com is back with another interesting flick. This one is called The Conjuring.
Synopsis
Before there was Amityville, there was Harrisville. "The Conjuring" tells the true story of Ed and Lorraine Warren (Patrick Wilson, Vera Farmiga), world renowned paranormal investigators, who were called to help a family terrorized by a dark presence in a secluded farmhouse. Forced to confront a powerful demonic entity, the Warrens find themselves caught in the most horrifying case of their lives.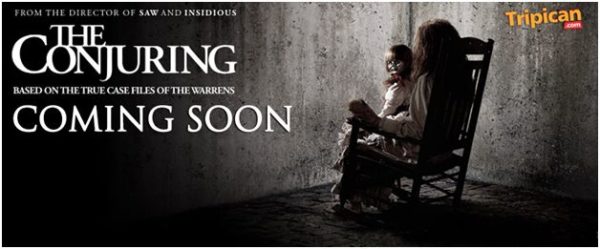 Cast
Vera Farmiga as Lorraine Warren
Patrick Wilson as Ed Warren
Lili Taylor as Carolyn Perron
Ron Livingston as Roger Perron
Shanley Caswell as Andrea
Hayley McFarland as Nancy
Watch the Trailer

Watch the Interview with The Conjuring cast – Vera Farmiga, Patrick Wilson & Lili Taylor

The Conjuring Behind-the-Scenes Footage

The Conjuring TV Spot 4

Five things you Should Know about The Conjuring
1. Yes, It Really is Based on a True Story: The Conjuring is based on real-life experiences of married couple Ed and Lorraine Warren (played by Patrick Wilson and Vera Farmiga in the film), whose work as paranormal investigators led them to some terrifying cases, including the true events that inspired movies such as "The Amityville Horror" and "The Haunting in Connecticut".
2. Best Horror Movie Ever: Horror is very much a part of the DNA in the movie industry. The Conjuring is one of the best horror movie ever made.
3. It is Different: This Summer has seen several blockbuster movies with superstars, big action sequences and big fan bases, And then, here comes a horror flick thriller at a time when everything is giant action, fun-filled comedy, or family cartoon, that leaves a big opening for a film like "The Conjuring" to take advantage of.
4. It has a Strong Cast: Patrick Wilson, Vera Farmiga and Lili Taylor may not be big box-office draws, but they're all fine actors who have done their share of horror films
5. Reviews are Strong:  Reviews on The Conjuring are strong and so people are recommending the movie because they found it genuinely frightening. In the season of action and comedy movies, a movie that does what it sets out to do and doesn't disappoint is no small accomplishment.
 Get your movie tickets on www.Tripican.com