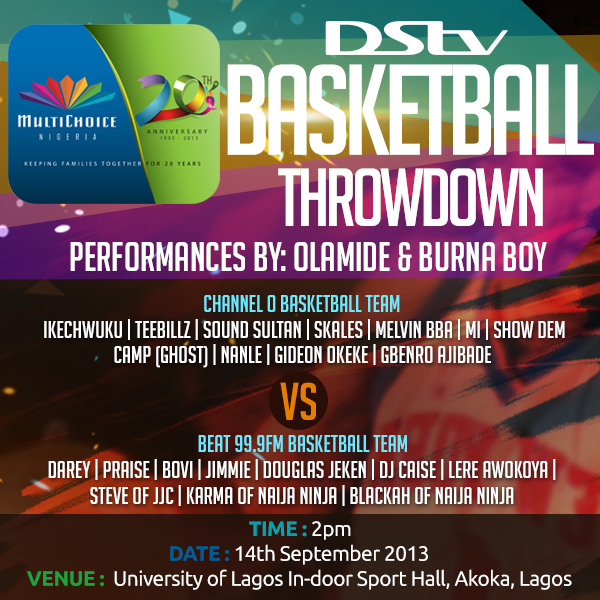 Let The Games Begin….!
African Music channel, Channel O is partnering with PayTV Company, MultiChoice Nigeria/DStv as the company turns 20. The celebration also coincides with the end of the Nigerian Basketball League season which DStv has been a part of since 2008 when it signed its first contract (MoU) with the Nigerian Basketball Federation (NBBF).
As part of the celebration, there will be a celebrity All-star game between popular radio station, The Beat 99.9FM and Channel O, both official partners of 'The MultiChoice @ 20 All Stars Basketball Challenge'. The star studded tournament will feature; MI, Sound Sultan, Praiz, Darey, Ikechukwu, Tinsel stars; Gbenro Ajibade and Gideon Okeke. Others include; Ghost from Show Dem Camp (SDC), Nanle, comedian Bovi, Jimmie and Douglas of Beat FM, Skales, Melvin BBA, Steve of JJC, DJ Caise, Lere Awokoya, Karma of Naija Ninja and Blackah of Naija Ninja.
Speaking about the music-themed sporting event, the music channel manager, Leslie Kasumba said "Channel O and MultiChoice are a family and this is a wonderful way to celebrate two decades of excellence in great entertainment, television and sports" she also talks about the upcoming Channel O Africa Music Video Awards which will take place later this year on 30th November in South Africa. "For us at Channel O, we constantly seek new approaches to talk about African music, to celebrate it and make our music global. This celebrity tournament is an entertaining way to celebrate music, sports and also serves as a build up to the awards; more importantly, we are proud to be doing this with some of Africa's finest stars".
The competition is staged to provide basketball followers, lovers, other stakeholders and sponsors with a weekend of fun-filled action by the leading players (top stars) from the DStv Premier Basketball League. As part of the All Stars Challenge, traditional side attractions such as the Slam Dunk and free throws will be staged to amplify the excitement for fans. Other proud sponsors include; Sports kit company 'AND1', Sports channel SuperSport and GOtv.
Date: Saturday 14 September
Time: 2 PM
Venue: Unilag Indoor Sports Hall
Contact: For more information, go to the DStv Nigeria Facebook page or follow the link; http://a.pgtb.me/vv2n8K
__________________________________________________________________________________________