Good morning BellaNaijarians.
It's time for BN Bargains – the slot where we keep you updated on all the most affordable bargains and freebies taking place right now.
Check out Pink Petals Events and Chop 'N' Fruits.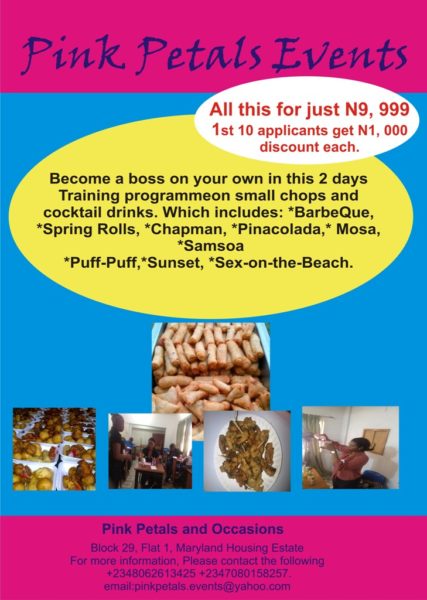 Get a Discount from Pink Petals Events' Training
Pink Petals Events will be holding a training on how to make small chops – samosa, spring rolls, puff puff and barbecue – as well as cocktails – chapman, piña colada and sunset.
The training is for two days, although classes are held on weekends and weekdays. The fee is N 9,900, but the first 10 interested BN readers will get a N 1,000 discount.
To get this discount, call 08062613425 | 07080158257 | e-mail [email protected]
_______________________________________________________________________________________
Get a Discount off Chop 'N' Fruits Training
Start a new career this year by making small chops, grills and cocktail drinks. Chop 'N' Fruits has trained over 30 people who have started earning from the business. They are giving all BN readers an opportunity to be a part of its next class training at a discounted rate.
The organizers are also encouraging students affected by the ASUU strike to register for the training. It's costs N 10,000, but interested participants will all get discounts.
To get a discount, call the team on 08133303414 and 08095046180 or send an e-mail to [email protected] | You can also view their website –www.chopsnfruits.blogspot.com
The event is schedule to take place from Saturday 26th- 27th October 2013 at 14 Sule Abuka Street, Opebi, Lagos
_________________________________________________________________________
Sponsored Content
Will you like to have bargain to be featured on BN Bargains? Email us via adsales (at) bellanaija (dot) com