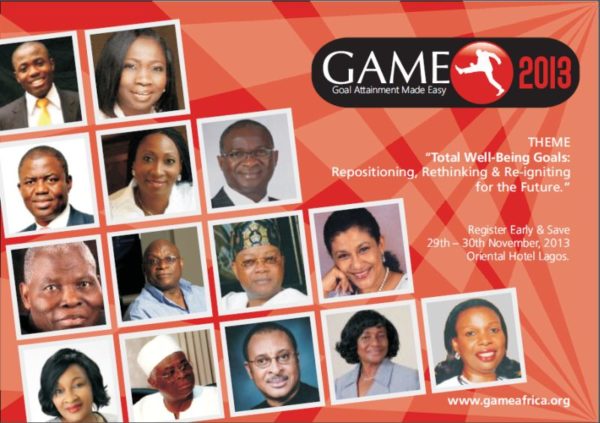 In a few weeks, top African leaders and captains of industries will gather for the 2nd edition of a conference on Workshop Productivity – Goal Attainment Made Easy (GAME) 2013. This initiative was created and packaged to provide a great opportunity for professionals to learn and work and to re-ignite the spark of productivity in the workforce of organizations across Africa.
GAME 2013 provides an opportunity to equip your workforce with the right education, motivation and network that will increase their productivity in the New Year. It has been discovered that people with high levels of well-being have a profound impact on the success of their employers therefore this conference is important so they can achieve their full potential professionally.
According to Abiola Salami (aka Mr. Champ), the Convener of the conference, GAME 2013 is designed in line with in- depth empirical research on the five essential elements of total well-being. The research conducted by leading economists, psychologists, sociologists, and physicians in over 150 countries across the globe discovered that there are five essential elements of well-being that account for workforce productivity. These five essential elements which form the bedrock of discussion at GAME 2013 include career well being, social well being, financial well being, physical well being & community well being.It will also come with a Special Women Empowerment Segment & Make A Difference (M.A.D.) Awards.
Some of the confirmed faculty for GAME 2013 include Dr. Christopher Kolade, CON (Pro Chancellor, Pan Atlantic  University), Chief Oyekunle Alex-Duduyemi, OFR (Asiwaju of Ife), Prof. Pat Utomi (Founder, Centre for Values in Leadership), Gov. Babatunde Raji Fashola (Executive Governor of Lagos State) Hon. Abike Dabiri-Erewa (Well Respected Woman Leader in Africa), Prince Julius Adelusi-Adeluyi, OFR (former Minister of Health), Jimi Awosika (MD, Insight Communications Limited), Amina Oyagbola (HR Director, MTN Nigeria), Sir Ademola Aladekomo (MD/CEO, Chams Plc), Mavi Isibor (Founder, Poise Limited), Uchenna Erobu (Partner, Akintola Williams-Deloitte), Laila St Mathew Daniels (MD/CEO Jacinta Lifestyle Solutions) and Catherin Uju Ifejika (MD/CEO BritannaU).
Date: Friday 29th & Saturday 30th November 2013.
Venue: The Oriental Hotel, No.3 Maroko Road, Lagos.
For more information, please visit www.gameafrica.org or send an e-mail to [email protected]
______________________________________________________________________________________
BellaNaija.com is a media partner with GAME 2013.