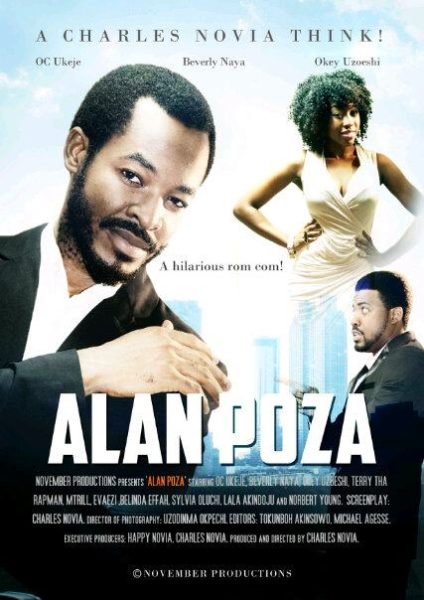 Director: Charles Novia |Screenplay: Charles Novia | Stars: OC Ukeje, Beverly Naya, Okey Uzoeshi, and Norbert Young.
Synopsis
'ALAN POZA' is a hilarious romantic youth comedy which dwells on the sexcapades of ALAN POZA, a young music label executive who searches for some emotional stability in a sector full of temptations and test of wills!
The Script
Captioned as a 'Romantic Comedy', the script didn't fail to depict that. I didn't expect as much as I got seeing this movie. I went in with low expectations (make that very low when I put the name of the movie into consideration) But I came out impressed. Even in the presence of some clichéd and lifted dialogues(which I feel was deliberate) I actually did laugh a lot.
One aspect that got to me was the little scenes that were put in just for the fun of it. Scenes that just made you forget about the whole point of the movie for a minute or two. Nollywood movies do that a lot. If scenes aren't relevant in a movie, there is no reason for it to be in there, even if you are trying to fill time and meet the projected target.
Alan Poza is a well written story but…(there is always a 'but' in a Nollywood movie) the script did have some loopholes. Like the whole emotional rave Alan was in. It was just too sudden in my opinion. In a nutshell though, it was nicely written. I would probably see it again, but most likely not in theaters of course.
The Directing
When the list of notable Nollywood directors is being put out, Charles Novia's name can't be missed out. He has made a couple of memorable movies, freshest in my memory being 'Caught In The Middle', a good movie which featured Femi Brainard, RMD and Dakore Egbuson. The directing of Alan Poza was good, not best but I loved the angle Mr. Charles and his filming crew most especially Cinematographer Uzodinma Okpechi took. The lighting was well done; even though most of the movie was shot during the day, the lighting of the sets were still skillfully carried out. The sound design wasn't bad at all either. But (there's another but) I really didn't enjoy the use of voice overs in the movie for the singer Kiki who presumably had a good voice but they chose to lip-sync her performance which wasn't balanced to me. Nevertheless, if you overlook these little technicalities and focus on the moving collage of pixelated images, it is worth your time AND your money.
The Acting
THIS was my favorite bit of the whole movie. It pretty much beat the script. All the acts most notably O.C Ukeje who got an NEA(Nigerian Entertainment Awards) nomination and an eventual win did justice to their roles. If O.C Ukeje keeps up with his choice of scripts and movies, he might very well become the Nollywood version of Daniel Day Lewis. Beverly Naya, Okey Uzoeshi, Norbert Young even Charles Novia brought his own thing on set which was a hilarious bit I must say.
Okey Uzoeshi for example has obviously improved since we last saw him in the Blessing Effiom Egbe written and Teco Benson directed and not-so-impressive 'Two Brides And A Baby'. Nobert Young is a Nollywood veteran so nothing short of a good performance is expected from him. Beverly Naya brought her A-game to the set too.
Together as an entire team, their chemistry wasn't perfect but it was enjoyable and their characters were hilarious.
The Verdict
Popcorn and Hotdog from us.


'Why, you may ask? Because every once in a while, a Nollywood movie comes along and tries to put the acting, directing and story all in sync and this largely succeeds but  Alan Poza could have been better with the story telling.
Go see this one folks. It's one of the very few Nollywood flicks that's worth it.
Think otherwise? Feel free to leave your comments.
The Ratings
Traffic Popcorn-1/5
Popcorn & Water-2/5
Popcorn & Hotdog-3/5
Popcorn & Soda-4/5
Popcorn, Soda & Hotdog-5/5
This review is brought to you by Sodas & Popcorn ……. We watch movies, so you (don't) have to.