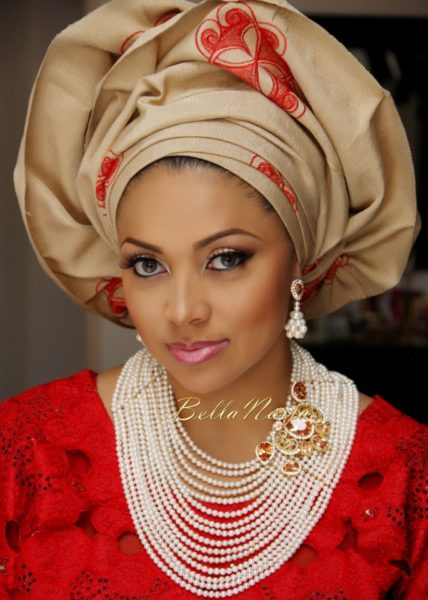 As they say where we're from, "Peter carry eye go market!" Lola Omotayo was a calm beautiful bride on her traditional engagement, which held yesterday at The Ark in Lekki. She married the love of her life and father of their two adorable children, Peter Okoye of mega Afro-pop group P-Square in a gorgeous ceremony.
The blushing bride's makeup was done by renowned Banke Meshida-Lawal of BM|PRO, the head MUA in charge at the makeup house, with over 15 years of industry experience. Banke was given full creative reign with bride's beauty look, as she also designed and crafted the bride's beads – multi strand freshwater pearls with a gold crystal & amber brooch, as part of her accessory line Coral Reef Jewelry.
All About The Look
Banke used clean lines for a fresh and iridescent look for the bride. Stuck to not too vibrant makeup. As the bride wore red Banke says she was tempted to use her classic BM|PRO Redd but Lola had giggled and protested, "noooo Peter hates RED lips" 😉 The bride's skin was airbrushed using MAC.
Follow Banke's makeup adventures on Instagram! – http://instagram.com/banksbmpro
Contact BM|Pro
BM|Pro Flagship Studio: 13B Awori Road, Dolphin Estate Ikoyi,LAGOS – 08152719092, 07042236077
BM|Pro Ikeja Studio: The Green Village, 58 Isaac John St, GRA Ikeja, Lagos – 08152719093,08152719094
BM|Pro Abuja: 33 Gana street,Off Shehu Shagari Way, by Dulux Centre Maitama, Abuja – 08152719096,08152719097
Opening Times: TUESDAYS to SATURDAYS – 10AM-6PM | SUNDAYS 2PM-6PM
Training Enquiries: bmproenquiries (at) yahoo.co.uk
______________________________________________________________________________________
We love weddings as much as you do – get in touch for inquiries, inspiration & more!