Salut a toutes!
Yesterday I met up with one of the best people ever – Biodun Williams. Now, this young lady called me the minute she got back to Nigeria from Atlanta and basically told me she was the real deal when it came to making pies, tarts and most desserts. I thought this girl was playing Whot with me. I mean we've been talking ever since, became buddies, worked on a few things together but yesterday I finally tasted heaven. I promised to do my apple crumble recipe up here today from my Taste Off! Menu but I had to give you guys her recipe. I have to admit it's slightly better than mine. The custard is also easy to make; you just need to be quick and use a low flame and stir a lot! I couldn't get a hold of Tiger nuts aka Aya so I would show how to make the aya custard in another post.
However, it is really just substituting some of the cream for the Aya milk you make by blending the nuts with some water and passing through a sieve to get the milk. The great thing about Aya is that it naturally thickens as it cooks so you can be guaranteed to have thick custard and can pass on adding cornflour.
Much ado about the introduction. Let's move on to the recipe. It traditionally serves 6-8 people but, depending on the level of greed, it might not feed more than 4.
The Crumble Topping
You Need
35g (1/4Cup) all purpose flour
75g (1/2Cup) oatmeal
75g (1/3Cup) light brown sugar
1/2teaspoon ground cinnamon
90g (1/2Cup) Unsalted cold butter (cubed)
The Crumble Topping
Start by mixing all ingredients in a bowl (except the butter) in mixer on medium speed until combined. If you do not have a mixer use a food processor or by hand works just as well. Add the cubed butter and mix on a medium speed until crumbly. Or use the tips of your finger to create a clumpy sandy texture for the crumble topping. Now you have to be careful here not to over mix because heat from the mixer will slowly melt butter. Also using the palm of your hands would create the same effect. The butter needs to be fairly solid when it goes into the oven.
Pate Sucree (Tart Dough)
384.75g All purpose flour
140g Icing sugar
192.5g Butter
2 Eggs
98g Almond flour (finely ground almonds available in pastry/cake shops)
1 Vanilla bean or 1 teaspoon Vanilla Extract or Essence
How To
Start by sifting the flour, sugar and add to a mixing bowl fitted with paddle attachment on a mixer. Add butter and set to mix on medium speed until it is like clumpy sand.
Continue by adding the eggs and allow the dough come together. Once the dough begins to bind together, add the almond meal and mix until dough comes together. Scrape any flour or dough on the side and form all together and cover the dough with some cling film. Put it in your fridge for a minimum of 4 hours. If you have time, you can make the dough the night before.
To roll the dough make sure you have a cool surface to work with. Good cool marble top would be great. Then get you tart ring or pan and line with greaseproof paper and preheat the oven to 163°c.
Roll out your dough till is about 13 inches wide and 1/4 or 1/5 inches use the rolling pin to lift the rolled out pastry and place on top of the ring or pan. Gently tuck into the sides of the ring making sure he dough is touching the ring all round. Cut off any excess pastry with a knife and chill in the fridge for about 30 minutes. Then bake for about 12-15 minutes in the preheated oven or till it's golden brown.
The Apple Filling
6-7 (depending on size) Green Granny Smith Apples
60g Butter
140g Sugar
1 1/2 teaspoons Cinnamon
Pinch Salt
40g Bourbon, Calvados Brandy or Regular Cognac
Preheat oven to 170°c /350°F. Also make sure you have prebaked tart/pie shell ready.
Peel the apples and remove the core/seeds and chop them up to medium cubes/pieces. Be sure to place the apples in lemon water to stop them from oxidising (making it change colour). In a saucepan or fry pan, place the butter, chopped apples and cinnamon, sauté on medium heat them till they start getting translucent.
Stir constantly to ensure even cooking of apples. Add the sugar and salt, stirring as you go. Continue cooking till the liquid is almost evaporated, but not all dried out. It should be almost jam-like. Allow to cool slightly and transfer to a the pre-baked tart shell.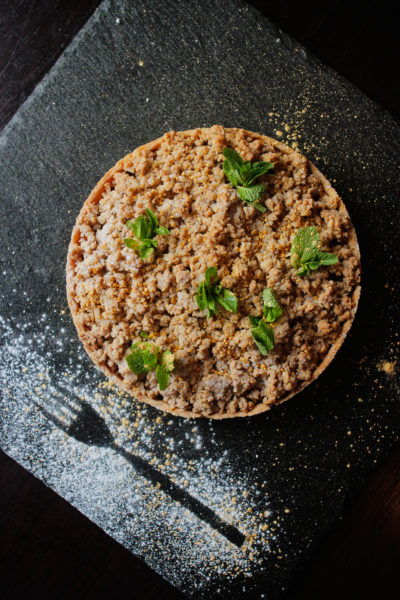 With all pride and joy top tart with the oatmeal crumble topping and bake in the preheated oven for 20 minutes or till the top has browned nicely. Be patient enough to allow it cool down.
The Custard
3 egg yolks
1 1/2 cups double cream
1/4 vanilla pod (seeds scraped out and bark)
4 tablespoons icing sugar
Touch Egg Yellow Food Colouring
How To
Place the egg yolks in a bowl with the sugar and mix to just dissolve the sugar. Heat the cream and vanilla in a saucepan till it is just scalded and not reached boiling point. Pour in the eggs and quickly whisk vigorously for about 30 seconds. Transfer back to the saucepan and stir over a low heat till the custard thickens. Be careful not to allow it boil at this stage because you would end up with scrambled eggs. If you have to take off the heat intermittently please do so. I use the smallest gas top to do this. If you're making maybe twice this recipe or are using milk instead of cream you can thicken with cornflour. You don't have to wait for it to naturally thicken as that can take a long time. Since our Nigerian egg yolks aren't the most yellow, a touch of egg yellow food colouring helps to give that familiar custard look.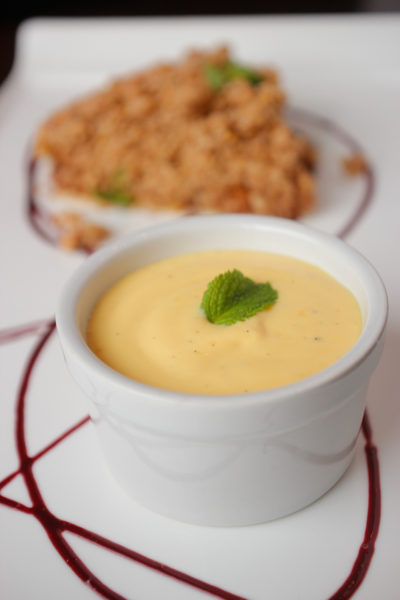 For this recipe, if you cannot be bothered to make the pastry case, you could just do it the classic way of placing the filling in an oven proof dish and topping with the crumble and serve with the custard and still be a rock star in your kitchen.
I have to say the biggest thank you to Ari Labadi for coming all the way to shoot for me. I think he has such a bright future with food photography. Check out his work here. and on Instgram @mrarilabadi
If you are just not in the mood to make this and want it from Biodun herself, go ahead and order one. Check her Facebook page. All the modalities are there.
Ciao!
Photo Credit: Ari Labadi | Food Styling: Gbubemi Fregene for Chef Fregz
___________________________________________________________________________________________________________
Chef Fregz loves to cook! He is a graduate of Le Cordon Bleu Paris Culinary Arts School in France and hosts monthly "Chef Fregz Specials" where he whips up a yummy menu with a different theme each time then everyone enjoys a taste. He also caters special events and private dinners. To find out more visit www.cheffregz.com.Chef Fregz provides premium private catering services. For bookings and orders email info@cheffregz.com @Chef_Fregz on Instagram and Twitter. You can check out the Chef Fregz Page on Facebook as well.