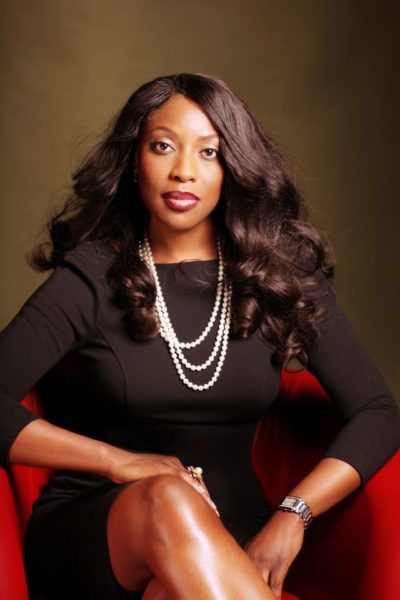 Mo Abudu's dream is all about selling Africa to the World.
The media mogul who has made a name for herself as an undeniable force to be reckoned with when it comes to media in Africa, sits down with Etan Smallman of the  Independent UK for an interesting conversation on how she hopes to shape Africa with her television network Ebony Life TV.
It was launched on Sunday 30th June 2013 in Lagos (click here to see)
How did Mo – a human-resources executive for oil giant ExxonMobil with no TV experience, become "Africa's Oprah?" Read excerpts from the interview below;
Excerpts
On trying to contact Oprah when she wanted to go into TV: "The first thing I did was to buy a box collection of Oprah's 20th anniversary, which had about 20 tapes of various episodes that she's done. Then I somehow got the details for her studios in America. I must have sent Madam Oprah Winfrey tons of emails. I was really hoping that she would give me the necessary guidance and mentorship to become Africa's talk-show hostess and executive producer of my own show."
On being one of the few black children schooling in England: "I was born in England and I am very at home here. I went to school in London and Tunbridge Wells. I was probably the second or third black person in that school and you find that you are being continually asked questions that just boggle your mind. Do you guys live in trees? Do you guys dance around fires? What do you eat for breakfast?
For ever and ever, I always felt that I had to fight to prove who I was. For me, I think somewhere deeply buried in my subconscious was a need to tell Africa's story. My burning desire is just to tell everybody: listen, we're not a bunch of savages. We really are gifted."
On showcasing the way Africans live today: "People don't think that people live in Africa like this. They don't think that we have high-profile events where people look glamorous and they're all dressed up. But this is Africa today – people need to know that this kind of Africa exists, we have moved into the modern age. BBC and CNN are in Africa but they don't cover things like this. They're going to look for some horrid bush and some forsaken story about HIV."
On International Aid for Africa: "Maybe I should plead the fifth in this instance… Yes, it's termed as aid. But then I think that Africa has been robbed of so much that I don't see it as aid – I'd just call it payback time. I just think we're the most misunderstood continent on the globe today.I do also believe that African governments need to play a stronger role in changing perceptions of the continent – because it doesn't just happen by itself. The reason why I say that people want to go to America is because they see all those amazing movies and they think they're going to make their fortune and become a star. We all know it doesn't work that way, but that's the power of media."
On stereotypes: "My days are way too busy to let racism get at me; I try not to notice it. You hear it from all sorts of people, 'I don't really like black people, but I like you, you're different'. You'd be amazed, but they think they're actually being nice – it's a compliment. That happens in the UK, it just happens. The most amazing thing is when I go to the States, and they're like, 'My God, you have a British accent!' What do you expect me to have?"
On Oprah being refused to buy a bag at a boutique in Zurich: "If that can happen to Oprah – hello, she's my hero – it could happen to anyone. I know what my salary is every month. It would probably pay the wages of a lot of people in here today. But the thing is that people just think, oh, maybe you're collecting the dole or something."
On sexism in the corporate world: "Yes, I think it is a man's world, and some men will say that you are 'overbearing' or they will say: 'Sit at home and raise your children'. In that same breath, I've had a lot of support from men. I think I've had more support from men than I've had from women. They've said, 'OK, Mo, go out there and let's see what you can do'."
On women not fully supporting other women: "There's a special place in hell for women who don't help each other (a quote by former US Secretary of State Madeleine Albright). It's one of the big things I preach all the time. We often pay a lot of lip service to women supporting women but I think it's in our genes to just pull each other down a lot of the time, and that's one major battle that women need to fight. Women don't trust each other, I think it's a global trend."
To read the full interview, click here