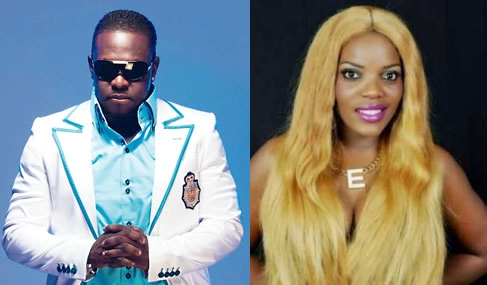 It seems you won't be seeing this famous ex couple smiling together anytime soon.
Nigerian music star Timaya is opening up about his relationship with Nollywood actress Empress Njamah. And Timaya doesn't have anything nice to say.
An editor at Punch Newspaper was recently invited to his Lekki, Lagos home for a one-on-one with the self proclaimed Egberi Papa 1 of Bayelsa.
Timaya and Empress broke up in 2009.
On the much publicized split: "You should not date somebody who already has a negative record. In my own case, it affected me at that time. I feel that a relationship should be between two people and not exposed to the rest of the world. Only a smart man is able to keep his relationship private."
On how a relationship should be: "You see, Desmond Elliot and (DJ) Jimmy Jatt are both married, but you will never see their wives in public. Naturally I'm a private person. The only thing that takes me out of my shell is my music, which is what I do for a living. It seems that the only thing people know about me is that ugly episode. So I don't like to talk about it."
On his controversial songs: "A lot of people think I love the female backside a lot and that is why I sing about it all the time. But then, people will always complain, no matter what you do. When I was still singing conscious music they complained that my songs were always full of bile and loathing. The truth is that I sing about the way I feel at any point."
On getting married soon (He reveals he is in a "healthy" relationship): "I am not considering marriage for now. But it is something I must do. Before now, I wanted a child and God gave me one. I don't want to have children from different women. My father had 15 children and I am the last child. I don't want to live like that. The truth is, I'm not ready to get married now"
He is also set to release a memoir in 2014. What will it be about? He reveals he will tell "the story of a ex-girlfriend of mine who always wanted to have sex whenever she was in the mood for it".
Ouch. Burn!
To read the full interview, click here