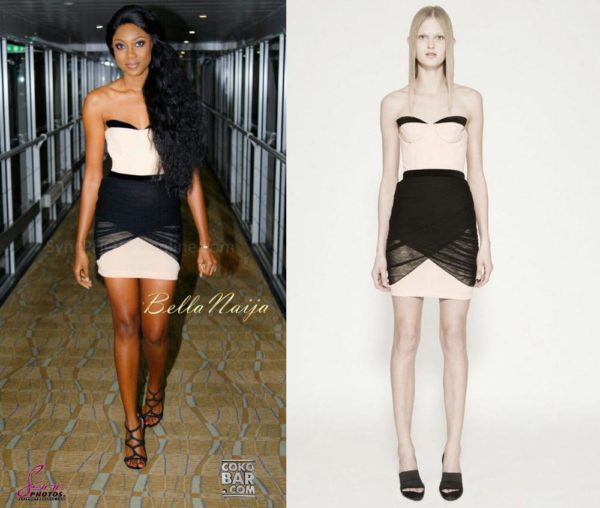 After her stylish arrival at the Heathrow Airport, London (click here to read), Yvonne Nelson chose another fab look.
The Ghanaian movie star arrived at the Clause Bar, London for her 28th Birthday Cokobar Event in a dress by Alexander Wang.
The nude and black silk-blend strapless structured corset dress with a netted overlay on skirt, was from the American label's Pre-Fall 2009 collection.
Yvonne who was styled by Jason Boateng, opted for a selection of Cartier jewels and black Jimmy Choo sandals. She completed the look with smouldering eyes, light pink lipstick and full long dark wavy locks
BN Pick Your Fave: Yvonne Nelson, Rihanna, Paris Hilton & Demi Lovato
Rihanna
When: Friday 22nd May 2009
Where: Out & About New York City
Styling: Jil Sander pumps and a metallic Erva bag
Paris Hilton
When: Monday 1st June 2009
Where: The Late Show with David Letterman
Styling: House of Harlow necklace, Yves Saint Laurent (now Saint Laurent) "Trib Two" pumps
Demi Lovato
When: Thursday 18th June 2009
Where: Princess Protection Program Toronto Premiere
Styling: Yves Saint Laurent "Trib Two" pumps
Photo Credit: Sync Photos | Getty Images | Zimbio | Style