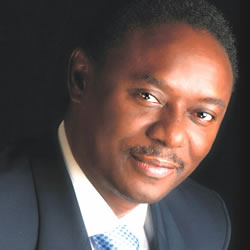 Chris Okotie is coming under fire for recent claims that he announced that all Catholics will go to hell.
The general overseer of the Household of God Church and former presidential candidate allegedly made the statement on Sunday 1st December 2013 at his church in Ikeja, Lagos, PM News reports.
According to the news portal, Chris Okotie said the Catholic church is "a counterfeit church set up by Satan". He further explained that Catholics "bow to idols and crucify Jesus every Sunday when they eat bread claiming they are eating Jesus' body".
The statements left members of his church stunned and completely lost for words.
Here are more statements Chris Okotie reportedly made;
"They are not Christians and have never been"
'They don't know Jesus. They believe that when they eat bread on Sundays, they are eating the body of Jesus. It's ritual"
"The Pope (Francis) is an Anti-Christ and the Catholic church will soon declare for Satan. This is the end of times"
"Catholics will go to hell"
"They don't believe in heaven. They believe in purgatory, the purgatory that they invented"
"That church has been there for Satan and at the right time, they will declare Satan"
PM News also states that he advised members of his church to come to the rescue of Catholics and evangelize them. He also declared that his statements are "not out of disrespect but out of respect for the word of God".
Chris Okotie further analysed that Pope John Paul 11 surrendered the Catholic church to Mary (Jesus' earthly mother) instead of himself and the current Pope has done the same.