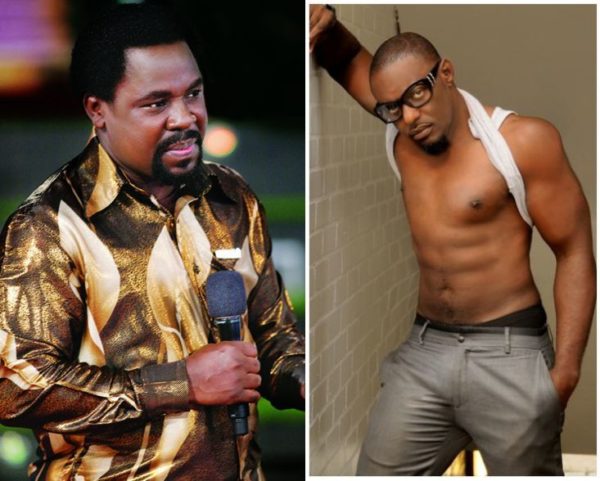 In September 2013, Nollywood star Jim Iyke got his "deliverance" at TB Joshua's Synagogue Church of all Nations (SCOAN). If you missed it, click here
Over the weekend, Punch released an exclusive one-on-one interview with the prophet. TB Joshua spoke at great length about his ministry, Jim Iyke's deliverance, President Goodluck Jonathan and football predictions.
Read Excerpts;
On Jim Iyke's deliverance: "Oh please, don't drag me into that. All I can say is that if a person needs to see a doctor, he should be free to do so. I like the young man. He has been defending himself on the internet. Is he not enjoying a better life now? Are things not working for him?"
On how he tells the President when he has an instruction for the nation: "I say it on the television and all over the world. I accept that is not enough; it is better to see him one on one.
But what is the essence of a president's visit if he won't follow what I will tell him? This kind of trend keeps staining my name. I will not mention anybody, when they leave here; they do not obey the instructions."
On if President Goodluck Jonathan patronizes his services: "When it comes to relationship, I think he would be in the best position to answer that question. Since what we are doing is creating impact around the world, you should expect Nigeria's president to also be part of it. We are praying for the nation and being a Christian acknowledges it. If Jonathan had been here, it would have been shown on our Emmanuel Television network. No president has ever visited this place in secret. The Bible says that if you confess me before men, I will confess you before my father in heaven. I am not a witch doctor; we have nothing to hide. If you have not read in the newspapers that your president came here, then that is that. Anytime presidents of other countries come here, Jonathan is usually aware. If he doesn't believe in what we are doing, he would have told them that we constitute security risks."
On his relationship with Pastor Chris Oyakhilome: "Please, don't drag me into all that. I beg you."
To read the full interview, click here