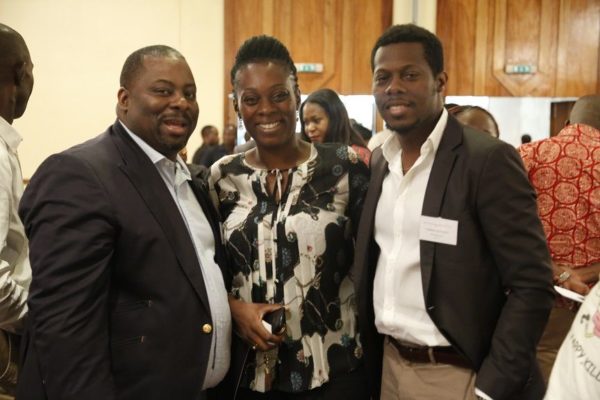 It was 2 days of lively, enlightening, and engaging discussions as creative industry leaders and entrepreneurs convened at the Sheraton Hotels & Towers for the 2013 edition of the Creative Industries Expo.
The event which was held with the theme "Capacity – The Building Blocks for a Competitive Creative Economy" saw a host of industry leaders and trailblazers from Nigeria and the United Kingdom such as Mo Abudu (Founder & CEO Ebony Life TV), Steve Moffitt (CEO, A New Direction UK), Bunmi Oke (CEO 141 Worldwide & President Advertising Association of Nigeria), Deji Awokoyai, (GM, Megalectrics Limited), Nkiru Asika, (CEO Enterprise Creative) Folake Folarin-Coker (Creative Director, Tiffany Amber), Jason Njoku (CEO Iroko Partners) Wole Odetayo (CEO Wennovation Hub), Yemisi Ilo (CEO Ileke Media) Joke Silva (award-winning Actress & Co-Founder, Lufodo Academy), Tom Fleming (Founder, Tom Fleming Creative Consultancy UK) Sandra Obiago (Founder CFC & Associate Producer Half of a Yellow Sun), Robin Baker (Director & Chief Executive, Ravensbourne), and Obe, Vice Chancellor FUNAI speaking on a number of issues affecting the development of the creative industries, as well as examining current policies and recommending measures to improve training and support for the sector.
The Expo also included very lively breakout sessions, where members of the audience were divided into groups to discuss and make recommendations on critical issues around skills for enterprise, fostering innovation and strengthening links between academia and business.
The report from the Expo is available on www.enterprisecreative.org and will also be made available to policy makers to help drive the sector forward.
Look out for pictures and presentations from the event, which we will be up on the Enterprise Creative website soon. The Creative Industries Expo is an initiative of the British Council, with this year's edition produced by Enterprise Creative.
_____________________________________________________________________________________
BellaNaija.com is a Media Partner with the Creative Industries Expo 2013.