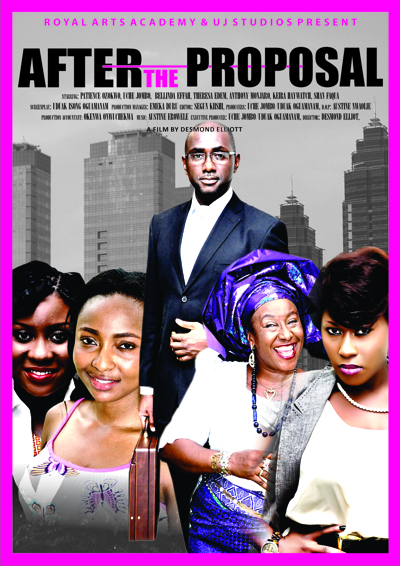 File this under – So hilarious!
Royal Arts Academy and Uche Jombo Studios has premiered the trailer of a collaborative new production – After The Proposal.
The movie stars Uche Jombo-Rodriguez, Patience Ozokwor, Belinda Effah, Anthony Monjaro, Keira Hewatch and Shawn Faqua. It was directed by Desmond Elliot and produced by Uche Jombo-Rodriguez and Uduak Oguamanam.
After The Proposal is centered on a young man Kenneth (Anthony Monjaro) who has been dating his fiancee Mary (Uche Jombo) for about 8 years. He eventually pops the big question but his excitement is short lived when he is presented with an endless pride price list.
You can trust Patience Ozokwor who plays the mother of Mary and two other sisters to deliver a hilarious approach for her daughters to get married.
Check out the trailer.