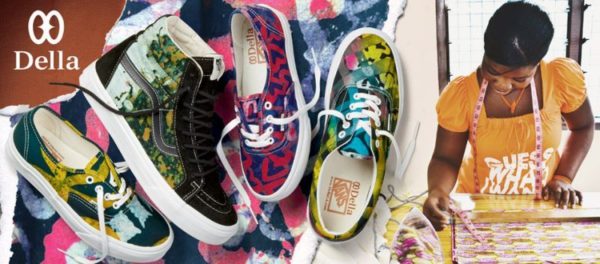 American apparel manufacturer Vans, has teamed up with socially conscious company Della to release a collection of beautiful batik footwear.
Della, which has employed over 50 women in Ghana, joined in this collaboration with Vans creating six unique and handmade sneakers, all made with different hand-dyed fabrics made through the traditional Batik process.
According to Tina Tangalakis, Della founder and creative director, "Della is a socially responsible fashion line that works with a team of women in Ghana, West Africa. What's great is when we are able to have successful partnership with other companies, it really pushes us. It sometimes doubles or triples the community and passion we have. My goal is to sustain that and push it even more."
Tina also said, "we started out making accessories and bridged out to clothing. Rather than just produce clothing, we provide steady jobs, fair wages, education, skills and literacy training to the women."
Featuring beautiful batik prints applied to the classic SK8-Hi Reissue, Era, Authentic and the SK8-Hi Slim sneakers the batik prints were all created by the same women cooperative in the Volta Region of West Ghana.
I absolutely love the collection and they seem to be almost sold out. Check out the collection below.
For more information and to get yourself a piece of the collection click HERE.
Watch the video documenting the collaboration below.
Photo Credit: Shop.vans | Fabmagazineonline | Akatasia