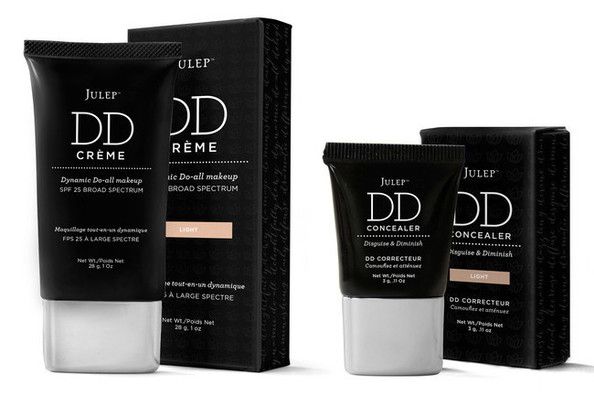 We have all heard about BB (the Beauty or Blemish Balm or ) and CC (Colour Control or Colour Correcting) creams, but now (as inevitable as it may have seemed) DD creams are now a thing.
The DD (The Daily Defense or Dynamic Do-all) cream is a mash-up of BB and CC creams, with an added advantage – anti-ageing properties. They (supposedly) smooth fine lines, mattify, enhance vibrancy and protect the skin against environmental 'stressors' like pollution. According to Dermatologist David E. Bank (M.D. Director of New York's Center for Dermatology), If you're looking to reduce the appearance of wrinkles, this one is for you.
Now I know the DD cream may seem a little overboard, but knowledge is power. So I went to visit my "bestie of life" – the Internet- and found out these facts that can help you figure out if the DD cream is the next best thing to hit your makeup counters or simply a fad that isn't necessary.
DD Creams Facts
1. Th most popular brand that has a DD cream is Julep. The released their brand of DD creams middle last year..
2. Although it combines the benefits of BB and CC creams, its main aim is anti-ageing.
3. DD creams are meant to balance your skin tone and protect the most sensitive parts of your face/skin like your neck, under-eye etc.
4. Dermatologists prescribe that it should be included in your daily skin routine as it, over time, will begin to enhance your skin.
5. There are a limited number of brands that have DD creams. But who knows, it may blow up in 2014.
6. It comes with SPF25
7. It is usually lightweight and gives more coverage than a BB or CC cream.
8. DD's are packed with skin-perfecting anti-oxidants and vitamins.
9. When shopping for a DD cream, ensure it has key age defying ingredients like sodium hyaluronate (which smooths fine lines and wrinkles), silk peptides (which curb melanin growth and helps in healing scars) for the best effect.
10.  Just like BB & CC creams, they come compact or in a tube.
11. Due to its lightweight nature, you may forget you have makeup on. Remember to always wash your face before bed after applying the DD or any other cream.
12. It doesn't offer full coverage like a foundation.
13. Be sure to check the properties and your skin's needs before purchasing one. Different companies make their products in different ways and with different properties. So checking the label can prove to help you in more ways than one.
14. Leading up from the DD cream, celebrity makeup artist A.J Crimson, created a BB+D cream for Estelle who was his client at the time. According to him "I was inspired to make my BB+D cream line while working with Estelle, because I could not find the right shade for her". His cream is now available in 11 shades.
15. The Ofra DD cream has more shades for dark skinned women.
16. No brand has created a 'special' DD cream for dark skinned women yet but be rest assured that BN Beauty will be on it when there is.
So do you have DD creams? What brand did you buy? How has it worked for you? Don't forget to share any tips or info you may have on them. Have a beautiful day.
Photo Credit: Stylebistro.com