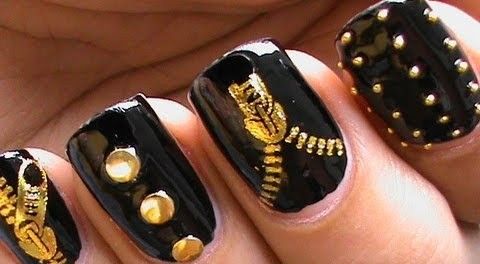 Hi BN Beauty Belles!
Its another day for fab beauty and today we have got a treat for the DIY and Nail Art buffs out there. This nail art tutorial is definitely one to try and can add some major bling to your nails.
You can try different nail arts like small chains, gold studs only, a gold skull…the list is endless.

Nail art guru, SuperWowStyle have created this nail art using the following tools;
1. Gold Studs (recommended are tiny marbles)
2. Nail Polish in preferred colour
3. A Tweezer
4. Zip decals (This can alternatively be stickers with a clear back or any preferred stick-on)
5. A Top Coat
Watch the Tutorial below.

Hope you enjoyed it and let us know if you would be trying this nail art? Have a great day.
Photo Credit: Youtube.com/superwowstyle