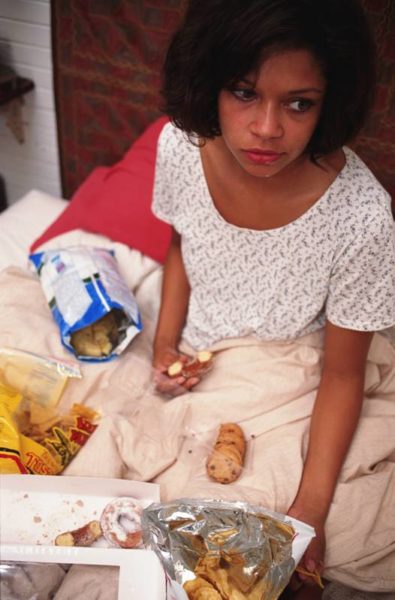 In a fleeting moment of ecstasy, I found myself clicking 'buy' on iTunes; when I saw Beyonce's album. I jammed to every single song on that album; then "pretty hurts" caught my attention.
You see, the first time I saw the video of that song, I could relate so much. I shed a tear or two. Besides sex, perfection is the easiest brand to sell to society. "Vogue says Thinner is better". "Bigger is better".
The pressure society puts on women to be 'perfect'; to be a size zero, and still manage to have ass length hair, Double DDs and a video vixen ass, all at the same time.
Younger women, especially, buy into it – consciously or subconsciously. We attach our self esteem to the number on a scale, or a dress size. Who is to blame? Men? Media? Society?
This is my story.
I wasn't born a bone, I was born a stone. I started off as a lanky child, as we all do. High school came, and I traded in my bones for curves. Sharp, noticeable curves, that made anything I wore look sinful. I loved my figure; I revelled in it. A very happy UK size 12.
College came after high school; and suddenly my curves went out of fashion. Bony girls, with no breasts and no 'back' ruled. I saw them in their skinny jeans and crop tops. Picking at their meals and living off fat free yoghurts.
I watched them sneer at me and my curves. I watched them sneer even more, when I picked up my plate at the cafeteria and filled it with regular food.
And then I started to look at magazines. Even in the pages of the magazines, I could feel them laughing at me. I could see them with their skinny selves, and cellulite free asses, laughing at me.
Even the boys started to stare less. Maybe they laughed at me too. And so it started; I stumbled upon some websites that promised me perfection, at the cost of at least 2 meals a days.
"Hunger is just a feeling" they said. "A moment on the lips, forever on the hips"
I skipped breakfast one day, and by the next week, I was skipping breakfast and lunch altogether. If I did eat, I punished myself with two fingers down my throat and my head bent over the toilet. I think the fancy name for that is Bulimia.
Then I acquired a gym membership. I was at the gym everyday; after class, after church, every weekend, on public holidays.
I lived off diet coke and I worked out like a slave. I weighed myself every other day and was constantly staring at myself in the mirror. Yet it wasn't enough. So I imported hunger repression pills from china. They made me jittery and nauseous; but I still stuck by them.
With every goal weight I reached, it still wasn't enough. Thinner was always better. Thinner was always better. Then the curves disappeared; slowly but surely. The bones were on display for all to see. I wasn't still pleased. I was severely depressed.
It was like the thinner I got, the more weight I felt I had to lose. Until that day my guardian called me into her office. And she handed me a mirror and asked me to look into it, and I didn't recognize the girl that looked back. And I couldn't handle the tears that literally poured out of my heart, and slithered down my cheeks.
"Look at you. You look haggard. You look bony. You look old. At this rate, I'm going to have to get you medical and psychological help soon", she said.
Nothing changed. I slowed it down; but it continued. My parents were scared of new found 'boniness'. "Black people don't have eating disorders", they said.
Perfection was my disease. Until one day, I couldn't do it anymore. I stepped out of the shower, after a week long water fast, collar bones on display.
I walked in front of my full length mirror, and dropped the towel. I looked in the mirror, and a familiar face stared right back. I ran my fingers down my face, around the neck, down my chest, to my taut stomach. I turned round and round. Trying to find the ugly; the ugly that sending me down the dark, thorny path of anorexia and bulimia and depression.
I couldn't find it. All I found was the beautiful. I found the fearless, loud mouthed girl, who didn't care what the magazines said about beauty – the girl who didn't care that skinny was the new beautiful, who was a shepherd and not a sheep.
And slowly, I stopped myself. One meal at a time, one less gym date at a time, I was back. I'm a long way from college now, and believe me it's still a struggle not to go back down that path
I'm writing this to inspire every young woman out there. Like you, I have been there; like you, I'm still there.
Society has taught us what is acceptable. Society has taught us that all is not well until the bones are sticking out. If you don't look like the model in the magazine, you are not beautiful. In the end, it is up to you to redefine the word 'beautiful'. Beautiful is confident. Beautiful is individuality. Beautiful is more mental than physical. Beautiful is you. The way God made you. Flawless in all your imperfection.
Nobody, no standard, no man, is worth two fingers down your throat – or the long road to anorexia. Anorexia exists. Even among Nigerians. It is not a "white people thing".
This is just my story. I wonder what yours is. Beauty is not supposed to hurt and nobody is meant to be PERFECT.
Photo Credit: nsportal.ru
_______________________________________________________________________________________________________
Chiamaka O. is a writer, lover and law student. You can follow her on twitter @YellowIgboGirl or check out her blog, http://yellowigbogirl.wordpress.com/ to follow her adventures.