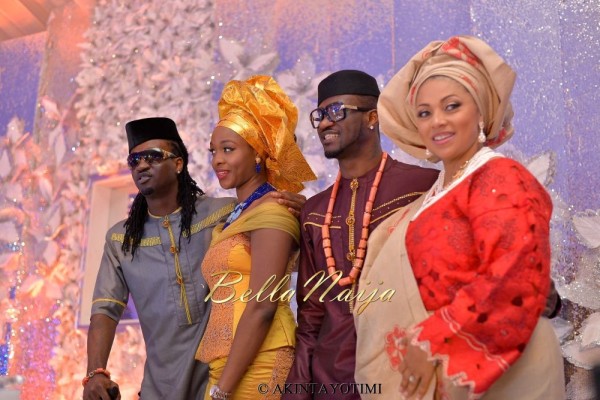 2013 was the highlight of celebrity traditional weddings as BellaNaija Weddings brought you all the glitz, glam and gorgeousness! From 2Face to Tiwa, and of course Peter Okoye's!
This year the P-Square brothers  – Paul & Peter Okoye – have one (or two?) of the most anticipated white weddings of the year and BellaNaija.com has the exclusive scoop you won't find anywhere else…
Destination Wedding or Not?
The answer is no final decision has been made.
BellaNaija.com can exclusively confirm – via a rep for the couples – that they haven't concluded on the location for the white wedding.
Dubai is definitely a dream location for the nuptials but both couples are still unsure if they want it there, as they will like to share their day with as many friends and family as possible in Nigeria.
Twice as Nice?
Will Peter Okoye and Lola Omotayo-Okoye as well as Paul Okoye and his fiancee Anita wed on the same day?! The rep says it is still in the talks.
The couples may decide to tie the knot on the same day – to share the joy of being identical twins – OR a few days apart so that each ceremony stands out.
In April?
April 2014 is the tentative month for the wedding, but no final decision as been made.
Paul & Anita's Traditional Ceremony
But wait … with reports circulating that the pair may tie the knot on the same day, it is must also be taken into consideration that Paul and Anita haven't had their traditional ceremony yet.
It is scheduled to take place in Port Harcourt, Rivers State – but no date has been set.
***
There you have it folks, that's what we know about the Okoye brothers' wedding, so we just had to share!
Now join us in our day dreaming … will the twins take tie the knot on the same day at a double wedding?
Will the wedding be dreamy in Dubai or lovely in Lagos?!
If you missed BellaNaija Weddings' EXCLUSIVE feature on Peter and Lola Omotayo-Okoye's wedding, click here
_________________________________________________________________________________________
We love weddings as much as you do – get in touch for inquiries, inspiration & more!
E-mail: weddings (at) bellanaija.com | E-mail for #AsoEbiBella: asoebibella (at) gmail.com