Lights, Camera, Action! Nigeria's TV cooking competition, Knorr Taste Quest is back with its 2nd Season tagged "Hot Just Got Hotter".
The show had its launch on Friday 17th January 2014 at the Eko Hotel & Suites with an exclusive screening party. The evening started networking/cocktail session after which guests were ushered into the hall where they enjoyed entertaining games, musical performances by KCee & Harry Song and and the unveiling of the contestants and judges for the 2nd season.
According to the judges, over 10,000 entries were received from all over the country before they were finally cut down to 40 at a screening exercise held in Abuja, Calabar and Lagos respectively. 14 Finalists, 7 males and 7 females, were eventually selected.
Making up the Judging panel for this season are Head Judge, Dr. Roberts, Chef Gbubemi Fregene (a.k.a Chef Fregz) and Chef Renee Chuks. The Host of the show remains On Air Personality Manny of Cool FM.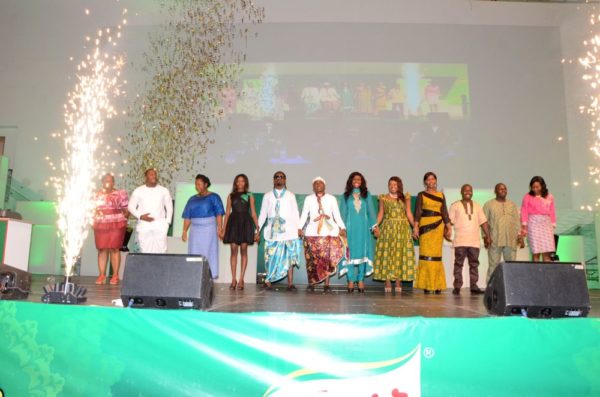 At the screening launch, Brand Building Director, Unilever Plc. David Okeme revealed what audiences can expect from this season. He stated that the show, which is a platform for people to showcase their culinary expertise, would also bring to consumer's homes the most exhilarating and educational cooking show in Nigeria. He added that the show promises to be more engaging and captivating as the contestants would have to stand the heat of the kitchen where hot just got hotter.
In this season, prizes up for grabs include a cash prize of N2 Million, a Ford Eco Sport SUV and Kenwood Kitchen equipment for the 1st Prize winner, a cash prize of N1 Million and Kenwood kitchen equipment for the 2nd Prize winner and a cash prize of N500,000 and Kenwood kitchen equipment for the 3rd place winner. However, all 12 contestants would go home with different Kenwood kitchen equipment and could also win a cash vouchers if they win any of the special tasks.
Co-sponsoring the show for this season are Coscharis Motors and Kenwood Electronics.
The show will be showing every weekend on; NTA Network – Fridays from 8PM – 9PM | Silverbird Network – Fridays from 8PM – 9PM | AIT Network – Saturdays from 7PM – 8PM | ONTV – Sundays from 7PM – 8PM | DSTV Channel 155 – Saturdays from 8PM – 9PM | TVC – Sundays from 8:30PM – 9:30PM | WapTV (Startimes) – Sundays from 8PM – 9PM from 10th January 2014.
Watching the show also gives viewers a chance to win prizes. Full details of the airing times can be found on www.facebook.com/KnorrNigeria
___________________________________________________________________________
Sponsored Content