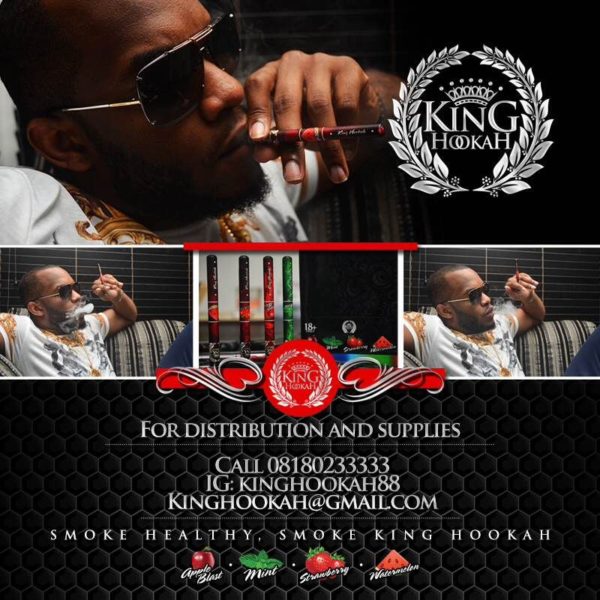 King Hookah is the premier brand and absolutely the best place to purchase luxury disposable hookah pens. King Hookah which originates from America, offers a great selection of premium Hookah pens, that will impress the shisha connoisseur or novice.
Every Hookah pen is carefully crafted with the finest quality materials available to produce luxurious flavours, including Mint, a powerful blast of wintry freshness with a light & cool taste that will only leave you wanting more; Apple, a bold, crisp flavour with the zing of real apple; Watermelon, a burst of pure, fresh flavour with a fun sweet lingering taste; and Strawberry, a juicy, sweet, luscious taste with unmistakable fragrance and flavour!
King Hookah is featured by one of Nigeria's most prominent music artists on the scene, Lynxxx. He exemplifies the core message behind the brand – Opulence, Royalty and Cool. King Hookah pens are the perfect way to enjoy your favourite shisha flavours on the go without any ash residue, fire, or odor and with the new ban on cigarettes in public places by the government it's ok to smoke these anywhere.
Each King Hookah Stick will last approximately 600-700 puffs. King Hookah is being sold all over Nigeria and already has distribution outlets in Lagos, Abuja and Benin. If you are interested in distribution and supplies in any city please call 08180233333 or 08030408935 or email [email protected] .
Stay connected with King Hookah online via Instagram – @Kinghookah88. If you are looking for luxurious and authentic Hookahs sticks, King Hookah is your trusted source for delivering that promise. King Hookah is truly the best brand offering the most beautiful, exquisitely crafted, and flavourful Hookahs.
Smoke healthy, smoke King Hookah.
___________________________________________________________________________
Advertorial – Sponsored Content